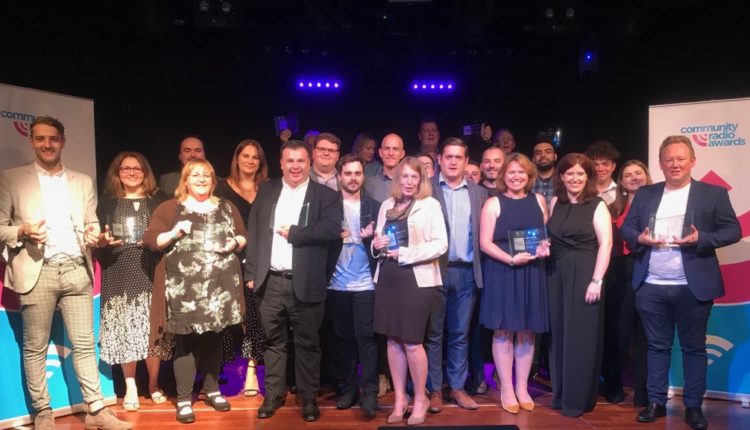 Community Radio Awards 2018- full winners list

Irish language station Raidió Fáilte from Belfast has been named Station of the Year at the 2018 Community Radio Awards.
More than 50 projects were recognised at the event, which was hosted by last year's Female and Male gold recipients Louise Croombs and Mark Blackman.
It was attended by over 200 volunteers from the sector who gathered in Sheffield on Saturday night.
Martin Steers, awards chair, told RadioToday: "This independent event continues to grow from year to year, and it's amazing to build momentum and celebrate the fantastic work that this sector produces in its communities on a daily basis.
"A big thank you to all those who entered, to the 50 judges, to our venue Sheffield Hallam Students Union, and to all our sponsors".
We'd love to see even more stations entering the awards next year."
Here are all the winners in full:
Community Development Project of the Year
GOLD Somer Valley FM – The METS Training programme
SILVER Sheppey FM – Mental Health Community Project
BRONZE Vectis Radio – The 4Ps Project
Station of the Year
GOLD Raidió Fáilte
SILVER Spark Sunderland
BRONZE ALL FM
Female Presenter of the Year
GOLD Zetland FM – Julie Donaldson
SILVER Wycombe Sound – Philippa Sawyer
BRONZE Erewash Sound – Emma Snow
Male Presenter of the Year
GOLD Erewash Sound – Mark Jarvis
SILVER Wycombe Sound – Rob L'Esperance
BRONZE Voice FM – Simon Wilson
Community Show of the Year
GOLD East Coast FM – Pol.ON – The Polish Show
SILVER Tameside Radio – Tameside Today
BRONZE BCfm Radio – The One Love Breakfast Show
Live Event or Outside Broadcast of the Year
GOLD Wycombe Sound – Local Radio Day 2018
SILVER Chelmsford Community Radio – General Election 2017
BRONZE 107 Meridian FM – 'Spirit of Wildfire' – A Festival for Radio
Entertainment Show of the Year
GOLD Wycombe Sound – The Rob L'Esperance Jukebox
SILVER Erewash Sound – Emma Snow
BRONZE Spark Sunderland – Drivetime with Ryan and Beth
Speech and Journalism of the Year
GOLD Radio Verulam – The Parents' Show
SILVER Radio Cabin – Opening of the Herne Centre
BRONZE CSR – Dear Reader with Jessica Stone
Arts and Creative Radio of the Year
GOLD Huntingdon Community Radio (HCR104fm) Huntsford
SILVER CSR – Dear Reader
BRONZE Radio LaB – Devolved
Specialist Show of the Year
GOLD Spark Sunderland – Dance Revolution Chart of the Year 2017
SILVER ALL FM – The Innocent Ear – Classical Music with Rocks in!
BRONZE Alive Radio – Country in my Veins – Ali Donowho
Sports Show of the Year
GOLD Wycombe Sound – Tuesday Night Sport
SILVER Radio Cardiff – OB's Saturday Sport Show
BRONZE Black Country Radio – Live Commentary – FA Cup – Birmingham Senior Cup
Volunteer of the Year
GOLD KCC Live – Oliver Downing
BRONZE Radio Tamworth – Alex Farrell
SILVER Drystone Radio – Oliver Wilkinson
Young Person of the Year
GOLD Erewash Sound – Jeannie Nicolas
SILVER Wycombe Sound – Liam Gates
BRONZE Tameside Radio – James O'Malley
Sage Person of the Year
GOLD Endeavour FM – Chris Moore
SILVER Wythenshawe Community Radio – Roz Johnson
BRONZE Black Diamond FM – Bill Prentice
Newcomer of the Year
GOLD Drystone Radio – Jane Steele
SILVER Sheppey FM – Abbie Clive
BRONZE Wycombe Sound – Mimi Harker OBE
Innovation of the Year
GOLD Academy FM Folkestone – 'Get On' – Science Education & Community Radio
SILVER Phoenix FM – Halifax – The Halifax Jigsaw Project
BRONZE Chorley FM – The Chorley FM '100 Club'
Podcast of the Year
GOLD National Prison Radio – Double Bubble
Digital/RSL Station of the Year
GOLD Wandsworth Radio
Our hosts tonight for #CRAs18 – @markblackman and @louisecroombs – last year's Best Presenters @CommRadioAwards @RadioToday pic.twitter.com/HQcefPXZzZ

— Gareth Joy (@lookoutwales2) September 15, 2018