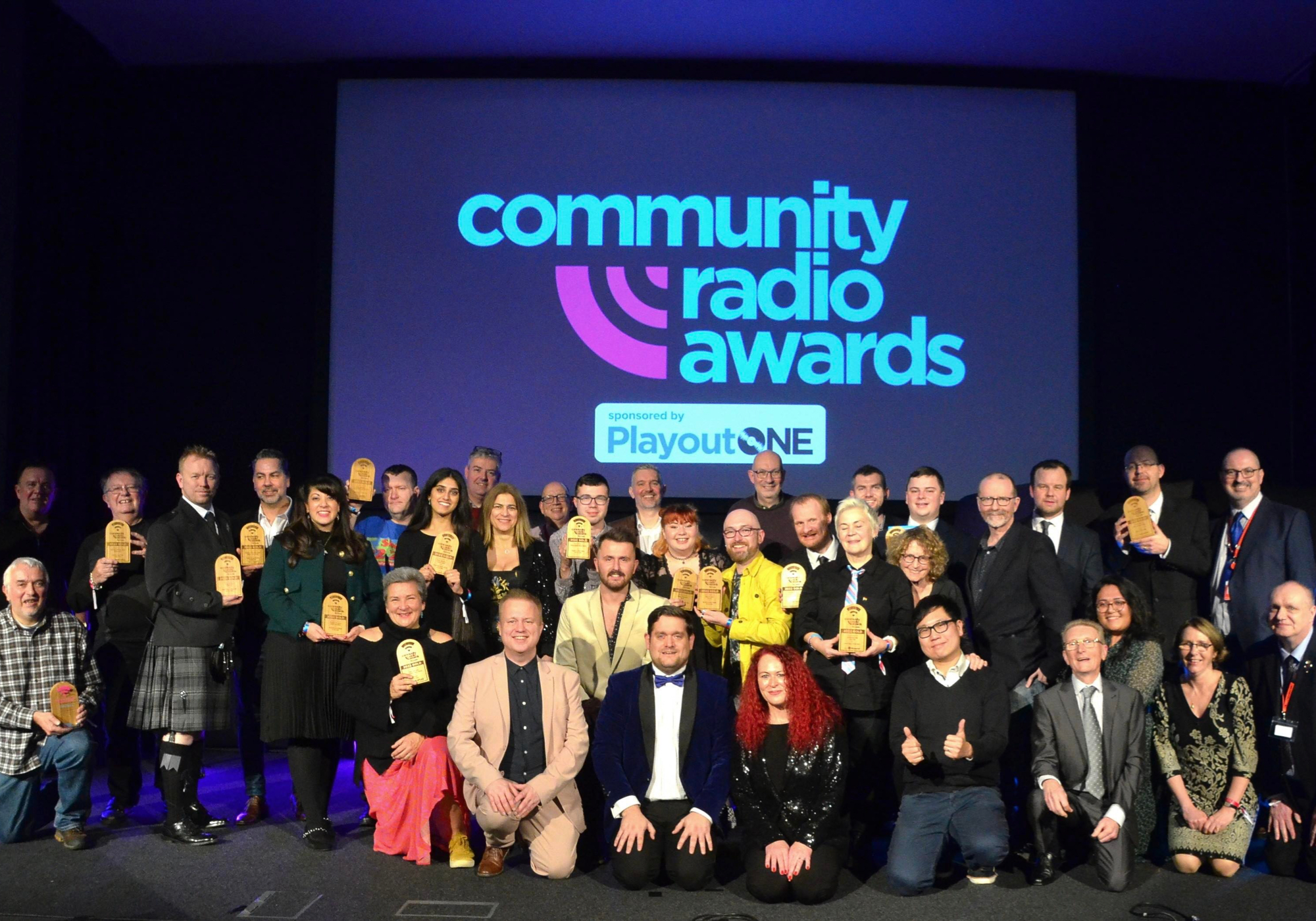 The best of Community Radio has been celebrated in Bedford at the Community Radio Awards.
Gold Black Country Radio won the Station of the Year whilst Rupa Mooker from Awaz FM picked up Female Presenter of the Year and Stephen Higgs from Switch Radio won Male Presenter of the Year.
Martin Steers, awards chair, said: "It's been great to bring stations together again, and to see many networking throughout the night, with new connections being made.
"It was also fantastic to hear how many winners had taken the time to look up and be inspired by other entrants in their categories, and how complimentary everyone is of the fantastic work by their peers across the sector".
The awards followed the UK Community Radio Network Annual Conference, which took place in the same venue earlier in the day.
Podcast of the Year, sponsored by AutoPod
Gold Dogs with Jobs – Petersfield's Shine Radio
Silver Self Injury Support – Gentle Activism
Bronze The Shine Radio Recipe with Noni Needs – Petersfield's Shine Radio
Innovation of the Year, sponsored by Hippynet
Gold ECHO@ALLFM – ALL FM
Silver Falmouth to Falmouth – SourceFM
Bronze The 4ps Training School for young people – Vectis Radio
Newcomer of the Year, sponsored by The Radio Hub
Gold Anna Gillingham-Sutton – Sheppey FM 92.2
Silver Chloe Monaghan – Bro Radio
Bronze John Reid-Hansen – Red Kite Radio
Sage Person of the Year
Gold Craig Mitchell – K107fm
Silver John Rumble – Marlow FM
Bronze Jim Campbell – Radio Skye
Young Person of the Year, sponsored by Devaweb
Gold Megan Hayward – Spark
Silver Toby Crabb – Radio LaB 97.1FM
Bronze Daisy Barker – Chelmsford Community Radio
Volunteer of the Year
Gold Mark Draper – Sheppey FM 92.2
Silver Tom Walker – Black Country Radio
Bronze Robin Zhang – Radio Cardiff
Sports Show of the Year
Gold Black Country Saturday Sports Show – Black Country Radio
Silver Skye Spòrs – Radio Skye
Bronze Saturday Sports Show – Twitter Spaces – K107fm
Specialist Music Show of the Year
Gold Priya Matharu – Switch Radio
Silver The Letty Rock Show – K107fm
Bronze Saltire Indie Rock Show – Paisley FM 107.5
Arts and Creative Radio of the Year
Gold Hills Are Alive – Spark
Silver The Easts – Cambridge 105 Radio
Bronze Be the Sea – Spark
Speech and Journalism of the Year, sponsored by Feature Story News
Gold Fighting Fear With Hope – Radio LaB 97.1FM
Silver Friday Night Clive (Clive Payne) – Black Country Radio
Bronze One Love One Planet – BCfm Radio
Entertainment Show of the Year
Gold Natasha Reneaux – BFBS ALDERSHOT
Silver Paul James – Academy FM Thanet
Bronze We Are Young – Erewash Sound
Live Event or Outside Broadcast, sponsored by InQuality
Gold Iron To Iron – Erewash Sound
Silver The Barry Island Festival of Food – Bro Radio
Bronze Hustings 2022 – Radio Skye
Female Presenter of the Year
Gold Rupa Mooker – Awaz FM
Silver Dr Audrey Tang – NLive Radio
Bronze Leigh Chambers – Cambridge 105 Radio
Male Presenter of the Year
Gold Stephen Higgs – Switch Radio
Silver Neil Kefford – Academy FM Thanet
Bronze Connor Morgans – Radio Cardiff
Digital and RSL Station of the Year
Gold Petersfield's Shine Radio
Silver Poppyland Radio
Bronze Radio Ysbyty Gwynedd
Covid and Community Rebuild
Gold Tommyfield Live – Oldham Community Radio 99.7FM
Silver Think on Our feet – Vectis Radio
Bronze #MercatMarriage – K107fm
Community Show of the Year, sponsored by RadioToday
Gold The Short Breaks Show – Vectis Radio
Silver A Tribute to Allan Brigham – Cambridge 105 Radio
Bronze All About Frome – Frome FM
Community Development Project of the Year, sponsored by UK Community Radio Network
Gold The 4Ps Radio Training School for Young people – Vectis Radio
Silver Ukraine Community Appeal – Sheppey FM 92.2
Bronze Older Voices – ALL FM
Station of the Year, sponsored by PlayoutOne
Gold Black Country Radio
Silver Heartland FM
Bronze Vectis Radio
---
Posted on Tuesday, November 22nd, 2022 at 9:19 am by RadioToday UK
---