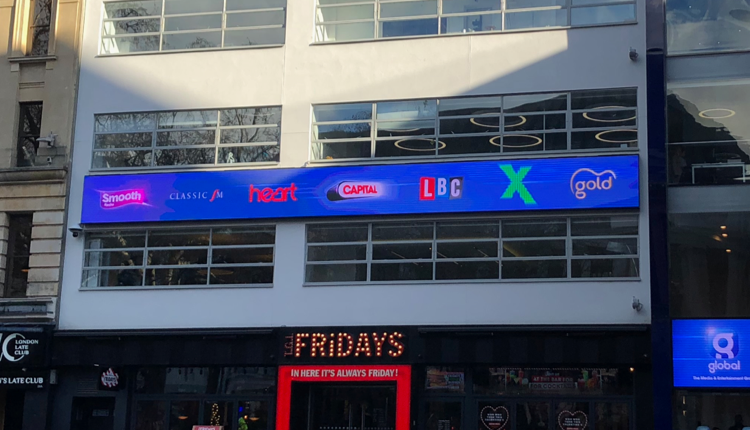 Global will broadcast national breakfast shows on the Capital, Heart and Smooth networks by the end of this year, RadioToday can reveal.
Capital will go first with the London output replacing 14 breakfast programmes on the Capital network in England, Scotland and Wales on April 8th. Due to deregulation and larger 'approved areas', only nine drivetime shows will be provided instead of the current 14.

New rules will mean the merger of Capital Brighton and South Coast (Meridian), the merger of Capital Birmingham and East Midlands (already a merger of stations in Leicester, Nottingham and Derby) (Central), and the merger of Capital Manchester and Lancashire – being created by rebranding its latest purchase, 2BR, on the same day (North West).
London, Liverpool, North East and Yorkshire will retain a local Drive show, along with Scotland and Wales. The rest of the output will be networked with local news, ads and information.
Heart will get a single breakfast show across England, Scotland and Wales on all stations owned by Global and Communicorp in the coming months – putting an end to the current line-up of 22 breakfast shows and their teams. And instead of 23 separate drivetime shows, there will be 10 covering the enlarged areas.
For Smooth, a new national breakfast show will launch later in the year, replacing breakfast programmes in East Midlands, West Midlands, North West, Lake District, North East, Scotland and Wales. Drivetime programmes will be reduced too.
All local and regional weekend programmes on all brands will end with national programmes provided on all frequencies.
Global's Founder & Executive President Ashley Tabor made the announcement to staff this morning in London and via video link to the rest of the company, along with plans to reduce their broadcast centres from 25 down to 14 – therefore closing 11 studio sites.
Merging the stations means fewer broadcast facilities are required, and RadioToday can bring you details of which sites will stay and which will remain:
The sites closing are:
Accrington
Brighton
Cambridge
Chelmsford
Exeter
Gloucester
Kendal
Kent
Lancaster
Norwich
Swindon
The sites remaining are:
Birmingham
Bristol
Cardiff
Fareham
Glasgow
Leeds
Liverpool
London
Manchester
Milton Keynes
Nottingham – non-broadcast (except Communicorp)
Reading – non-broadcast
Newcastle
Wrexham
Today's news is a huge step for the commercial radio sector, says Ashley Tabor. He explained to staff that whilst it would mean change, the ability to lead the commercial radio sector's next huge step, and to properly compete with BBC Radio 1 & 2 at breakfast time, is a huge opportunity.
He told RadioToday: "Whilst the new deregulation will mean some significant changes at an operational level, these bold steps enable Global to lead the way in launching the UK's three largest national commercial radio breakfast shows. We're really excited to combine the best national talent with our unique ability to include great local content in network shows on Heart, Capital and Smooth."
Local news and travel information will continue to air on a local licence level as per legislation requirements, but the news teams will see "refreshed structures" along with engineering and marketing.
As a direct result of this move, a large number of presenters and staff will no longer be required across the group. Those affected will be put at risk of redundancy, with some being transferred to other sites. An exact number of those being put at risk today are unknown but are expected to be over 100 people.
Communicorp stations using the Capital, Heart and Smooth brand under licence are also taking the new breakfast shows. Mark Lee, Chief Executive Officer, also held a company-wide meeting on Tuesday morning to explain the changes. He told RadioToday: "Since we launched Communicorp UK in 2014 we have operated our Heart, Capital and Smooth stations through a brand licence from Global radio. This has worked extremely well for us, delivering strong growth in audience and revenue.
"Competition from the BBC and digital services will intensify over the coming years and the new national breakfast shows will ensure we continue to be successful. Whilst I am always concerned about changes which impact on our team, it is important that we continue to evolve and grow."
Deregulation means Global can provide three hours a day of local programmes during daytime hours, in return for an 'enhanced local news' service, which translates into at least one local story per original Ofcom licence area being broadcast during each bulletin.
The move will see the creation of the three largest commercial radio breakfast shows in the UK, with 4.8m at Heart, 3.7m at Capital and 2.7 million listeners for Smooth each week.
RadioToday's take
This is a landmark day in commercial radio.
Firstly, it pains us to write about the number of on-air talent, producers, journalists, engineers, promotions and marketing staff who may be affected by this news, and we'd like to wish you the best of luck with the outcome if you have just been told you are at risk. There will be people around to help both at Global and those who have sadly been through the same procedure – please do grab every opportunity of help and advice you can.
So – at least some of this news has been expected since Ofcom announced deregulation in October 2018. And in true Global style, the company is grabbing the bull by the horns and getting things done. Networked breakfast shows have been predicted for many years in the commercial radio sector, but this bold move means it will actually be a reality this year.
Token three-hour drive shows across larger areas will replace the current offering of local breakfast and drive shows. One example is the replacement of four Heart Breakfast programmes in the West (currently from Bristol, Exeter, Gloucester, Swindon) by a national show, plus five drivetime shows merged into one.
The presenters of the new national breakfast shows and regional drivetime programmes have not been disclosed, but we're expecting announcements nearer the time of switching.
All this talk of development, growth, networking, consolidation and next steps also means fewer people will be required. The closure of 10 locations is a massive shock but not unexpected in the long run. Newly purchased stations and locations in the North – Kendal, Lancaster and Burnley will all close, leaving nothing but a transmitter.
We're exploring what this development means for the wider radio industry and jobs around the stations throughout the morning so come back soon for further stories here at RadioToday.
It's easy to put travel news on your radio station, from £25 a month for online stations. See
RadioTravelNews.com
for details and same day set up.