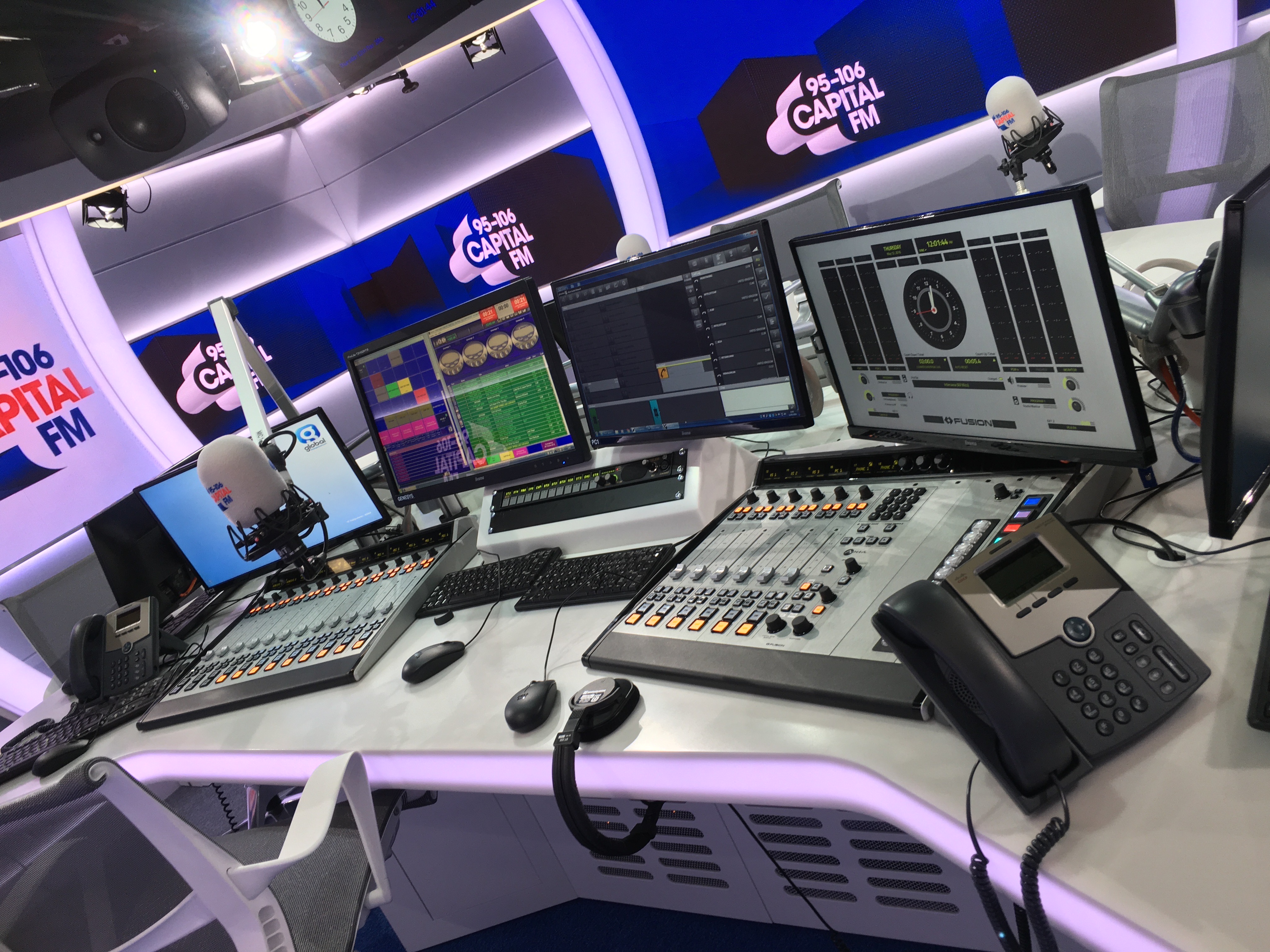 With news that Global is to introduce networked breakfast shows and have just a handful of local drive shows across Capital, Heart and Smooth, RadioToday's Stuart Clarkson has done the maths on what it means for presenter roles across commercial radio.
Our exclusive figures show that presenter numbers could drop by more than 250 if both Global and Bauer take full advantage of the recent changes in localness guidelines from Ofcom.

After the regulator published its updated guidance in October last year, the announcements from Leicester Square this week about the introduction of networked breakfast shows will come as no surprise to most in the industry. And when government time allows, there's also going to be formal legislation on the deregulation of commercial radio, which would pave the way for stations to flip music formats and essentially 'jump' between brands.
Almost 11 years ago, in April 2008, we reported on the introduction of networking on Heart and Galaxy by new owners Global. Heart's then-three licence network was to share daytime shows – as was the Galaxy brand. It was hinted that the former GCap 'One Network' could see similar changes. Ashley Tabor's comments were, at the time, highly controversial in the industry as he told us: "People assume networking is about big name DJs. It's not, it's about quality presenters. If you take 50 different radio stations there cannot possibly be 50 good presenters at every station in a particular slot. Why not take the two or three quality class players and put them across the network."
Since then, scores of presenter roles have been lost across UK radio as Global rolled out more networked shows and other groups followed suit. Regulatory changes first allowed individual stations to merge to form larger stations covering whole counties; now they go further still – allowing them to cover whole regions and take networked programmes 21 hours a day.
Today's news could prompt some of the biggest changes commercial radio has ever seen in terms of staffing numbers. Analysis by RadioToday suggests Global's changes to Heart, Capital and Smooth could result in a reduction of more than 95 presenters as licences take 21 hours a day of programmes from London (including breakfast) and the remaining 'local' shows are consolidated across bigger areas.
On the Heart brand alone, having a solo drivetime presenter each for the 'Meridian', 'South West and West Country' and 'Anglia' versions of Heart cuts the number of 'stations' from 12 to three – and the number of on-air presenter from 38 to a possible three.
In the North West of England, no longer needing presenters on 2BR (which will become Capital Lancashire) and only having four drivetime presenters (Capital Manc+Lanc, Capital Liverpool, Heart North West+Lancaster and Smooth Lakes) could reduce Global's on-air weekday presenter head count based in the region from 19 to four. (Note: Smooth North West is owned by Communicorp UK)
Across Global, our analysis suggests a 70% drop in presenter numbers is possible because of the Ofcom change in localness guidelines as well as recent acquisitions of 2BR, The Bay, Lakeland Radio and Juice FM in Liverpool and Brighton.
Requirements for Scotland and Wales have changed too – meaning Global is no longer required to have seven hours made within the country of the licence. This can be reduced to three hours as in England in return for hourly news bulletins all day. But the Capital Cymru licence covering Anglesey and Gwynedd continues to have requirements to broadcast elements of its output in Welsh, so is likely to keep local shows 6-10am and 1-7pm.
Where Global brands are operated by Communicorp UK, we also understand a separate local show may still be required even if Global already operate the same brand in the region – such as Smooth North West and Smooth Lake District.
Today, Ashley Tabor tells RadioToday: "Whilst the new deregulation will mean some significant changes at an operational level, these bold steps enable Global to lead the way in launching the UK's three largest national commercial radio breakfast shows. We're really excited to combine the best national talent with our unique ability to include great local content in network shows on Heart, Capital and Smooth."
How does this affect Bauer?
Bauer Media will be studying today's news from Global very carefully. While Bauer has generally been slower than its rival to introduce networked shows, recent months have seen the introduction of Hits Radio and Greatest Hits Radio – two clear brand propositions with obvious potential to take over local licences across the North of England and Scotland. Greatest Hits did just that, of course, in January this year – taking over from 'Station 2′ on MW and DAB across the North East, Yorkshire and North West, as well as appearing on FM in the West Midlands and Liverpool.
The recent acquisitions of Wireless' local stations, the Lincs FM Group and Celador Radio mean Bauer now has a mass of stations right across the UK on which to put its Hits and Greatest Hits brands. The Ofcom localness changes mean it's now easier than ever to treat those acquisitions simply as transmitters for a network, which will retain local advertising as well as news and information. Bauer now needs to decide what it will do with those purchases – and it's fairly certain that the route they will pick is likely to have an impact on the need for local presenters.
RadioToday's analysis on what this means in numerical terms highlights how in particular the Lincs FM Group and Wireless stations have to-date not fully taken advantage of the current rules on programme sharing. Under the revised localness guidelines, Bauer could roll out Hits Radio and Greatest Hits Radio with one local daily show for each new larger approved area.
In Yorkshire, for example, the Hits Radio brand could be put onto Radio Aire, Viking, Hallam, Pulse 1 and Lincs FM – with all shows except a 3-hour Yorkshire-wide slot originating from Hits Radio HQ in Manchester.
Similarly, Greatest Hits Radio could air on FM across the current Wish, Wire, Tower and Radio Wave stations and take all existing GHR programmes that are done from Liverpool or Manchester.
In the South West, turning The Breeze (North Dorset, Bath, Bridgwater & West Somerset, Bristol, Cheltenham and North Gloucestershire, Frome & West Wiltshire, North Somerset, South Devon and Yeovil & South Somerset) into 'Greatest Hits Radio West' would need just one three-hour show for the West, reducing presenter numbers from the current five to just one.
In Wales, Bauer now owns Wave 96.4 and Swansea Sound. These would be able to be rebranded as Hits Radio and Greatest Hits with just a 3-hour opt out for Wales on each, provided hourly news requirements are met.
In Scotland, a Bauer heartland from the old SRH/Emap licences, the group could in theory just have three presenters based there – doing single daily shows for Hits Radio Scotland (South) and Hits Radio Scotland (North) plus Greatest Hits Radio Scotland. The remainder of output could come from England. However, given the minimal amount of programme sharing already done between the English and Scottish stations in the group, it's more likely Bauer would retain breakfast and daytime output produced in Scotland.
In all, across the former 'Big City' stations in Scotland, the North of England and Midlands – plus stations at the group acquired in recent weeks – our exclusive figures show that the rules would allow Bauer to reduce presenter numbers by around 165 from the current levels.
RadioToday asked Bauer Media for a response to our analysis, but a spokesperson told us that the group was unable to comment on speculation.
It remains to be seen what will happen to the handful of stations sold to Nation Broadcasting as part of the consolidation (The Breeze Solent, Sam FM Solent and KCFM). If they were to become Hits Radio or Greatest Hits Radio under a franchise agreement similar to the arrangement between Global and Communicorp, then presenters here could be affected too. Likewise, a 'Nation Radio England' network could impact on presentation staff in Southampton, Hull and Sunderland where the group owns Sun FM.
What does it mean for commercial radio newsrooms?
Across both Global and Bauer as changes are made to programming output, it will be interesting to see how each interprets the Ofcom requirements for local news and information. 'Hubbing' is allowed, so journalists don't need to be based in the licence area. But reducing a station to 3-hours of 'local' programmes means having to supply an 'enhanced' news service during daytime hours. Ofcom says this 'should not be merely tokenistic box-ticking exercises, and each bulletin should meet the requirements set out for local news'. The regulator says it 'would always expect each enhanced daytime bulletin to feature more than simply headlines, and to include at the very least one fully-formed local news story, and normally more than this, alongside national stories'.
Ofcom's Localness guidelines go on to say that where stations are sharing local hours within an approved area and broadcasting the same news bulletin across multiple licensed areas, 'at least one of the local stories in each bulletin needs to be directly relevant to listeners in each of the licensed areas. This is because stations sharing their local hours remain separate licences which still need to satisfy the localness and character of service requirements set out in their individual Formats'.
RadioToday's Take
It's important for us that we make this clear – we take no delight whatsover in presenting these startling figures here today. Our analysis has been done merely to demonstrate the potential impact on people in our industry from the changes in Ofcom rules. We're not trying to scaremonger or create worry – we simply want to highlight the scale of today's announcements by Global and what the knock-on effects could be if other groups go the same way.
It's also important to say that our research was desk-based, pulling together lists of presenters on the current schedules at Global and Bauer-owned stations. We haven't looked at the likely impact on producers, programming assistants, off-air programme controllers, sales executives, engineering teams, news teams, reception staff and other group roles – all of which are likely to be affected by any changes, and particularly in the groups that have recently been bought. We've assumed too that a local breakfast show team of two or three voices might be replaced by a solo local presenter at drivetime – but we appreciate that this may not be the case and that groups will announce plans at a later date for what any new shows might be. In many cases we haven't considered additional weekend presenters, so the figures we've produced are probably a slight underestimation.
And clearly, where possible the groups will try to redeploy people to other roles – they will still need people in each area to feed local programming and S&P content to the network centres, for example.
A vast number of great people working in our industry are likely to be impacted by the recent consolidation and changes as a result of localness requirement amendments. This is a great shame for all those involved, their families, friends and colleagues. It's a time of massive change in commercial radio – and through no fault of their own hundreds of people could find themselves looking for alternative employment. We hope that the radio companies and industry as a whole will support those individuals affected in any way they can. If we can help, we will. In fact, we're looking at a couple of ideas for RadioToday to support anyone directly impacted by these changes – so watch this space!
You may have seen Daniel Fox's recent Twitter thread – if you haven't, we suggest you take a read. As he points out, it's important to look after yourself intellectually, physically, emotionally and spiritually. "Caring for yourself first is often the best thing you can do in order to help others. It isn't selfish or egocentric just really good advice," he writes.
And don't forget these important points that Daniel highlights: "Remember that you have an incredible wealth of skills that are not only transferable, but will likely do more good in the wider world. Opportunities in radio might be shrinking, but this is just the beginning of many companies' adventure in audio. Big businesses are recruiting people like you to help craft their sound, make their podcasts, create their flash briefings and design their sound. Help them. You are more than a radio presenter. You're a content producer. A social media mogul. A brilliant multi-tasker. You are eminently employable in a multitude of roles in myriad industries."
We'll have more reaction to the news from Global on this week's RadioToday Programme podcast, out Wednesday.
It's easy to put travel news on your radio station, from £25 a month for online stations. See
RadioTravelNews.com
for details and same day set up.