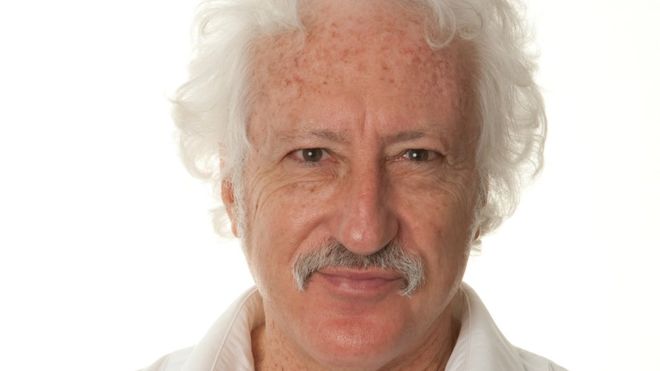 BBC
Former colleagues and current staff at BBC Radio Oxford have paid tribute to broadcaster Bill Heine, whose death was announced on Wednesday morning.
Editor of BBC Radio Oxford, Tim Boswell told RadioToday: "Bill was an integral part of BBC Radio Oxford for over 30 years. He was an outstanding broadcaster with the ability to connect with his listeners through his intelligence, razor-sharp wit, and above all, his passion for the city and the people who live, work and study here.
"We are paying tribute to Bill throughout the coming days and there was a special programme on BBC Radio Oxford on Wednesday from 6:00pm-7:00pm."
Bill hit the headlines himself locally in 1986 when he put a giant shark on the roof of his terraced house in Oxford.
He wrote this article just last week with the headline "I'm ready to die in my own bed" after being unable to test a possible cure for cancer drug. He was 74.
RIP Bill Heine. An Oxford legend, a beautiful person, and owner of one of the most mellifluous voices to have ever graced BBC radio. pic.twitter.com/hw2PlHeUUF

— Will Gompertz (@WillGompertzBBC) April 3, 2019
Will Banks, Assistant Editor of BBC Radio Oxford, who worked with Bill for many years, said: "There was a fearless quality to Bill, which allowed him to explore the areas and ask the questions that others simply wouldn't. He could incite genuine fear in those who were due a grilling, and in his producers who never knew where he was going to go next.
"But it was that unpredictability that defined Bill – a true one-off who refused to abide by convention and whose broadcasts were all the better for it."
Bill Heine was a unique broadcaster who knew his home city inside out and held politicians to account for decades. He'll be missed. https://t.co/ASSjA14B83

— Jason Horton (@JasonHorton_uk) April 3, 2019
Some sad news this morning, it's being reported that former BBC Oxford presenter and much-loved local figure Bill Heine has died. More details to follow.

— BBC Oxford (@BBCOxford) April 3, 2019
Bill Heine, the man who in 1986 stuck a giant shark on the roof of his terraced house in Oxford, has died. He fought planning officers all the way to the top for the right to keep it. The government's final ruling is thing of beauty. https://t.co/dpgRGxFrN1 pic.twitter.com/XG8xIIwoz2

— Jim Waterson (@jimwaterson) April 3, 2019
RIP Bill Heine, the first presenter I produced @BBCOxford A man I respect for his journalism, passion and always standing up for the little guy. And a man I will remember fondly for his humour and mischievous grin. Bill, you truly were "fascinating"

— Serena Martin (@Serenaismusing) April 3, 2019
Sad to hear that 'Mr Oxford' the journalist and broadcaster Bill Heine has died. Such a brilliant and knowledgeable man; so mischievous – a twinkle in his eye and razor-sharp wit. A glass of red in his entertaining company was a joy. Sleep well Bill; a pleasure to have known you

— Dan Chisholm (@blokeontheradio) April 3, 2019
An Oxfordshire legend. RIP Bill Heine. pic.twitter.com/dPeymo0goM

— JACKfm Oxfordshire (@JACKfmOxford) April 3, 2019
One-off Lego 'shark house' set inspired by Bill Heine https://t.co/05jVW8SbIH

— Oxford Mail (@TheOxfordMail) April 3, 2019
Today's front page is a tribute to the broadcaster, writer, icon, maverick and mischief-maker himself Bill Heine https://t.co/gDudmbdEUW pic.twitter.com/7lOsqYdykl

— Oxford Mail (@TheOxfordMail) April 4, 2019
Always wanted to appear on the radio alongside one of my all time favourites @blokeontheradio Dan Chisholm, and what better way to do it than by paying tribute to our mate, the legendary Bill Heine on Radio Oxford, the station he made his own. RIP Bill, you will be greatly missed pic.twitter.com/1BkBOjPJoK

— Michael O'Connor (@MikeOConnorNews) April 3, 2019
As a boy I was once lucky enough to be on Bill Heine's radio show. He was a lovely guy and extremely patient with such a nervous guest! Really sad at the news of his death. pic.twitter.com/TG1ahwUqXu

— Howard Ferguson (@whferguson) April 3, 2019
Need a new or improved logo for your radio station? Visit OhMy.Graphics and see how awesome you can look.

Posted on Thursday, April 4th, 2019 at 10:10 am by Local Reporter