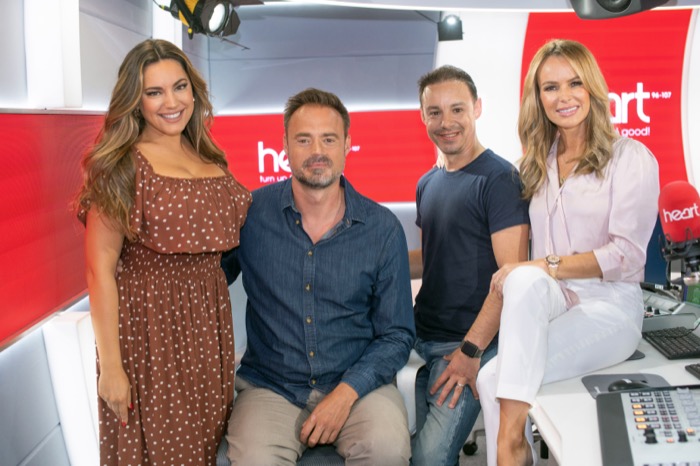 Global has announced who will present each of the regional Heart drivetime shows when the brand starts a networked breakfast show on June 3rd.
The number of regional afternoon programmes will be halved, with a number of breakfast presenters making the move to drivetime, whilst some current weekend and local drivetime presenters will transfer.

Drivetime shows will air for three hours weekdays from 4pm till 7pm in Scotland, the North East, the North West, South West, Yorkshire, the Midlands, the East, the South, the North West, West, North Wales and South Wales.
JK & Kelly Brook will host the Heart drivetime show in London. Des Clarke will host drivetime across Scotland having moved over from Capital Breakfast in April.
In the Midlands, Ed and Gemma will move from breakfast to drivetime and Ben Atkinson will take on Heart West's drivetime show. In the South, Rich Clarke will present the drivetime show.
In the North East, Emil Franchi will move from weekends to the new weekday slot of 4pm – 7pm. For the North West, Adam Weighell will join the line-up, having previously presented on Capital Liverpool.
Heart Cambridge drivetime presenter Hannah Clarkson will present a brand-new drivetime show in the region of Heart East, incorporating Cambridgeshire, East Anglia, Essex and the Home Counties.
In Wales, former Breakfast hosts Jagger and Woody (Simon Jagger and Chris Wood) will help host drivetime in South Wales every weekday, whilst Megan Llŷn and Oli Kemp will take on the North.
In Yorkshire, Dixie (David Dixon) and Emma Lenney will present the brand-new drivetime show from 4pm – 7pm every weekday. In Hertfordshire John Darin will continue presenting Heart drivetime, on Heart Hertfordshire.
No regional weekend programmes will be broadcast, with all shows being made in London.
Managing Editor of Heart, James Rea told RadioToday: "Heart's new drivetime shows will provide a burst of freshness across the UK, going live from Monday June 3rd. This morning's announcement follows the news of Jamie Theakston & Amanda Holden hosting a brand-new nationwide Heart Breakfast show which launches on the same day.
"I feel incredibly proud to be able to unveil a full Heart line up so that every part of the UK can continue to turn up the feel good!"
RadioToday's Take
It's so difficult for people to celebrate this news. Those getting the new gigs don't want to shout about it in the normal way they would when getting such a big show, because so many people are losing their jobs as a result. We estimate the 90 presenters broadcasting on Heart today will become around 20 next month. Plus producers, programmers, and general staff based at buildings being closed will also lose jobs.
The industry is changing – Global is leading the way with the changes so naturally getting all the flack. But this is not the first time Global has led consolidation. They did it almost 10 years ago when 30+ Heart stations became 15. And it won't be the last time a radio company reacts to the new Ofcom Localness Guidelines.
At one end of the industry people are championing Global for this move and in making itself and the sector stronger against current and future audio competition – yet at the other end, campaigns are being set up to try and reverse the decisions.
Never has the radio industry we are all so passionate about been so divided, at a time when uniting is more important than ever before.
And listeners are going to have their say on social media today as the new programmes are being announced by the stations themselves. We've added a few tweets to the end of this article.
From Monday 3rd June, the Heart weekday schedule is as follows:
Monday – Thursday
01:00 – 04:00 Simon Beale
04:00 – 06:30 Jenni Falconer
06:30 – 10:00 Heart Breakfast with Jamie Theakston & Amanda Holden
10:00 – 13:00 Pandora
13:00 – 16:00 Matt Wilkinson
16:00 – 19:00:
Heart London – JK and Kelly
Heart Scotland – Des Clarke
Heart North East – Emil Franchi
Heart Yorkshire – Dixie and Emma
Heart East – Hannah Clarkson
Heart South – Rich Clarke
Heart South West – Ben Atkinson
Heart North West – Adam Weighell
Heart Midlands – Ed and Gemma
Heart North Wales – Megan Llŷn and Oli Kemp
Heart South Wales – Jagger and Woody
Heart Hertfordshire – John Darin
19:00 – 22:00 Sian Welby
22:00 – 01:00 Fia Tarrant
Friday
01:00 – 04:00 Simon Beale
04:00 – 06:30 Jenni Falconer
06:30 – 10:00 Heart Breakfast with Jamie Theakston & Amanda Holden
10:00 – 13:00 Pandora
13:00 – 16:00 Matt Wilkinson
16:00 – 19:00:
Heart London – JK and Kelly
Heart Scotland – Des Clarke
Heart North East – Emil Franchi
Heart Yorkshire – Dixie and Emma
Heart East – Hannah Clarkson
Heart South – Rich Clarke
Heart South West – Ben Atkinson
Heart North West – Adam Weighell
Heart Midlands – Ed and Gemma
Heart North Wales – Megan Llŷn and Oli Kemp
Heart South Wales – Jagger and Woody
19:00 – 22:00 Heart's Club Classics with Toby Anstis
22:00 – 01:00 Lilah Parsons
Saturday
01:00 – 06:00 James Stewart
06:00 – 10:00 JK and Kelly Brook
10:00 – 13:00 Rochelle Humes
13:00 – 16:00 Kevin Hughes
16:00 – 19:00 Rich Clarke
19:00 – 22:00 Heart's Club Classics with Pandora Christie
22:00 – 01:00 Lilah Parsons
Sunday
01:00 – 06:00 James Stewart
06:00 – 09:00 Jenni Falconer
09:00 – 12:00 Sian Welby
12:00 – 16:00 Matt Wilkinson
16:00 – 19:00 The Official Big Top 40
19:00 – 22:00 Emma Bunton
22:00 – 01:00 Ellie Taylor & Anna Whitehouse
Big news for Scotland! Join @JamieTheakston and @AmandaHolden from 6.30am on June 3rd for the all new Heart Breakfast. The one and only @desclarke_ will be getting you home from 4pm every weekday too! pic.twitter.com/eDH0klktYe

— Heart Scotland (@HeartScotland) May 20, 2019
We've got some exciting news to share. There's a lie in on the way for @DixieOnline and @EmmaLenney! They'll be getting you home from 4pm every weekday on Heart, with @JamieTheakston and @AmandaHolden waking you up from June 3rd. pic.twitter.com/uGOQMfONtM

— Heart Yorkshire (@HeartYorkshire) May 20, 2019
We are moving! From June 3rd It's me and @emmalenney on @HeartYorkshire in our new slot of 4pm. Jamie Theakston and Amanda Holden will take care of you on Heart Breakfast. We've got some big plans, come join us x pic.twitter.com/xKVl60uQlK

— Dixie (@dixieonline) May 20, 2019
Start your day with the brand new Heart Breakfast with @JamieTheakston and @AmandaHolden on June 3rd. Adam Weighell is joining us too to get you home in the afternoon, weekdays from 4pm! pic.twitter.com/JqM5smZB0P

— Heart North West (@HeartNorthWest) May 20, 2019
Here's some exciting news, we are delighted to announce after much speculation, we will be staying at Heart Wales. We will be taking over the drivetime slot 4-7 from 3/6. Good luck to @JamieTheakston and @AmandaHolden who are taking over the breakfast show. pic.twitter.com/Rg4B3Kf9xN

— Simon jagger (@radiojagger) May 20, 2019
So happy to announce I'll be hosting the new drive show on @ThisIsHeart across the East of England from 03/06/19, the new Breakfast team @JamieTheakston & @AmandaHolden will get you to work, I'll get you home from 4pm #Essex #Beds #Bucks #Herts #Northants #Cambs #Norfolk #Suffolk pic.twitter.com/Vq9f21Y69b

— Hannah Clarkson (@HannahDaisy82) May 20, 2019
We've got some exciting news to share. Join @JamieTheakston and @AmandaHolden on June 3rd for the all new Heart Breakfast. The brilliant @BenAtkinsonUK will be getting you home from 4pm every weekday too! pic.twitter.com/qHs8syUHOI

— Heart South West (@heartsouthwest) May 20, 2019
Big news for the north east! Join @JamieTheakston and @AmandaHolden from 6.30am on June 3rd for the all new Heart Breakfast. The lovely @Emil_Franchi will be getting you home from 4pm every weekday too! pic.twitter.com/YqJZEhkpbE

— Heart North East (@heartnortheast) May 20, 2019
? Oh my daaaaaays ?

So happy to announce ?
….from Monday the 3rd of June I will be the host of @thisisheart Drivetime from 4pm across the West. Best of luck to @JamieTheakston and @AmandaHolden who take over Heart Breakfast…you'll smash it! Enjoy the alarm ?? pic.twitter.com/giHjvJ7rtS

— Ben Atkinson (@BenAtkinsonUK) May 20, 2019
Bloody hell, here we go… ? pic.twitter.com/6D3mVE8jbz

— Emil Franchi (@emil_franchi) May 20, 2019
We've got some exciting news to share. Join @JamieTheakston and @AmandaHolden on June 3rd for the all new Heart Breakfast. The brilliant @RichClarke will be getting you home from 4pm every weekday too! pic.twitter.com/PFhvfoJh8l

— Heart South Coast (@HeartSouth) May 20, 2019
Posted on Monday, May 20th, 2019 at 10:00 am by Roy Martin