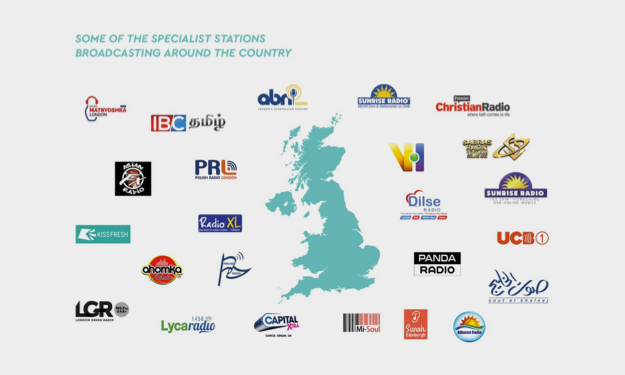 A report focussing on diversity and new talent in radio has been launched at an event in Parliament.

The event, hosted by the All Party Parliamentary Group (APPG) for Commercial Radio, showcased the range of initiatives taking place in the radio industry and mark the publication of a new report Tuning in to Diversity prepared by Radiocentre.
The Tuning in to Diversity report highlights the results of commercial radio with diverse audiences and provides examples of work going on to widen the talent pool coming into the radio and audio sector, including the Young ARIAS awards for 8 to 18 years olds.
The report feeds into Ofcom's survey of diversity in the UK radio industry (expected late July 2019) and includes information from smaller radio stations not captured by Ofcom due to its focus on larger broadcasters.
It features the work by small specialist stations like Panjab Radio, Mi-Soul Radio, London Greek Radio, Sabras Radio and Sunrise Radio in their local community and a snapshot their diversity.
Unsurprisingly, it found that these stations have some of the highest levels of workforce diversity within the industry, with many reporting ethnic diversity well above 90%.
Tuning in to Diversity is available here and highlights commercial radio's success with diverse audiences, reaching 62% of black, Asian and minority ethnic (BAME) listeners compared to a 44% by BBC services.
Key headlines from the #TuningIntoDiversity report. https://t.co/gs5cvgwTLZ pic.twitter.com/IbRUeK7sBD

— APPG CommercialRadio (@RadioAPPG) July 2, 2019
The share of listening hours among BAME listeners is also significantly higher than average at 57% for commercial radio, compared to 37% for the BBC.
Siobhan Kenny, CEO, Radiocentre, said: "Commercial radio offers listeners a huge choice of stations and has an incredibly diverse audience. We know we can do more to improve diversity in radio and there are a number of great schemes already working with exciting new talent.
"Some of the smallest radio stations have the most powerful stories to tell on diversity, highlighted in our report Tuning In to Diversity. We know that radio will be even more successful with the broadest appeal possible, doing all it can to nurture future talent."
Exciting launch of new diversity report from @Radiocentre – local and commercial radio are great opportunities to get started in a career in radio @radioaire @Pulse1Radio Congratulations to all the youngsters @edvaizey pic.twitter.com/RZJ1pdumLf

— Tracy Brabin MP (@TracyBrabin) July 2, 2019
Margot James MP, Minister for Digital and the Creative Industries said: "Commercial radio plays a crucial role in providing music, news and company for millions of people, from all backgrounds and walks of life. It is no surprise that when a radio station offers a diverse range of presenters, initiatives and music, its audience is also diverse.
"Radiocentre's new report provides a welcome reminder of the value of celebrating diversity across the industry and the Government is backing a more diverse commercial radio sector through the new Audio Content Fund that will be used to produce distinctive, public service radio programmes."
Today we're launching a new report on the diversity of our industry in @UKParliament with the support of the @RadioAPPG. Tuning In to Diversity looks at industry-wide initiatives and some of the smallest specialist stations. https://t.co/lMvrx6vEOh pic.twitter.com/59boTTvjpG

— Radiocentre (@Radiocentre) July 2, 2019
---
Posted on Tuesday, July 2nd, 2019 at 8:08 pm by RadioToday UK
---