Ruthie Henshall
Bauer is launching another new radio station from Golden Square, this time playing music from musicals.
Magic at the Musicals will be available on DAB+ in and around London from Thursday 21st November with presenters including Ruthie Henshall (Chicago, Cats) and Jonathan Bailey (Broadchurch, Doctor Who, W1A, Company)

The schedule will also include Louise Dearman (Wicked) John Owen-Jones (The Phantom of the Opera), alongside Julian Bird (CEO of SOLT and UK Theatre) and special shows from Luke Evans (film: Beauty and the Beast, Clash of the Titans; Stage: Rent, Miss Saigon), Alfie Boe (Les Miserables) and others.
The playlist will feature songs like And I Am Telling You from Dreamgirls and Defying Gravity from Wicked alongside classics such as Cats' Memory and Les Misérables' Bring Him Home. Plus musicals from Mamma Mia! to The Greatest Showman and the vintage Singin' in the Rain.
Bauer already technically owns a musicals radio station with its recent purchase of UKRD. Encore Radio, which launched in October 2016, is still on Surrey DAB and streaming online after originally being available on DAB in Herts, Beds & Bucks, Essex and Kent. Another online station, Matinee Radio, has been available for the last four years targetting a UK audience.
Steve Parkinson, Group Managing Director for National Radio, Bauer Media said: "Magic at the Musicals will celebrate the dynamic world of musical theatre – from the favourite classics to the latest West End and Broadway hits – and we'll reflect the growing number of new and re-imagined musicals on the silver screen.
This latest addition from the Magic stable will offer targeted access to a premium and distinctive audience of musical loving fans of all ages. It will of course build on our close association with the Society of London Theatre and many of the productions in London and around the country."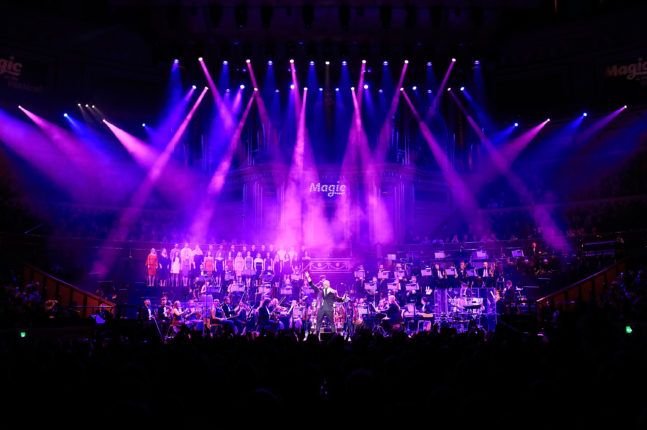 Commenting on the launch, presenter Ruthie Henshall said, "The station's name is derived from our hugely successful Magic at the Musicals show which is in its 5th year at the Royal Albert Hall. From a vibrant theatre and cinema scene there's never been a better time to bring this much-loved genre to the masses. We'll be proudly broadcasting songs from the shows directly into households across the country. Singing out loud optional!"
Julian Bird, Chief Executive of the Society of London Theatre and UK Theatre says "This is a fantastic boost for the industry at a time when theatregoing is at an all-time high. Magic is already our partner on the Olivier Awards, West End Live and other theatre and production projects, so this feels like a perfect platform to promote theatre, and musicals in particular."
Magic at the Musicals will broadcast The Olivier Awards live in full, cover West End Live – produced by Westminster City Council and Official London Theatre – in Trafalgar Square and broadcast its own event, Magic at the Musicals Live from the Royal Albert Hall in May 2020.
Ladies and Gentlemen, please take your seats…

Magic at the Musicals is a new radio station, taking to the airwaves on Thursday 21st November!

— Magic at the Musicals – The Best of Musicals ? (@MagicAtMusicals) November 14, 2019
Schedule Highlights

Backstage: Weekdays at 11am introduced by Alice Arnold hearing from a star of the stage.

Matinee: Weekday 'Matinee' performance starts at 2pm. Two song from one of the 'Golden Oldie' Musicals introduced by Tom Chambers.

Curtain Up: Weekday at 7pm – a daily hour special brought to you by various West End performers choosing their favourite songs from the Musicals.

Curtain Call: Weekdays at 10.30pm, when each night the station will play the finale number from a show.

Stage Door: Saturdays at 2pm the station goes behind the Stage Door with Ruthie Henshall as she lets us into the world of theatre behind the scenes.

Limelight: Saturdays at 6pm with hour specials, starting with Luke Evans, Ball and Boe and Patricia Kelly (wife of Gene).

Green Room: Sundays @ 3pm – the 'Green Room' with Julian Bird the Chief Executive of the Society of London Theatre, with news from the world of theatre.

Take Your Seats Please! Sunday nights at 6pm, 'take your seats please' for more great names from the world of theatre talking us through the Soundtrack to one of their favourite musicals. The first shows will be from Theatre legends John Owen Jones and Louise Dearman.

Posted on Thursday, November 14th, 2019 at 11:35 am by Roy Martin