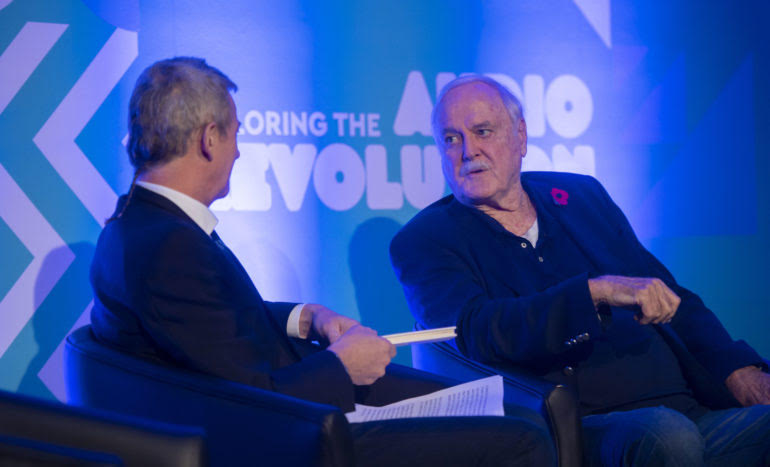 Radiocentre's annual celebration of all things audio and radio – Tuning In – took place this year at London's Congress Centre on November 10th and was livestreamed to audiences across the UK.
Tuning In 2021 explored many aspects of the audio revolution and presented sessions by leading figures from the worlds of radio, advertising, music and creativity.

This was the first Tuning In event presented by Ian Moss, Radiocentre's CEO who took up the reins four months ago. He hit the ground running, outlining the challenges facing the commercial radio industry and offering a glimpse of the work Radiocentre is carrying out to secure a strong future for the audio sector.
"We are in the midst of an audio revolution – one in which radio is the central element," Ian told the audience. He pointed to the medium's strong performance, with the latest Rajar figures showing commercial radio reaching a record 37 million people and radio advertising set for double digit growth this year.
He said that the competitive challenges facing radio had intensified following the pandemic, and added: "Radiocentre's focus is to tackle all of these challenges and maximise opportunities so radio remains the bright star of the audio revolution with the rest of audio orbiting around it."
Highlighting Radiocentre's efforts to build a strong platform for commercial radio, Ian explained how the body has worked with the All Party Parliamentary Group on Radio to respond to the Culture department's recent Radio and Audio Review. The APPG and Radiocentre are recommending an action plan for radio which the Government should adopt to ensure radio stations get a guaranteed free presence on digital platforms and to reduce some of the onerous terms and conditions which are required in certain radio ads.
Ian also called for media regulator Ofcom to limit changes to the way it regulates the BBC and for the regulator to make sure BBC radio is held to account for its public service remit and does not encroach on the territory of commercial radio.
He also pointed to Radiocentre's role in encouraging diverse talent to enter the radio sector and praised efforts to reduce carbon emissions through Radiocentre's involvement with the Ad Net Zero campaign. After four months in the job, Ian has travelled to radio stations across the UK and has found strong support for Radiocentre. "This is an organisation that is well regarded and has fantastic people working for it. My job is to make sure that continues, to keep that innovation and spark and brightness about it. The radio industry is full of enthusiasts and fans as well as businesses," he said.
In one of the most explosive sessions at Tuning In 2021, Rachel Johnson, sister of PM Boris Johnson and a presenter on Global's LBC, criticised some of the strategies of her brother's Government.
Rachel criticised the Government for pushing ahead with plans to appoint former Daily Mail Editor Paul Dacre as Chairman of media regulator Ofcom even though an independent panel had refused to endorse the appointment.
She said the Government should learn the lessons of the Owen Paterson scandal.
"Let's not do as we did with Owen Patterson and simply get the result you want by changing the rules, the ref and the goalpost, so not just pushing the former editor of the Daily Mail because that is the one they want. Let's find somebody who wants British producers to tell British stories to British audiences which we can then sell overseas."
She worried that this point of view would get her into trouble with certain sections of the media.
Programme Director for KISS, Rebecca Frank and KISS Fresh Presenter and Influencer, Elz the Witch took the stage for the session 'Keeping up with Gen K' where they discussed 'Generation K' those aged 15-35 who are the key demographic for the KISS brand and how they ensure relevant and engaging content. Exploring life over the pandemic for this demographic Rebecca explained how online listening amongst this audience went "through the roof" She said:
"30% of under 35s are listening to radio via smart phone or tablet…and our smart speaker uptake went up about 75% during the pandemic most notably around some event radio moments like KISS Fest"
In an insightful interview about the importance of radio for musicians, one of the biggest pop stars of the past year, Tom Grennan, who has had a string of hits, explained the importance of radio in getting his music heard.
"Radio has been a big factor in my success. My dad is a builder and the radio is played constantly in those types of places and builders and different types of people come to my shows and if the radio wasn't being played and these people didn't know my songs and know who I am – radio is such a massive part of why I have done well."
Tom added that radio is an important medium for those who live outside London.
"It hits all sorts of different people in all sorts of different regions. I'm from a little home town called Bedford and people love the radio there, they love it! So all these little small towns and all these little places – when you are living in London, people forget that there is a bigger world out there than just London, it is so important and I will always be so proud that my songs are on the radio and that the radio are still interested in playing me."
He revealed that his favourite station to listen to in the car is Magic Soul, while he also enjoys Radio X, Radio One, Hits and Capital.
Meanwhile, poet and mental health campaigner Hussain Manawer was interviewed by Radiocentre head of marketing George Butler. Hussain wrote the text of this year's Mental Health Minute, which was played simultaneously across 500 stations around the UK and was voiced by the likes of David Beckham and the Duke of Cambridge. It was listened to by 20 million people, which Hussain said was "incredible – it was based on real-life experience of my own."
Hussain also composed a poem about the importance of radio in his life, which he read for Tuning In 2021.
"Growing up, radio was one thing that stayed consistent throughout my entire life,"
he explained. "When I was asked to write about radio, I felt like I was writing about a part of me which is in this machine, it was just a really beautiful link up and I was buzzing to do it and it flowed naturally. Radio is a very intimate, personal, emotional medium," he said.
Former Monty Python star John Cleese brought mirth – and insight – to proceedings as he was interviewed by journalist Matthew Wright and talked about his 2020 book Creativity, a Short and Cheerful Guide. He discussed the secrets of creative people and said one characteristic of creative people is that:
"They can live with a state of uncertainty of things not being resolved much better than most people can." He added that there is:
"no such thing in being creative as a mistake because you have to follow it before you discover whether it is useful or not, you have to be prepared to go wherever your mind takes you and constantly bring yourself back, like in meditation."
He said his views on creativity are applicable radio and to anything – "Any activity where you are trying to do something better. People think creativity is only to do with the arts. Creativity is anybody who innovative in any way."
Meanwhile, in the session "Audio inspiration from around the world" about creativity in radio advertising, Radiocentre client director Lucy Barrett interviewed Ralph Van Dijk, one of the world's leading audio creatives and founder of agency Eardrum. Van Dijk connected live from Sydney, Australia and explained what he felt were the ingredients of great audio advertising. "Radio (advertising) seems deceptively simple. It is not simple. The creative device in audio needs to be wedded to the product benefit," he explained. "You need to distil a brief to its essence and use that as a long-term idea." He pointed out that how a brand comes across in an ad will have a strong influence on perceptions. He said:
"Every ad is a brand ad – if it sounds desperate or insincere, that is how it will come across,"
He added that the secret of creating great radio advertising is learning how to develop audio assets.
The audio sector is a powerful medium for music and this can help to make audio advertising highly effective, according to Al Young, chief creative officer at agency St Luke's in the session "The power of music in advertising." He talked about the key role played by music and sonic devices in learning and memory. "Sonic is underestimated, nothing quite gets into the memory system like sonic – we learn the basics through sound, though sonics. We can sing TV theme tunes that we remember from the 1970s," he said. When challenged on this, Young sang the first verse of The Pink Panther. He said that sonic "is somewhat underused" in advertising.
A session on radio and podcasts called "Working in Partnership" brought together radio presenter Johnny Vaughan and Global Player managing editor Chris Baughen. They were interviewed by Global's partnerships development director Tony McAllister.
Podcasts get almost 17 million weekly listens in the UK, with over three quarters of 24 – 34 year olds likely to listen every week. Vaughan said podcasts based on radio shows were a great addition to the schedule as they allowed people who couldn't listen live to enjoy the programmes. He compared a podcast to Match of The Day rounding up football action, while listening to live radio is similar to watching games live. The podcast offers the "edited essence" of the radio show, he said, allowing listeners to repeat sections or speed past songs. Baughen said that advertisers are getting the message about podcasts and are becoming increasingly interested. "The message is getting through and they are starting to see the benefits… The fact we are getting bigger brands coming back to us again and again and again, shows that they are really appreciating the value it delivers."
The conference was also an opportunity to reveal in-depth research on radio advertising.
Underlining the powerful role of commercial radio in building brands, a session presented by Tara Wilkinson, head of insight at Radiocentre, unveiled new research showing the drivers of ad effectiveness for radio campaigns. The research reviewed the body's Radio Gauge research which was launched in 2008 and is the most complete database of radio ads anywhere in the world. Through an in-depth meta-analysis, the research provides an overview of how advertisers have been using radio and shows the factors that have created the most effective ads. The database consists of 1002 campaigns from 463 brands in 14 sector bought and planned by 100 media agencies. In total there were some 800k data points to analyse.
The analysis showed that radio consistently delivers significant uplifts for advertisers across a wide range of effectiveness outcomes from building awareness and positive brand sentiment through to purchase consideration and online response. This is true for brands in all sectors, whether radio is the lead medium or part of the mix. Radio advertising has a strong uplift for how people feel about a brand – brand relevance is on average 24% higher for people exposed to the radio campaign compared to those who weren't. Radio is shown to enhance the efficiency of media plans. The new research offers best practice learning and guidance on how to optimise these effects. Wilkinson also revealed that Radiocentre will launch a radio campaign planning optimisation tool next year.
Charlie Cadbury, chief executive of voice technology company Say It Now gave a demonstration of monetising campaigns on smart speakers called: Voice Monetisation: Closing the loop in audio advertising to purchase.
Tuning In 21 provided the radio and audio industries with powerful insights and inspiration as staff and businesses across these sectors prepare for the challenges ahead. The task for Radiocentre was summed up by Ian Moss:
"To ensure radio's popularity continues to endure as it evolves in response to this revolution."
---
Posted on Friday, November 12th, 2021 at 3:24 pm by RadioToday UK
---