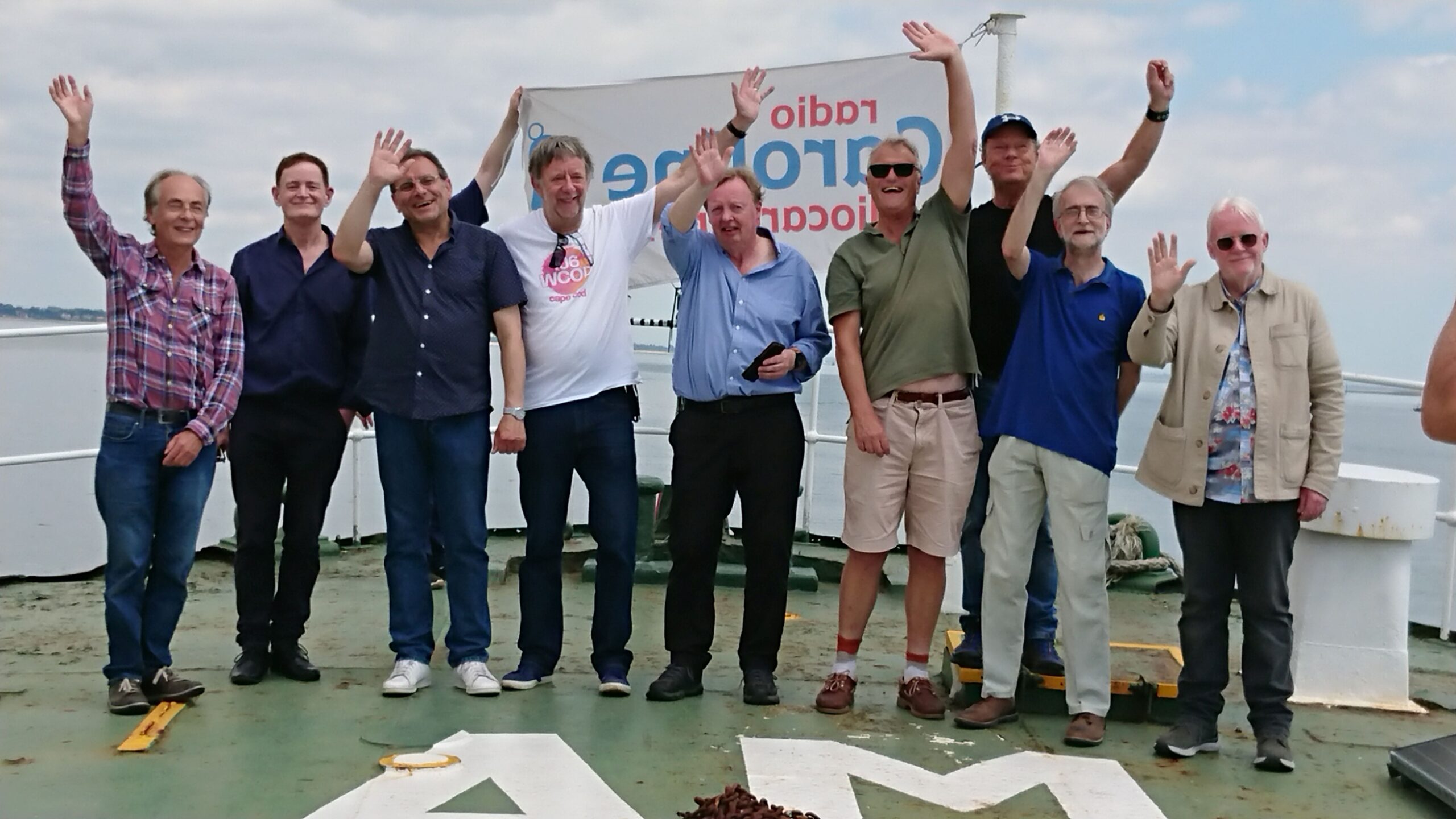 Photo by Stevie Lane

Presenters who played a key role in the survival of Radio Caroline in the 70s were reunited on board the ship for the first time in more than 40 years at the weekend.
Eleven of the DJs who kept Caroline on the air from the Mi Amigo during that period, enduring many deprivations and emergencies, reunited on board Caroline's successorship, the 1,000-ton Icelandic fishing trawler 'Ross Revenge', now safely and legally moored on the River Blackwater in Essex.
For one last time, Tom Anderson, Mark Lawrence, James Ross, Roger Matthews, Martin Fisher, Stuart Russell, Brian Martin, Mike Stevens, Richard Thompson, Cliff Osbourne and Marc Jacobs broadcast offshore on Radio Caroline, reliving 'The Spirit of the Seventies'.
Radio Caroline station manager Peter Moore said: "For many of our dedicated listeners, the period between 1976 and 1980 is the most cherished, and to have our team from that eventful era back together is very special indeed."
Today Radio Caroline is on the air 24/7 across England and parts of Europe via its 648 AM frequency, along with the usual online places. One weekend each month DJs return to Ross Revenge for a live broadcast.
Battered by storms and besieged by government legislation, Radio Caroline had limped on into the 1970s, exiled in the North Sea on the Mi Amigo, a ship that was old, leaking and in desperate need of maintenance or replacement.
The Mi Amigo sank in March 1980 and those on board were rescued by the Sheerness Lifeboat, a perilous operation for which coxswain Charlie Bowry was awarded an RNLI silver medal.
---
Posted on Monday, July 11th, 2022 at 11:07 am by RadioToday UK
---