 Absolute Radio introduces new sonic logo

A new jingle package based around a new six-note sonic logo has been introduced on Absolute Radio.
The new sound was recorded at Sunset Sound Studios in West Hollywood, and created by Absolute Radio's Creative and Publishing Director Vince Lynch.
The six-notes represents the full name of the station, moving away from the three note logo used by Absolute since it launched.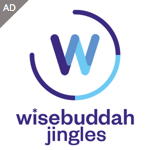 And in a new direction for radio station jingles, the publishing and the master recordings of the tracks and songs will be owned by One Golden Square Creative ltd (Absolute Radio's music publishing arm) and administered by EMI Music Publishing which generate income annually across the Absolute Radio brand in publishing.
Absolute Radio hopes to licence the audio to other stations outside the UK via its agreement with EMI, creating a new revenue stream for the business.
Last year, Global Radio created the new sound for Capital FM in-house, and GMG Radio created a new package of sung jingles for Real Radio internally.