 Fun Kids continue Manchester made series

The UK's children's radio station Fun Kids has taken a second series of Suzie Pugh and a Monster Too from independent production company Made in Manchester.
The 10 minute episodes which star former Coronation Street and Emmerdale actress Vicky Binns in the lead role, also aired on RTEjr Radio in Ireland and on FIRS in the Falkland Islands.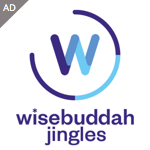 The audio adventure series centres around Suzie Pugh and Smert, her colour changing alien monster friend who lives in her garden shed.
Written and created by Phil Collinge, the episodes are produced by Iain Mackness. Vicky Binns plays Suzie Pugh and character actor Steve Murphy (Life on Mars/Shameless) is Smert.
MIM Creative Director Ashley Byrne and Executive Producer says: "We're delighted to be able to bring a new series of Suzie Pugh episodes to Fun Kids. Suzie is enjoying being part of a station which already has such a great selection of characters.
He adds: "It's fabulous to work with a team who believe passionately in the ability of audio to engage, excite and educate younger audiences."
Fun Kids Station Manager Matt Deegan says "Suzie Pugh was a real hit with the audience at Fun Kids so we are really pleased to be working with the brilliant team at Made in Manchester to bring it back for a second series."