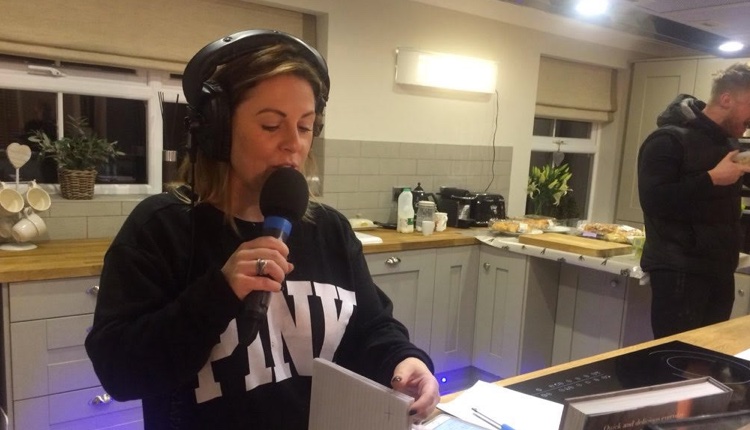 BBC Radio Manchester's breakfast show was broadcast live from the home of presenter Chelsea Norris on Tuesday morning.
Chelsea was joined at home by co-presenter Paul Lockett, sports reporter Mark Crossley and political reporter Matthew Bone as the team explored the benefits of working from home and avoided the rush hour traffic in Manchester.

The presenters had to share the house with Chelsea's husband Ben who was going about his normal morning routine.
Here's how it looked on Twitter:
Checking out @radiochelsea's "show" towels in her bathroom and the ingredients of her fridge with @paullockitt pic.twitter.com/6cbU6cJFFI

— BBC Radio Manchester (@BBCRadioManc) October 30, 2018
The news being read this morning by @paullockitt in his slippers from the armchair in @radiochelsea's lounge as we broadcast live from her house as we explore the idea of home working pic.twitter.com/wvtpJ3Aa4r

— BBC Radio Manchester (@BBCRadioManc) October 30, 2018
Chatting in the hall with our political reporter @mattbonebbc who's just arrived for the live broadcast @radiochelsea's house pic.twitter.com/bflCxgkLXo

— BBC Radio Manchester (@BBCRadioManc) October 30, 2018
Teddy the dog now helping @paullockitt with an in depth analysis of the papers as we broadcast live from @radiochelsea 's house pic.twitter.com/0oN9Ez822p

— BBC Radio Manchester (@BBCRadioManc) October 30, 2018
Do you work from home? @radiochelsea is trying it out as she broadcasts live from her house this morning. She's currently in the kitchen working around hubby Ben who's making his breakfast! pic.twitter.com/paK6ojd0x4

— BBC Radio Manchester (@BBCRadioManc) October 30, 2018
Need a new or improved logo for your radio station? Visit OhMy.Graphics and see how awesome you can look.

Posted on Tuesday, October 30th, 2018 at 11:11 am by Guest