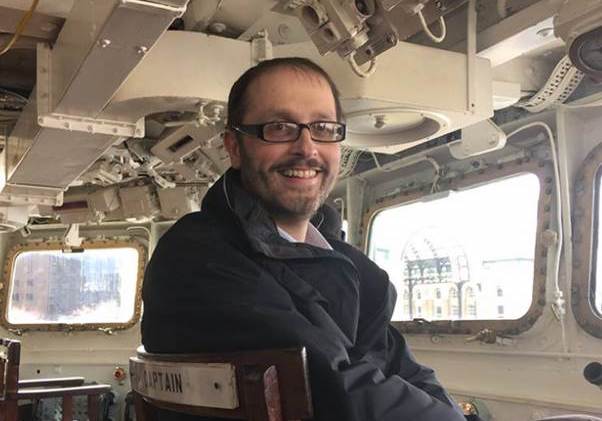 Tributes paid to BBC Radio Manchester's Jonathan Ali

A reporter who spent 26 years working for the BBC in Manchester has died from a rare type of bone and tissue cancer.
Jonathan Ali, who was 50, joined BBC GMR in April 1993 following a spell at Radio Leicester. He spent the bulk of his career reporting on his home patch of Bolton, Bury and Rochdale, having been brought up in the village of Hawkshaw near Bury.
Jali – as he was known to friends and colleagues – died on Thursday evening at the Christie Hospital in Manchester where he'd been receiving treatment for Ewing Sarcoma, a rare form of cancer. He had continued working up until recent months – including covering news of a fire at the hospital while he was receiving treatment there in 2017.
Alongside his work as a reporter for Radio Manchester, he was passionate about local history and wrote a book about soldiers from Bury who fought and died during the First World War. Oscar-winning film director Danny Boyle credited him for the research he did on the subject. Boyle used some of Jonathan's work to create his own memorial to the war.
Kate Squire, managing editor of BBC Radio Manchester said: "Jonathan, or Jali as everyone called him, was an outstanding journalist; absolutely passionate about local broadcasting and Greater Manchester. His journalism changed things and had a real impact on people.
"He was a hard-working, enthusiastic and intelligent journalist and a kind, loving and funny friend. Our hearts are so heavy. We will miss him terribly and our thoughts are with his family."
In March Jonathan shared the news that his cancer was terminal, writing on Facebook: "Well this will be the most difficult Facebook post I will ever write. The scan results were not good today. The prognosis for my future is roughly a year give or take events. I will be going for more treatment to try and hold the tumours and exploring other options. You'll understand if I don't reply quickly to comments today. Love to all from Jali."