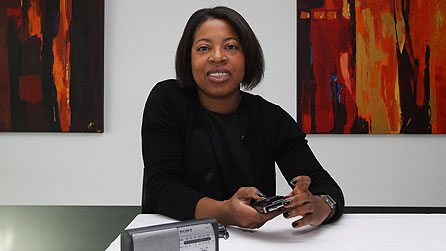 Lorna Clarke named as Controller of Pop at the BBC

Lorna Clarke has been named as BBC Controller of Pop, giving her control over BBC Radio 1, BBC Radio 2, BBC Radio 1Xtra, BBC Asian Network and BBC Radio 6 Music.
Also, Mohit Bakaya is the new Controller of BBC Radio 4, replacing Gwyneth Williams who left the BBC earlier this year after 43 years at the corporation.

And Jonathan Wall has been appointed as the new Director of BBC Sounds after the launch director, Charlotte Lock, moved on following nine months in the role.
Jonathan's move to BBC Sounds means former Bauer executive Richard Maddock will become Acting Controller of Radio 5 live, supported by Heidi Dawson as Managing Editor.
Lorna was previously Network Manager then Head of Production for BBC Radio 2 and 6 Music and was the Electric Proms Director for four years. She started her career in 1983 in the newsrooms of BBC Cornwall, Radio Viking, Metro Radio, BBC GLR and World Service News.
In 1990 she joined Kiss 100 in London and worked her way up to the role of Programme Director where she was awarded Best Radio Programmer by the commercial radio industry. In 2002, Lorna became Head of Mainstream Programmes for BBC Radio 1 for five years, followed by four years as the BBC Talent Executive and time spent as Head of Programmes for 1Xtra.
Lorna has also judged the Sony Radio Awards for 11 years and The Mercury Music prize on four occasions. She says: "My career has been defined by music, and as a music lover I want the BBC to continue to bring the world of music even closer to our listeners. These are exciting times for the BBC and the music industry globally, where change is affecting us all at a rapid pace.
"I am really looking forward to working with the industry and our partners to continue delivering amazing music for our audiences."
James Purnell, Director of Radio and Education, says: "It's an exciting time for the audio industry and these are some of the most sought after jobs in radio. There were many impressive candidates, but I'm delighted Jonathan, Lorna and Mohit are taking on these important roles.
"For many of us, radio is a constant companion. It's also a source of truth and but also sometimes of wonder. With these appointments, we will have a team that works even more closely to continue to love our radio stations and grow BBC Sounds. Working together, BBC radio can make a difference – to the ideas we debate, the music we love, the way we understand each other.
"All three of the new Controllers talked about how they will empower their new teams, and I look forward to working with them to maximise the creativity of everyone who works with us for the benefit of our millions of listeners."
Mohit Bakaya, new Controller of Radio 4, says: "I can't remember a time when I wasn't passionate about Radio 4. I know what the station means to our listeners and the unique place it has in the public consciousness and important role it plays in the national debate.
"The intellectual ambition of the network and the thought-provoking, and often awe-inspiring, programmes we broadcast are more important now than ever. After being a Commissioning Editor at the network for several years, it will be a privilege to lead Radio 4 and the brilliant staff who, every day, make it the valued and much loved station it is."
Jonathan Wall, new Controller of BBC Sounds, adds: "After 21 wonderful years at 5 live it is time for a fresh challenge. BBC Sounds, alongside iPlayer, will help make the BBC thrive and it's a privilege to get the chance to lead so many talented people who want to make sure we reach as many listeners as possible with our brilliant radio, music and podcasts. I can't wait to get started."
Lorna Clarke will start in September, Jonathan Wall and Mohit Bakaya will take on their new roles in August.
AudioUK, the trade association representing over 100 audio production companies around the UK welcomes the three appointments today. Will Jackson, Managing Director told RadioToday: "We welcome the news of these new appointments. We and our members look forward to working with Mohit, Lorna and Jonathan in their respective new roles, as we continue to move towards the target of 60% competition for programme-making in BBC Radio by 2022 and work to agree terms of trade with BBC Sounds."
The BBC will advertise for the Controller of Radio 5 Live in the near future, and RadioToday understands Ben Cooper, current Controller of BBC Radio 1, 1Xta and BBC Asian Network, will continue in his role for the immediate future.
Created on Tuesday, July 9th, 2019 at 1:01 pm