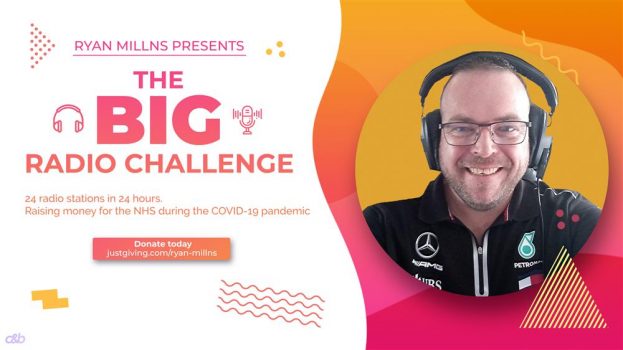 Uckfield FM'S Ryan Millns is aiming to become the first radio presenter to present on 24 radio stations in 24 hours to raise money for the NHS COVID-19 charity.
Ryan is currently in isolation due to suffering from a life-limiting rare autoimmune disease, which caused him to suffer from a stroke last year.
He told RadioToday: "I owe my life to the NHS and now is the time to give something back."
24 radio stations across the world have already agreed to take part in Ryan's fundraiser which will be held from 7am on Friday 8th May to 7am on Saturday 9th May.
To donate please visit justgiving.com/fundraising/Ryan-Millns
Friday 8th May 2020
7am: Pure Gold Spain – 94.1FM across the Costa Blanca
8am: Academy FM – 105.9FM across Folkestone and the surrounding area
9am: Uckfield FM – 105FM across Uckfield and the surrounding area
10am: Delux Radio – Online at feelgreatradio.co.uk
11am: Bay Radio Spain – On 101.4, 89.2, 98.5, 89.4 & 89.1FM alongside Dougie Mack.
12pm: Gloss FM – Radio station based in Thornbury on glossfm.co.uk
1pm: Youthcomm – on 106.7FM across Worcester and the surrounding area
2pm: Valley FM Spain – On 94.5 & 102.6FM across the Orba Valley in the Costa Blanca
3pm: Burgess Hill Radio – On 103.8FM across Mid-Sussex
4pm: Islands FM – On 107.9FM across the Isles Of Scilly
5pm: Clubland Radio UK – Playing the biggest dance hits from Southampton
6pm: No Barriers Radio – nobarriersradio.com
7pm: Meridian FM – On 107FM across East Grinstead and the surrounding area
8pm: Hailsham FM – On 95.9FM across Hailsham and surrounding villages
9pm: Shire Sounds – Across Kettering and surrounding areas.
10pm: i2 Radio – Playing the music you want on i2radio.co.uk
11pm: DJ Plug Radio – Playing classic 60s from liveontheradio.net
Saturday 9th May 2020
12am: Andover Radio – On 95.9FM across Andover
1am: Radio Plymouth – The local commercial radio station on 106.7FM and on DAB
2am: Coastway Hospital Radio – The Hospital Radio Station for Brighton
3am: Carillon Wellbeing Radio – On 1476AM across West Leicestershire
4am: BRFM – On 95.6FM. The truly local radio station for Swale
5am: Hermitage FM – On 99.2FM across North West Leicestershire
6am: Seahaven FM – On 96.3FM across Seaford Newhaven and Peacehaven
---
Posted on Tuesday, April 21st, 2020 at 4:16 pm by RadioToday UK
---