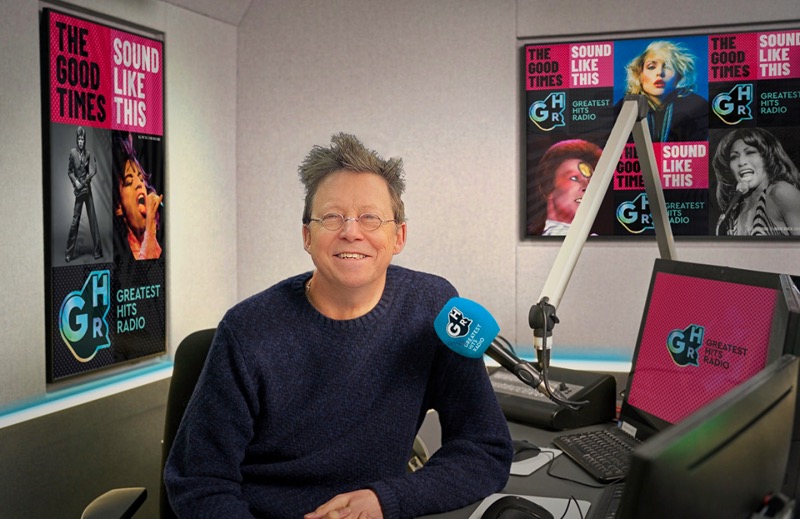 Greatest Hits Radio Drivetime is going networked with Scala Radio presenter Simon Mayo joining the schedule full time from March 15th.
He'll leave his daily programme at Scala but stay for a weekend show, after two years in the mid-morning slot.
Current regional Drivetime presenters on Greatest Hits Radio will move to the afternoon 1-4pm show, keeping its Ofcom obligation to provide at least three hours of regional programmes each weekday.
The exception being Greatest Hits Radio NW Drivetime presenter Darren Proctor who moves to 7-10pm on the network, replacing Rick Houghton who is leaving Bauer.
Rick first joined Bauer (Emap) in 1990 and has most recently been on-air at Radio City 2 and GHR, along with stints at Real Radio and Channel 4 in the UAE.
Debbie Mac will continue on the 1-4pm slot at GHR North West and UK, whilst Simon's Sunday album show will continue over the following months.
Producing the new Drivetime show will be Suzi Purdie who having previously worked with Simon at Radio 2 also project managed the station's short story-writing competition, 500 words.
Fans of the host may also recognise regular contributors on the show, including sports presenter Matt Williams.
Bauer's Ric Blaxill, Simon's former producer at Radio 1, also joins the Greatest Hits Radio team as the Talent Director (London).
Simon Mayo announced the news to his listeners on Scala this morning. He said: "Returning to Drivetime is so very exciting for me. It's a show I loved so much and now on Greatest Hits Radio we intend to make it even better. And with Matt Williams back on sport, we can't wait to get started. The message of the show is the same-enjoy yourself, it's later than you think!"
Some news. I am very excited to announce that on March 15 I shall be returning to Drivetime, across the UK on Greatest Hits Radio. It's a show I love and it feels as though we have unfinished business! Matt Williams will be on sport of course (who else).

— Simon Mayo (@simonmayo) February 1, 2021
Gary Stein, Group Programme Director for the Hits Radio Brand Network added: "We're so excited to have one of the UK's most loved radio presenters hosting an all new Drivetime Show on Greatest Hits Radio.

"With Simon playing the amazing music that the nation grew up with from the 70s, 80s and 90s along with his warmth and personality, I know audiences will love his new show".

At Scala, Mark Forrest will take on the 10am-1pm show, with a full new Spring schedule for '21/'22 to be announced later this month.

In addition, to the on-air changes, Bauer has announced a refreshed Content Director structure, with the following changes;

• Tony Moorey adds Scala Radio to his role as Group Content Director across Magic Radio and Absolute Radio

• Rebecca Frank adds heat radio to her Content Director role of KISS network

• Ric Blaxill remains as Music and Content Director for Planet Rock and Kerrang!, whilst assuming the role of Talent Director (London) for Greatest Hits Radio

Need a new or improved logo for your radio station? Visit OhMy.Graphics and see how awesome you can look.

Posted on Monday, February 1st, 2021 at 11:50 am by Roy Martin