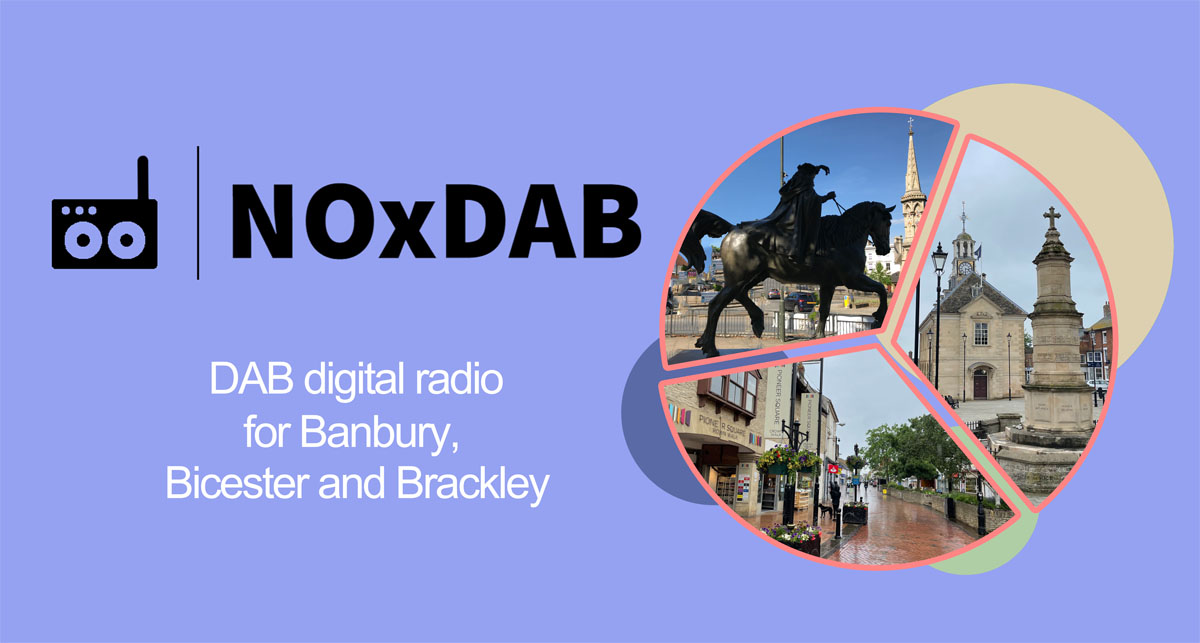 Local broadcasters in Banbury, Bicester and Brackley are coming together to apply for the local small-scale DAB multiplex licence.
A new group called NOxDAB has a plan for local ownership and control of the multiplex on a not-for-profit basis, to protect the interests of existing stations covering the three towns.
The team behind Banbury FM began work on the project two years ago. Puritan's Radio, which is based at Banbury United Football Club, has been on board since the project started. 3Bs Radio has also joined the group.
Banbury FM's Managing Director Andy Green said: "Our area has always been broadcast 'to' from other areas. Finally, Ofcom has given us the opportunity to gain control of a broadcast medium so the local stations which broadcast 'from' the area can be given affordable access to digital radio broadcasting.
"Alongside our current portfolio of local broadcasters, we would love to hear from other programme makers who would benefit from access to the vibrant and growing communities in North Oxfordshire and South Northamptonshire. With the M40 passing right through our patch, we are a key point between London and Birmingham."
Ian Fleming from Puritans Radio said: "Last season Banbury United gained promotion to the National League North and a huge redevelopment of Banbury's waterside has just been completed. Banbury, Bicester and Brackley are fast-growing towns with unique and vibrant identities.
"At a time when our area is showing so much potential, we are delighted that this project could allow us as a community broadcaster the ability to connect, interact and effectively make a positive difference to our area."
Keith Lewis from 3Bs Radio said: "3Bs Radio covers Brackley, Buckingham and Bicester and the surrounding areas. Our area has always been underserved by other broadcasters who mainly just pay us lip service. Small scale digital radio hands the opportunity for local people who live and breathe the area to communicate effectively with the locality.
"Our area is expanding with increased population growth as well as new businesses arriving. It is even more important to have a voice for the community.
"The key thing is, the NOxDAB model makes access for small community stations like 3Bs Radio realistic and achievable."
Any programme makers interested in providing a service on the Banbury, Bicester and Brackley multiplex can contact Andy Green: andy@noxdab.com, or fill in the form at noxdab.com.
---
Posted on Thursday, August 25th, 2022 at 1:49 pm by RadioToday UK
---