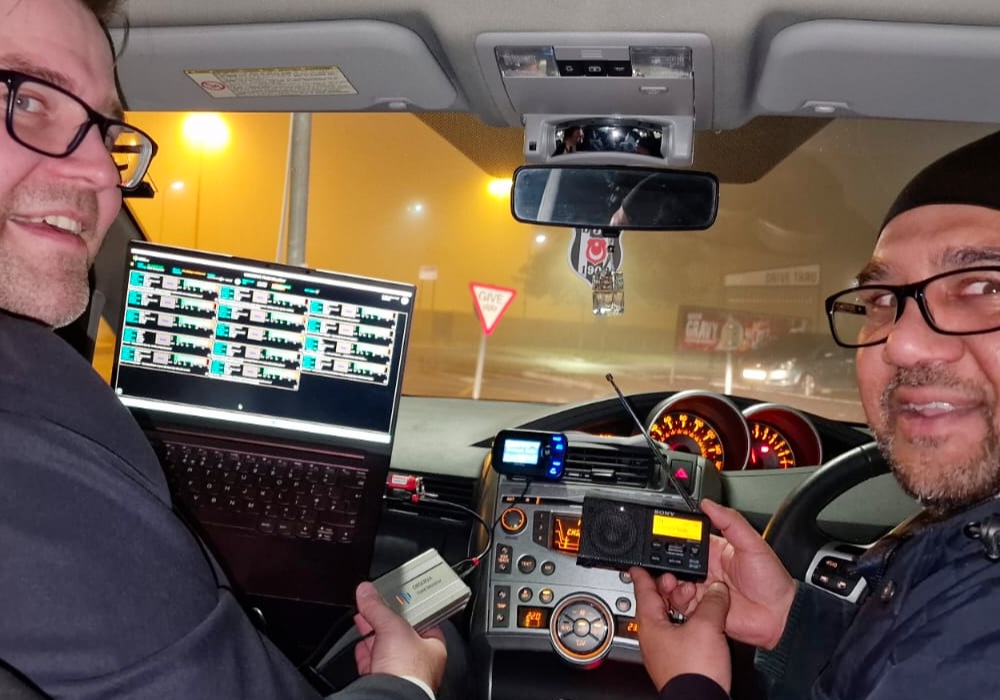 Ash Elford of UK DAB Networks recently launched the small-scale DAB multiplex in Basingstoke – but it didn't all go to plan. Here's what happened in his own words.
"There's nothing like a deadline to focus the mind.
When I took control of the Basingstoke and Winchester DAB licences in July 2022 from Nation Broadcasting (having divested my initial shareholding to Nation in December 2021), I had a lot of work to do. Winchester was a high priority with a launch deadline of 30th September.
Ofcom is very firm that small-scale multiplexes must be launched within 18 months of licence award. In Winchester, Crabwood Farm is actually a field with multiple masts within it, each owned by different companies. The landlord of the mast originally intended for use, did not move at a quick enough pace and I realised that if the licence wasn't going to be revoked I needed a plan B, and that plan B was to contract with Arqiva!
So on 29th September, with one day to spare, Winchester was turned on, with an official launch on 8th October.
Basingstoke was a similar story, originally with three sites planned and owned by two different landlords. It became clear that Basingstoke was also at risk of being timed out, and luckily for me, I was able to secure Arqiva's Basingstoke transmission site used by the BBC, Digital and NOW Digital (but not SDL).
It is in a great location to the south of the town, and does a lot of heavy lifting in terms of getting signal out to where it is needed in Basingstoke.
Much of the installation work was done at Basingstoke a few weeks ago, however Arqiva needed to carry out some antenna work before transmissions could go live. This was easier said than done, because to climb a mast requires sunlight, good weather and a window long enough to shut down other transmissions to allow the engineers to safely work. Getting a shut down is tricky at the moment because of the World Cup, and with matches on some days started as early as 10:00, this really limited the window to carry out the antenna work, as traditionally shutdowns are done either overnight (for work that can be done in a cabin), or between 10:00 and 16:00 for work that has to be done outside.
So just like Winchester, Basingstoke too launched with one day left to spare!
Unfortunately Basingstoke got off to a bit of a bumpy start. The transmitter is actually in the countryside just a few miles south of Basingstoke, where telecoms cables aren't always buried in conduits in the ground, but on telegraph poles. A cable was damaged on Thursday, and unfortunately the connection became unstable, to make matters worse our 4G back-up did not kick in automatically and later that day when the 4G connection came in to service, our multiplexer threw a bit of a hissy fit and took us off air.
Thankfully since Friday morning, things have settled down and I am much happier with how things are going. The coverage of Basingstoke and Winchester multiplexes nicely adjoin each other, and that's no coincidence. The feedback from the stations broadcasting in Basingstoke has been positive, and I am really excited that local services from B Radio and Basingstoke Community Radio are now on-air.
Basingstoke Hospital Radio will be joining the multiplex too in the near future. As you may be aware, I have been associated with Angel Radio for 8 years, and it has been a long held ambition to reach all of Hampshire. Angel is just missing the towns of Petersfield and Alton, and hopefully coverage in those market towns will be achieved in the next year or so when Ofcom advertise a small scale multiplex for the area.
The Basingstoke DAB multiplex is currently broadcasting 14 radio stations with more to follow in the fulness of time."
Here are the radio stations now broadcasting on DAB in the area:
Angel Radio
Basingstoke Community Radio
B Radio
Christmas Radio
Easy Radio
Hot Gold
Hot Radio
Nation 70s
Nation 80s
Nation Radio
News Radio UK
Outreach Dance
Outreach Radio
Swinging Radio 60s
(Hospital Radio Basingstoke, not on-air yet, but launching soon)
---
Posted on Monday, December 5th, 2022 at 11:01 am by Guest
---