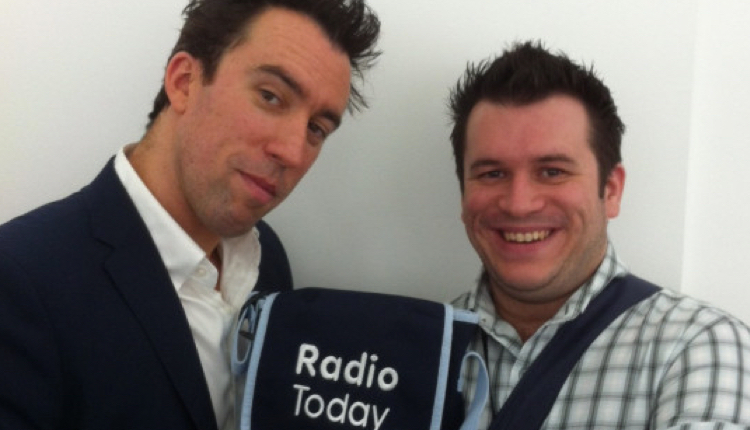 Five months after announcing his departure from Absolute Radio, Christian O'Connell has hosted his last show before heading off for a new job in Australia.
His final programme was full of emotion, content and memories of his 12 years hosting breakfast, firstly on Virgin Radio then Absolute Radio as it rebranded and changed ownership. His final song was Thankyou for being a friend by Andrew Gold, as he and Richie Firth said a very emotional and tearful goodbye.
Friends, colleagues and listeners have been sending good luck messages, as OC gets ready to move to Melbourne to present Breakfast on Gold FM from June 4th.
Christian thanked listeners and went on to say his final words: "This shows memory will fade and I understand that, and you shouldn't feel bad about that, but it will not fade in my heart."
After 12 years on the show, this was @OC and @RichieFirth's last link.
What a ride.#chanks pic.twitter.com/cfG2Wqej5g

— Absolute Radio (@absoluteradio) May 18, 2018
Good luck over the sea @OC. If you get a bit overwhelmed by lovely messages this morning, let me know and I'll DM you calling you a c**t. Cheers mate, a pleasure to know you. X

— Jon Holmes (@jonholmes1) May 18, 2018
Good luck with the exciting move @OC – with love from all of us over here pic.twitter.com/kik05ckJO3

— BBC 6Music Breakfast (@BBC6Breakfast) May 18, 2018
Christian @oc..
Good Luck to you and your family in Australia.
Whatever happens, we'll always have 'Live With…' ?

— Chris Moyles (@ChrisMoyles) May 18, 2018
Tomorrow is the last day on @absoluteradio for Christian O'Connell @OC. Will I? Or won't I? pic.twitter.com/Nm20QsaIgS

— judy murray (@JudyMurray) May 17, 2018
His new sidekick and producer at Gold FM will be Cacklin' Jack Post from the Hamish and Andy, reports Radio Today Australia. "It's been a pleasure and a privilege to broadcast on Absolute Radio across the UK for the past 12 years to two million people, but I'm now looking forward to heading to Melbourne to start my new show on GOLD104.3, and my family is excited to live in such an exciting and vibrant city, and in a country that has more than three sunny days a year," said Christian.
"Six years ago I broadcast uninvited into Australia from the UK with two chancers called Hamish and Andy, and from Monday June 4th I'll be hosting my brand new breakfast show in Melbourne," Christian added.
"I've ditched those two but hired someone from their amazing show."
Very very excited to tell you that from @hamishandandy Jack Post @jackpost is my wingman and producer on my new @gold1043 breakfast show. Starts June 4 #melbourne #newkidsontheblock pic.twitter.com/e7A49eZU4M

— Christian O'Connell (@OC) May 18, 2018
"After a lot of planning and preparation I am genuinely excited to be welcoming Christian and his family to Australia next week," added ARN national CD Duncan Campbell.
"His internationally acclaimed show format has made him one of the world's most awarded radio hosts and reinforces ARN's commitment to delivering innovative and high-quality content to our audiences. Melbourne listeners haven't heard anything like this before."
OMG literally crying at @oc and @RichieFirth on @absoluteradio this morning 🙁 pic.twitter.com/jYwA9wPuqB

— Briony Tanner (@BrionyTanner) May 18, 2018
@OC here's to your last show! Can't wait for you to get down here!
Cheers!! pic.twitter.com/vrgyU31L2e

— kippers (@KippersC) May 18, 2018
I can't listen today, @OC. It's too sad. Wishing you all a safe journey, a happy life, and a good new show. Australia, you better look after him. X

— Alison Major (@AlisonMajor7) May 18, 2018
Hey @OC good luck for the Ultimate Show from all of us here at #gold1043 ? pic.twitter.com/6ognKn15uL

— Gold 104.3 Melbourne (@gold1043) May 18, 2018
The Christian O'Connell Breakfast Show – the very best bits of all time!
Don't be sad it's (nearly) over, be glad it happened… @OC @RichieFirth pic.twitter.com/iHIabAWy83

— Absolute Radio (@absoluteradio) May 16, 2018
Posted on Friday, May 18th, 2018 at 10:18 am by RadioToday UK