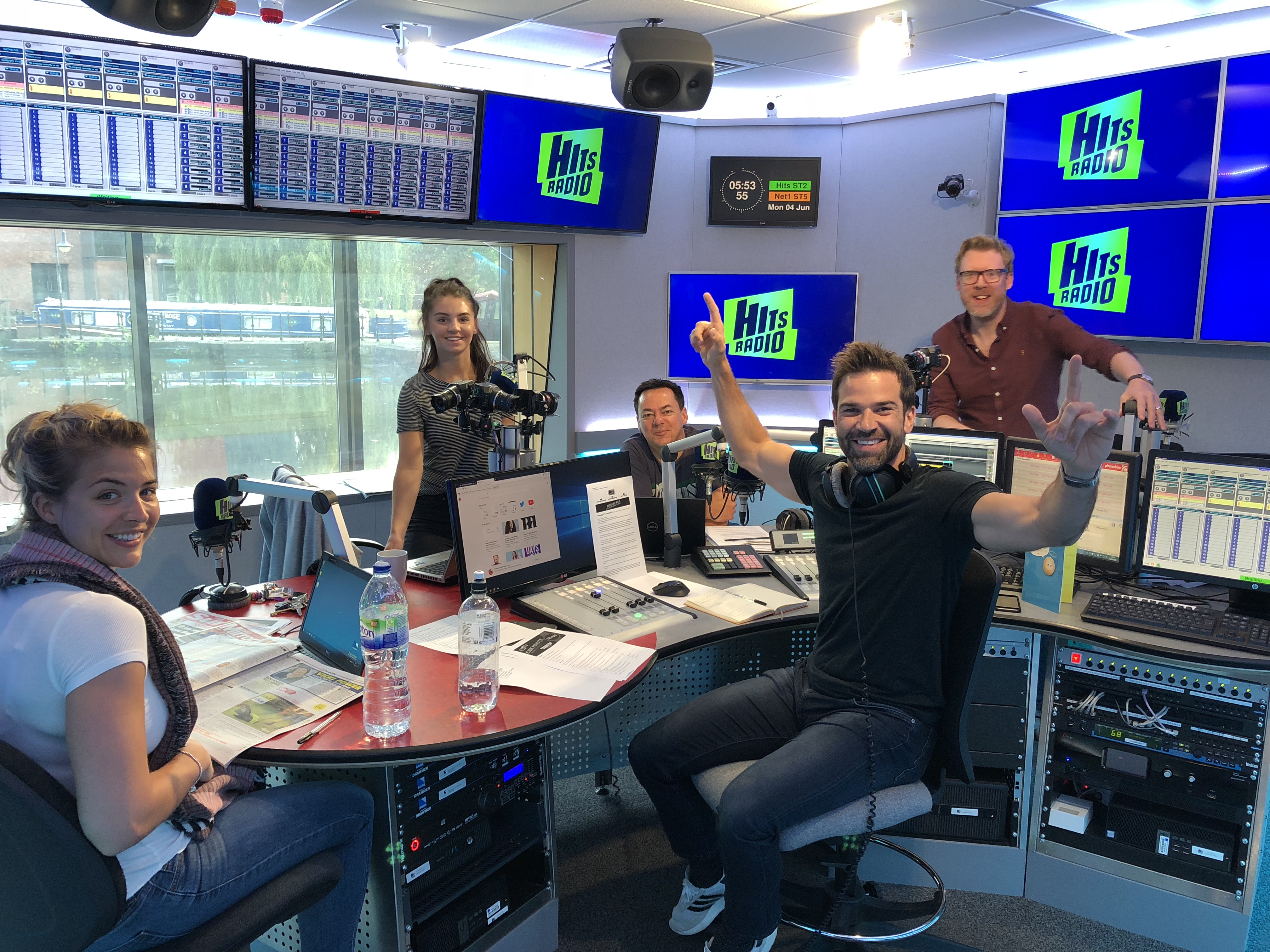 Hits Radio Manchester replaces Key 103

Bauer's new national station, Hits Radio, has launched – replacing the Key 103 brand after almost 30 years.
Gethin Jones, Gemma Atkinson and Dave Vitty have taken over the breakfast show, as Mike Toolan moves to mid-mornings.

Guests on their first show included Jess Glynne, there was a chance to win £10,000 and the return of Dave's Tedious Link which was a regular feature when he was part of the Chris Moyles Show on Radio 1.
The first track at 6am – selected by listeners via an online poll – was Greatest Day by Take That. Other tracks played in the first hour were from Portugal The Man, Kings of Leon, Sia, Zedd, Shawn Mendes, Anne-Marie and Coldplay. The first caller, Ann Houten from Manchester, won tickets to see Taylor Swift in concert – the same prize is being given to every caller who gets on air on the show this week.
Watch the opening link here:
Listen to some highlights of the first show here, courtesy of David Lloyd's Radio Moments Channel:
Listeners on Bauer's former 'Big City 1' stations across the North and Midlands – including Metro, Hallam, Radio City and Free Radio – will get new network shows from today as the Hits Radio Network launches at 10am. Mike Toolan is followed by Debbie Mac, then a local drivetime show. Sarah-Jane Crawford takes over evenings 7-10pm and Sophie Wright will be on 10pm-1am.
As part of the changes, digital station The Hits (Now Hits Radio UK) and Key 103 (now Hits Radio Manchester) are dropping the Big Top 40 chart on Sunday afternoons – instead Sarah-Jane Crawford will front a brand new entertainment led show called "This Week's Biggest Hits". The other stations in the Hits Radio Network will continue to take the Big Top 40 show from Leicester Square though.
As a result of the Key 103 name change, Key 2 on 1152 AM and DAB has changed its name to Key Radio. Key 3 closed a few months ago ahead of it closing down to make way for Hits Radio.
And to avoid duplication of Hits Radio on the Manchester DAB multiplex from today, The Hits has been replaced by Absolute Radio Classic Rock on digital radios in the city.