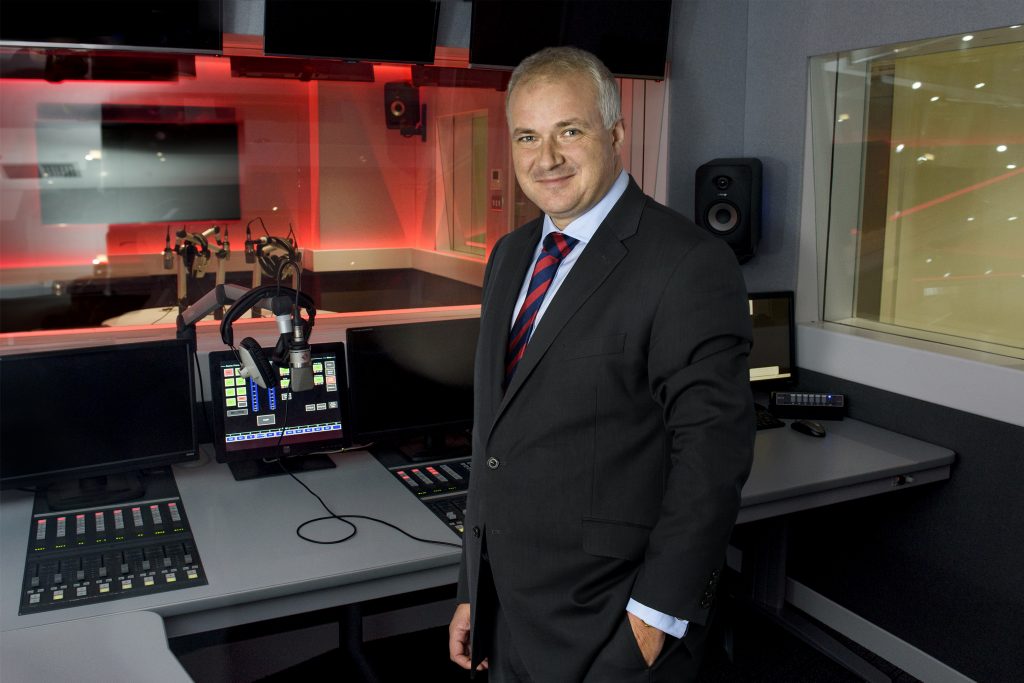 Wireless boss not ruling out putting Virgin on FM

Wireless Chief Executive Scott Taunton has told RadioToday that the group has no current plans to put Virgin Radio onto any of its FM licences around the UK, but hasn't ruled out doing so in the future.
Speaking to our Deputy Editor Stuart Clarkson on this week's RadioToday Programme podcast, Scott also reveals that the NewsUK-owned group will be making further announcements soon about the team that will be joining Chris Evans on the new Virgin breakfast show from early next year.

A number of industry commentators have suggested that Wireless could utilise its existing local radio network – which has licences in Swansea, Wolverhampton, Telford, Shrewsbury, Stoke, Warrington, Wigan, Bolton, Blackpool, Chesterfield and Bradford – to extend the reach of digital-only Virgin.
Scott Taunton told RadioToday: "That is a possibility and something that you would expect us to have a look at. But equally, in the local markets in which we operate most of our radio stations are in a huge position of strength. In commercial terms in most of those markets we're the number one commercial station available – and what you don't want to do is throw the baby out with the bath water either. So I think in a place like Blackpool for instance – where we're second only to Radio 2 – Virgin Radio will also be available alongside Radio Wave in that marketplace. If we were to just double up and turn the FM into a Virgin licence that may not necessarily be the wisest move. But we need to see what the regulations allow, and then get into the detail on the business plan and see what makes sense in the long run."
Scott also hinted that Wireless could make moves to purchase other radio groups or stations as a result of potential regulatory changes which would relax music formats and allow more programme sharing across local radio licences. "We, like every other radio group, are keenly awaiting the decisions that come out of Ofcom," he said. "There's also the possibility of legislation that opens up even further. We'll be having a look at all of the options that are available to us. That might mean us looking at other acquisitions, it might mean looking at what we can do with the network of stations that we already have – but we don't have any any cast iron plans at this stage."
Chris Evans is joining Virgin in January 2019, after announcing his departure from the Radio 2 breakfast show earlier this month. Mr Taunton told RadioToday that there wouldn't necessarily be further changes to the Virgin line-up around Evans, other than people being brought in to work with him on the breakfast show.
He also confirmed that Wireless and NewsUK would be undertaking a campaign to encourage listeners to follow Evans to Virgin. "We certainly have marketing to put behind it," he said. "I think it's important that we explain where they can listen to Chris – not least because he's moving from a station that's available on a wide range of platforms to one that's available digitally. So explaining to people how they can tune in and listen will be very important at getting that marketing message across.
"We will be investing and making further announcements in the team specifically around the breakfast show on Virgin. But we're very pleased actually with the talent that we've got on Virgin Radio at the minute and I wouldn't expect there to be immediate changes to the lineup on Virgin Radio, beyond finding a home for Sam and Amy which I think is important too."
Listen to Scott Taunton talking about signing Chris Evans, as well as an in-depth chat with John Myers about his recent cancer treatment and memories of Century 105 on this week's RadioToday Programme