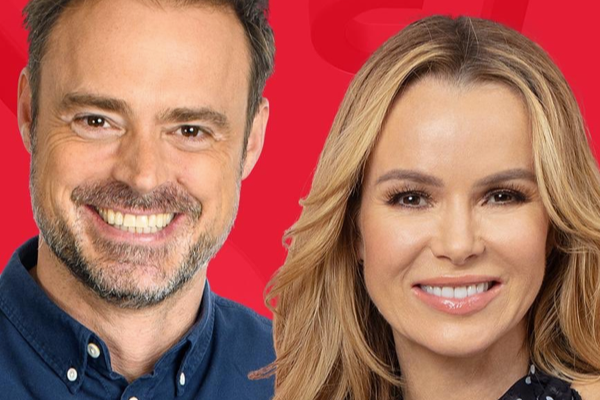 Heart's new national breakfast show will be presented by Jamie Theakston and Amanda Holden when it starts on June 3rd between 6.30 and 10am.
Also joining Jamie & Amanda is singer and TV personality Ashley Roberts, who will join the Heart Breakfast team as the resident showbiz expert.

Newspaper reports suggest Amanda Holden is getting paid £3m to co-host the show over two years.
RadioToday understands current presenters of Heart's local breakfast shows across England, Scotland and Wales were told the news on Sunday.
Amanda said: "I've spent years in the car listening to Heart while traveling to work or doing the school run with my daughters. So it feels incredibly surreal to be announced as the new national Breakfast co-presenter alongside the fab Jamie Theakston. Jamie and I go back more years than I can remember so I have no doubt that working with him will be hilarious for everyone. I'm not sure my face is ready for the early starts mind you, but I hope we can make the listeners laugh along with us each morning!"
Heart Breakfast's co-presenter Jamie added: "This is a massively exciting opportunity in taking this show nationwide and I'm beyond thrilled to have my friend Amanda join me in the fun. Listeners can expect the unexpected from Amanda, just as I have learned to do over the years!"
Jamie and Amanda will replace 21 breakfast shows on stations from Exeter to Edinburgh – meaning around 70 presenters and producers being taken away from the slot. Amanda is a replacement for Emma Bunton who left the show last year.
Some breakfast presenters will be leaving the network, and some will move to drivetime, replacing the current drivetime shows.
In addition, some drivetime programmes will be merged into smaller areas as per Ofcom's changes to the Localness Guidelines.
Managing Editor of Heart, James Rea said: "We have been working hard behind the scenes to be able to announce some huge changes to Heart, which we're thrilled to reveal today.
"Amanda Holden brings a fresh energy to the brand-new national Breakfast show and we're delighted that she's now part of the Heart family. Both Jamie & Amanda's infectious humour and engaging personalities will certainly brighten up mornings across the UK! We wish them the very best of luck ahead of their first show together on Monday June 3rd. Turn up the feel good indeed!"
Ashley Tabor OBE, Founder & Executive President of Global said: "This is a huge moment for Heart and Global, as we launch the largest morning show in commercial radio, Heart Breakfast, across the UK. James Rea and the team have done a sterling job and we can't wait for Jamie Theakston & Amanda Holden, along with Ashley Roberts, to turn up the feel good every morning!"
A networked breakfast show on Heart was first announced by Global on February 26th, and since then, the company's Capital network has replaced its local breakfast shows with a national programme. The Smooth network will follow before the end of the year.
The programmes being replaced by Jamie and Amanda are:
Sussex: Tom, Nicola and Jack
South Coast: Rich and Zoe
Kent: James and Becky
Thames Valley: Matt and Michelle
Bath/Bristol: Ed, Troy and Paulina
Devon/Cornwall: Matt and Victoria
Gloucestershire: Myles Galloway
Wiltshire: Mel and Ben
Northampton: Ivan and Emma
Essex: Martin and Su
Cambridge: Kev and Ros
Suffolk: Dave and Heidi
Hertfordshire: Daniel Fox
WM: Ed and Gemma
NW: Joel and Lorna
North Lancs: Danny Matthews
NE: Justin and Kelly
Yorkshire: Dixie and Emma
Scotland: Robin and Adele
South Wales: Jagger and Woody
North Wales: Lois and Oli
If you currently work for Global and find yourself looking for new opportunities due to the changes – let us know and we'll tell the rest of the industry you are available, with a free listing on our "people available" page.
.Heart Breakfast is going NATIONAL on June 3rd.I'm thrilled to finally announce I'll be hosting what will NOW be the Uk's biggest commercial Morning Radio show alongside @JamieTheakston I'm excited to be part of the heart FM team! Look forward to waking you all up @thisisheart ♥️ pic.twitter.com/P7aa4JVGWj

— Amanda Holden (@AmandaHolden) April 28, 2019
Posted on Sunday, April 28th, 2019 at 9:47 pm by Roy Martin