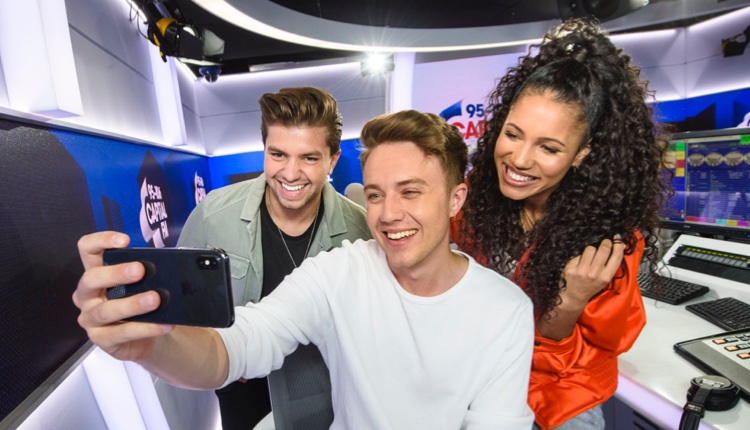 New national Capital Breakfast launches across the UK

Global has launched the first networked breakfast show on commercial radio in England, Scotland and Wales with the syndication of Capital Breakfast.
Roman Kemp, Vick Hope and Sonny Jay have replaced almost a dozen local breakfast shows on Capital-branded radio stations supported by a national advertising campaign which kicked off on Saturday night.

Roman, Vick and Sonny are now broadcasting to Birmingham, Liverpool, Manchester, Lancashire, East Midlands, North East, North West & Wales, Scotland, South Wales, Yorkshire and the South Coast (Brighton and Southampton). Capital Cymru retains its local breakfast show.
The show will provide local news, weather and travel information inserted from each region.
The move has been made possible thanks to changes in Ofcom's localness guidelines, first published in October last year.
Roman, Vick and Sonny's first guests on the nationwide show will be Billie Eilish and Jax Jones, with Lewis Capaldi, Mark Ronson, Ellie Goulding, Olly Murs, Tom Walker, Ava Max, Liam Payne and Anne-Marie on during the week too, plus a competition for listeners to win tickets to see and meet Shawn Mendes in the UK as well as his hometown of Toronto.
Here's who is leaving Capital regional breakfast and who will be hosting the new regional drive shows from today.
Today also sees the launch of Capital Lancashire, replacing 2BR which until 10 days ago provided a local radio service for Burnley, Blackburn, Preston and surrounding areas of central and east Lancashire.
RadioToday's take
This is an historic day for commercial radio in the UK as, after years of lobbying for rules to be relaxed, Global become the first group to offer a networked commercial breakfast show across Great Britain.
In 2007, Connect FM moved out of Kettering to share with Lite FM in Peterborough, kick-starting the trend of co-location. We predict the practice of big name breakfast shows shared across a number of stations will become the norm in the coming years, just as co-location is now expected.
Global has already confirmed Heart Breakfast will go networked in the coming months, followed by Smooth before the year is out.
No other group has indicated any plans to network breakfast on a major scale, but Bauer currently syndicates breakfast on Greatest Hits Radio on FM in Liverpool and West Midlands.
Created on Monday, April 8th, 2019 at 6:15 am