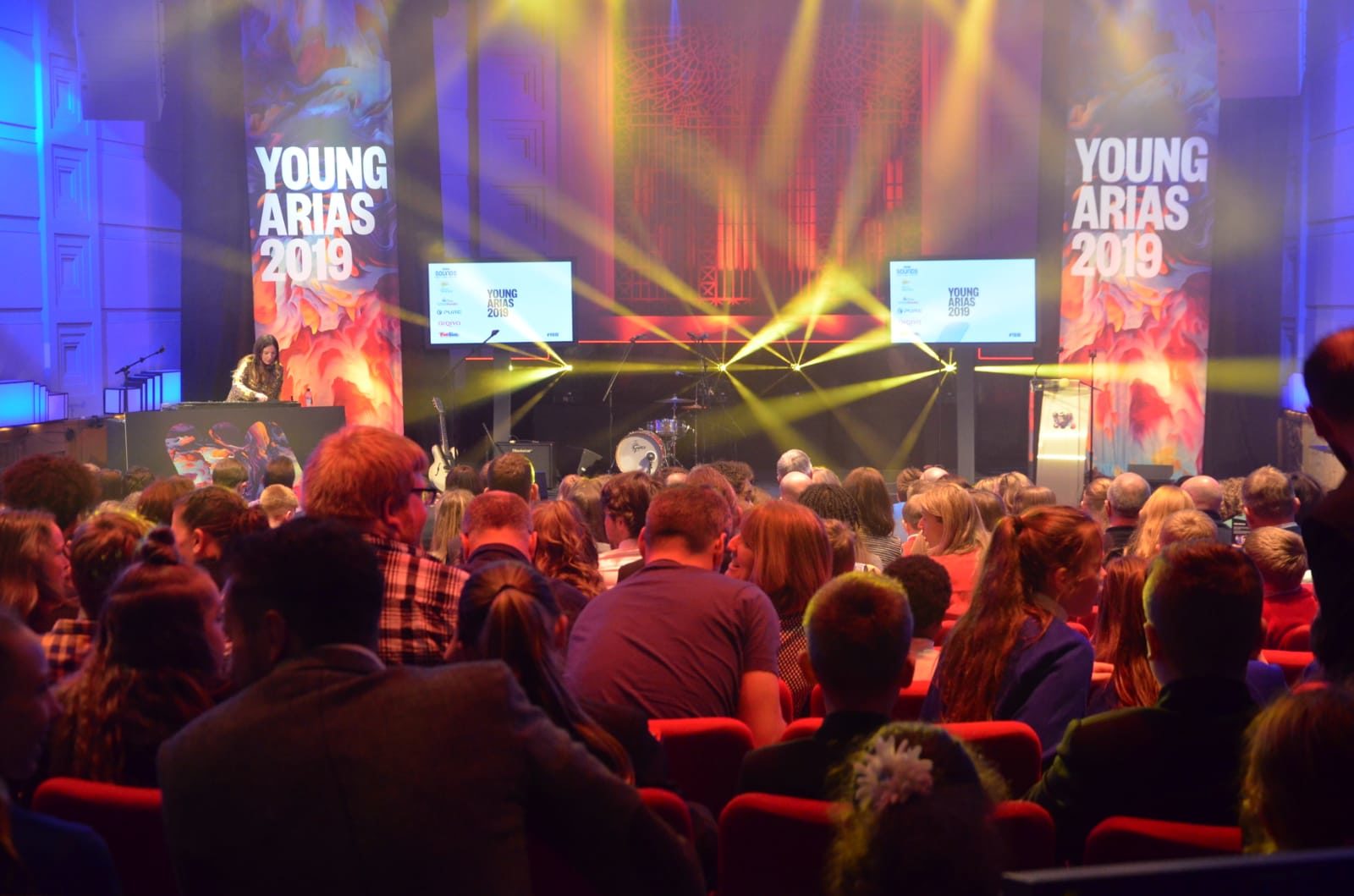 Winners announced for the first ever Young ARIAS

Almost 200 young people came together at the BBC Radio Theatre in London for the first Young Audio and Radio Industry Awards.
Those awarded included Lucy Hutton who set up her own station called Reckless Radio at the age of 15 because she couldn't find a station that played music she liked. Another young winner, teenager William King, impressed the judges with his factual programme exploring the relationship youngsters have with politics.
Taya Walters, won the BBC Sounds Rising Talent Award when she impressed the judges who felt her chat and music showed a passion and talent beyond her years. Her category was open to children between 12 and 15.
The winners were picked from several hundred entries and the nominees got the chance to meet their audio heroes including Sara Cox, Mollie King, Swarzy and Richie Anderson. Nominees travelled from as far as Sunderland, Cardiff, Devon and the Isle of Man.
Several schools brought big groups of children and found creative ways of getting the children to London at minimal cost. One Primary school, Tibberton and Hindlip CE First Schools, was transported to London for free by GWR, who gave them first class seats, goodie bags and let them take over the passenger address system. Another were chauffeured to the event by a car dealership.
The award ceremony was hosted by BBC Radio 1's Matt Edmondson and KISS Breakfast show host Daisy Maskell as a joint venture between commercial radio and the BBC
It was open to kids aged 8 to 18, and entries came from school radio stations, podcasts, homemade audio projects, community and hospital radio contributors and budding DJs.
Matt Edmondson said: "I've been involved in the Young ARIAS since the launch last year and it's been amazing to see just how many under 18s are passionate about radio and audio."
Daisy Maskell said: "We have some great guests from across the audio industry on-board to celebrate the talent of our nominees. Get ready for a great big party."
The new annual awards aim to widen the talent pool coming into British radio and provide an opportunity for young people to access the audio industry.
The winners were given money can't buy prizes, such as the opportunity to guest host on a national radio show, mentoring and special school assemblies.
The Young ARIAS will showcase and nurture talent and the content will be available to download on BBC Sounds.
Siobhan Kenny, Chief Executive at Radiocentre, said: "There's an audio revolution going on, and technology means it's never been easier for young people to create their own unique audio projects. It was so special and uplifting to see and hear so much new diverse talent who will become audio stars of the future."
Dee Ford, Group Managing Director, Bauer Media Group said "Bauer have been proud to support the first ever Young ARIAS awards which not only shines a spotlight on exciting new audio talent, but also provides an opening in to the media industry for young broadcasters from all across the UK"
Article created on Friday, May 17th, 2019 at 3:30 pm by Jo James