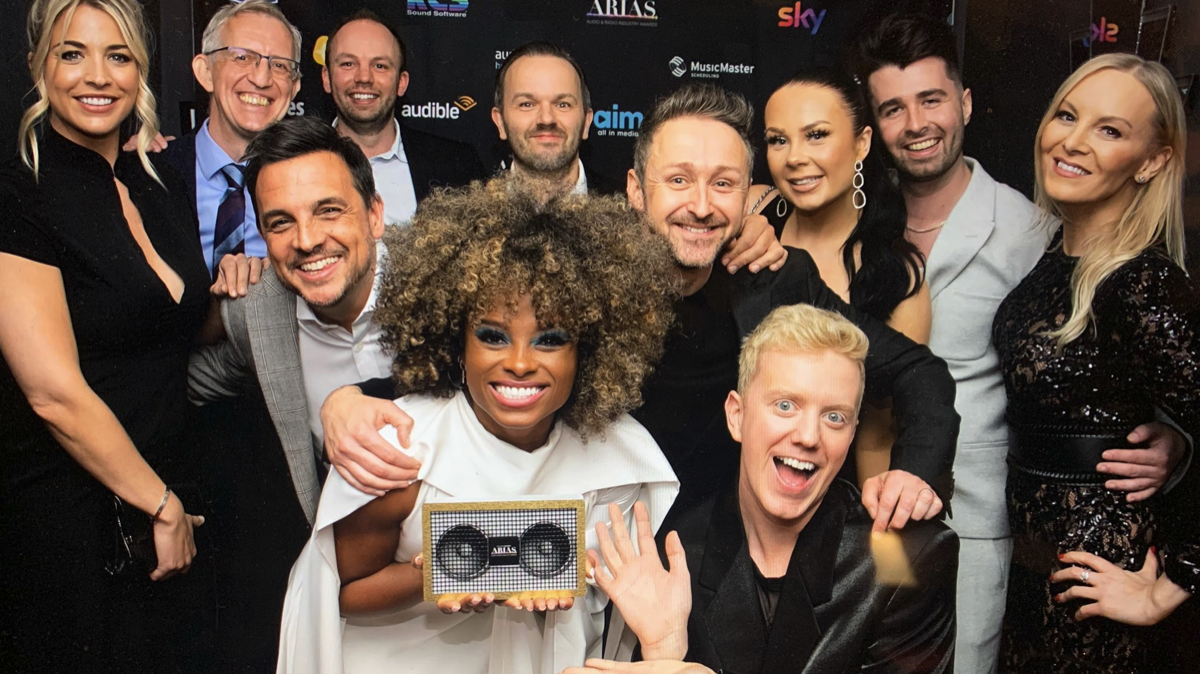 Hits Radio has won the UK Station or Network of the Year award at the Audio and Radio Industry Awards 2022.

Elsewhere at Bauer, The Dave Berry Breakfast Show won Best Music Breakfast Show and The John Myers Award for Best Local Station of the Year went to Clyde 1.
The BBC took home 12 Gold awards in total, with Radio 4 claiming the first spot in six categories – the Today Programme for Best News Coverage; Woman's Hour's Emma Barnett for Best Speech Presenter; The Skewer for The Comedy Award; The Nazi Next Door for Best Factual – Single Programme; Little Blue Lines for Best Fictional Storytelling and Woman's Hour: Trafficked in Plain Sight for The Impact Award.
Others BBC winners included Radio 1Xtra for Best Station Sound, the last Radio 1 Dance Party with Annie Mac for Best Music Entertainment Show and BBC Three Counties' Justin Dealey for Best Local Radio Show.
News UK took home one Gold award for talkSPORT's marketing.
Once again there were no winners for the UK's biggest commercial radio group, as Global does not support the Radio Academy or the awards.
Full List of Winners
BEST NEW PRESENTER
GOLD WINNER
James Phillips
National Prison Radio
SILVER
Lianne Sanderson
talkSPORT
BRONZE
Rima Ahmed
BBC Radio Leeds
BEST NEW SHOW
GOLD WINNER
Decoded
Reduced Listening, for Spotify
SILVER
The Unfiltered History Tour
VICE World News
BRONZE
Uncanny
Bafflegab Productions for BBC Radio 4
BEST NEWS COVERAGE
GOLD WINNER
George Floyd Killing: The Trial
Today Programme, BBC Radio 4
SILVER
The Slow Newscast
Tortoise Studios
BRONZE
I Walk With Women
Bauer Media
BEST SPEECH BREAKFAST SHOW
GOLD WINNER
The Wake Up Call
BBC Radio Kent
SILVER
Vanessa Feltz
BBC Radio London
BRONZE
Times Radio Breakfast with Aasmah Mir
and Stig Abell
Times Radio
BEST SPEECH PRESENTER
GOLD WINNER
Emma Barnett
Woman's Hour, on BBC Radio 4
SILVER
Mathilda Mallinson & Helena Wadia
Media Storm podcast
BRONZE
Manveen Rana
Stories of our Times podcast
BEST SPORTS SHOW
GOLD WINNER
Fight of the Century
TBI Media, for BBC Radio 5 Live
SILVER
Farewell Bootham Crescent
BBC Radio York
BRONZE
Game Day Exclusive
TalkSPORT
BEST COVERAGE OF AN EVENT
GOLD WINNER
Liverpool Together
BBC Radio Merseyside
SILVER
What Happened When The World Came To Glasgow?
Hits Radio Scotland
BRONZE
Euro 2020 Final
talkSPORT
THE COMEDY AWARD
GOLD WINNER
The Skewer
Unusual Productions, for BBC Radio 4
SILVER
Cold Case Crime Cuts
Unusual Productions
BRONZE
Rosie Jones: Box Ticker Too
Dabster Productions, for BBC Radio 4
BEST MUSIC BREAKFAST SHOW
GOLD WINNER
The Dave Berry Breakfast Show
Absolute Radio
SILVER
BBC Radio 1 Breakfast with Greg James
BBC Radio 1
BRONZE
Bowie at Breakfast
Clyde 1
BEST MUSIC ENTERTAINMENT SHOW
GOLD WINNER
The last Radio 1's Dance Party with Annie Mac
We Are Grape, for BBC Radio 1
SILVER
Garry Spence
Clyde 1
BRONZE
The Rock Show
National Prison Radio
BEST SPECIALIST MUSIC SHOW
GOLD WINNER
Decode
Reduced Listening, for Spotify
SILVER
Folk on Foot podcast
BRONZE
1Xtra Rap Show with Tiffany Calver
BBC Audio, for 1Xtra
BEST FACTUAL – SINGLE PROGRAMME
GOLD WINNER
The Nazi Next Door
BBC Radio 4
SILVER
Lights Out: The Last Taboo
Falling Tree Productions, for BBC Radio 4
BRONZE
Have You Heard George's Podcast: Mavado & Vybz
George the Poet, for BBC Sounds
BEST FACTUAL – SERIES
GOLD WINNER
Harsh Reality: The Story of Miriam Rivera
Novel, for Wondery
SILVER
I'm Not A Monster
BBC News, for Radio 5 Live and BBC Sounds
BRONZE
The Hijack
Goldhawk Productions, for Audible
BEST INDEPENDENT PODCAST
GOLD WINNER
The Long Time Academy
Scenery Studios, Headspace Studios and The Long Time Project
SILVER
Why Do I Feel?
Bite Your Tongue Productions
BRONZE
Wild Crimes
Whistledown Productions, for the Natural History Museum
BEST FICTIONAL STORYTELLING
GOLD WINNER
Little Blue Lines
BBC Audio, for Radio 4
SILVER
You & Me
Naked Productions, for BBC Radio 4
BRONZE
The Old Man in the Boat
Message Heard Media, for Fun Kids
BEST STATION SOUND
GOLD WINNER
BBC Radio 1Xtra
BBC Popular Music Station Sound
SILVER
Absolute Radio Country launch
BRONZE
BBC Radio 6 Music
BBC Popular Music Station Sound
BEST COMMERCIAL PARTNERSHIP
GOLD WINNER
Puffin Podcast: Mission Imagination
Mags Creative and Puffin Books
SILVER
Bedtime Stories
Audio Always and Dreams
BRONZE
The Dave Berry Breakfast Show with Wickes
Absolute Radio
BEST MARKETING CAMPAIGN
GOLD WINNER
UEFA Euro 2020 on talkSPORT
SILVER
Magic Radio 100% Christmas
BRONZE
Make A Difference with your BBC Local Radio Station
THE GRASSROOTS AWARD
GOLD WINNER
We are VOICES Podcast
The VOICES Network and British Red Cross
SILVER
IVF Dad Podcast
18Sixty
BRONZE
Fully Amplified podcast
Futures Theatre
THE CREATIVE INNOVATION AWARD
GOLD WINNER
Life Sentence
Mags Creative
SILVER
The Battersea Poltergeist
Bafflegab Productions, for BBC Radio 4
BRONZE
The Unfiltered History Tour
VICE World News
THE IMPACT AWARD
GOLD WINNER
Woman's Hour: Trafficked in Plain Sight
BBC Audio, for Radio 4
SILVER
BARS with Lady Unchained
Folded Wing, for National Prison Radio
BRONZE
KISS Life with Swarzy
Playmaker Group, for KISS
BEST LOCAL RADIO SHOW
GOLD WINNER
Justin Dealey
BBC Three Counties Radio
SILVER
Ewen & Cat at Breakfast
Clyde 2 and Greatest Hits Network Scotland
BRONZE
Gary Philipson
BBC Radio Tees
THE JOHN MYERS AWARD FOR BEST LOCAL STATION OF THE YEAR
GOLD WINNER
Clyde 1
SILVER
BBC Radio Newcastle
BRONZE
BBC Radio Ulster
UK STATION OR NETWORK OF THE YEAR
GOLD WINNER
Hits Radio
SILVER
BBC Radio 4
BRONZE
KISS Network
RADIO TIMES MOMENT OF THE YEAR
GOLD WINNER
Adele Roberts returns to Radio 1 after treatment for Bowel Cancer
SILVER
Mary wins £102k on Clyde 1
BRONZE
Annie Mac's Last Show on BBC Radio 1
---
Posted on Tuesday, May 3rd, 2022 at 9:54 pm by RadioToday UK
---