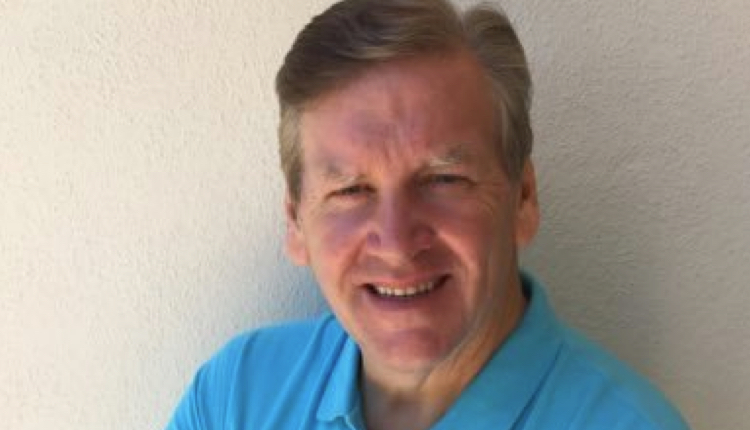 Friends and colleagues leave tributes to John Myers

Tributes are being paid to John Myers following his death at the age of 60.
Read our obituary for John here.
You can leave your own tribute or story about John on our Facebook post.
Here's some of the reaction to John's passing from Twitter…
It's almost 24 hours since I heard that my Fellow Jock, Ex-Boss and Best Friend has left us. I'm empty and heart broken. This picture was from his RTS Tribute at Carlisle Uni. earlier this year, and an old album with Our Last Song Together. The last song he played on Radio Tees. pic.twitter.com/ezAq4T9oI2

— John Simons (@simoradio) June 2, 2019
My best friend passed away yesterday. A giant of a man in so many ways. I'm numb. We had lunch on Wednesday and he looked, as usual, larger than life. How I'll remember him. #ripjohn pic.twitter.com/1itgzlPerD

— Phil Riley (@radioriley) June 2, 2019
I'm truly devastated to learn of the passing of John Myers, a giant of the radio industry. He was a great leader, entrepreneur, diplomat and friend. We may never again see anyone who has such an impact on commercial radio. May he rest in peace.

— Scott Taunton (@scotttaunton) June 2, 2019
Absolutely heartbroken that my friend, the wonderful John Myers, has passed away. I will never forget his kindness, generosity, warmth & incredible sense of fun. He did so much for me & so many others. I'll miss you John, Rest in Peace. Heaven just got the best team leader ever

— Terry Underhill (@TerryUnderhill) June 2, 2019
A hero to me and many others. John was a great friend and mentor who made an enormous impact on my life. A towering figure in British radio – his passion for it was inspirational. My thoughts and prayers are with his wonderful family of whom he was so justly proud. https://t.co/hrtsNcuL9u

— James Rea (@JamesRea) June 2, 2019
I am shocked and saddened to hear the news of John's Myers' sudden passing. John was a true radio man, pioneering some of the best radio in the UK. I saw John only last week and this has come as a shock. Our thoughts are with his family, friends and colleagues at this time.

— Ashley Tabor OBE (@ashleytabor) June 2, 2019
It is with deep sadness that we learn of the passing of John Myers who launched and ran many stations that make up the Heart & Smooth networks today. A true radio man, one of the best. Our thoughts are with his family, friends & colleagues. Rest in peace John, you will be missed.

— Global (@global) June 2, 2019
Very sorry to hear the news Scott. Your dad was a very special man. Sending you all my sincerest condolences.

— Stephen Miron (@StephenMiron) June 2, 2019
"John was the greatest champion for Radio, a wonderful colleague and a brilliant executive. I will miss his wisdom, friendship and enthusiasm greatly. My thoughts are with his family at this terrible time." 2/2

— RadioToday UK (@RadioToday) June 2, 2019
You would never leave an encounter with John Myers without a huge smile on your face. After his "retirement" from radio, his deep passion for the medium emerged even more powerfully. He was constantly fascinated by presenters, their shows, their moods, their managers.

— Jeremy Vine (@theJeremyVine) June 2, 2019
Very sad news that John Myers has passed away at the age of only 60.I worked with him at various radio stations and liked him very https://t.co/61HZKlYmIv thoughts are with his family.R.I.P John

— Tony Blackburn (@tonyblackburn) June 2, 2019
Few people can carry off what John Myers did. So focussed but so human. So outspoken but so liked. So able to speak but such a listener. So serious but so funny. Such a leader but he delegated. Thoughts today and always with the family he adored. There will never be another John.

— 📻 David Lloyd (@DavidLloydRADIO) June 2, 2019
I'm so shocked to wake up this morning to read that one of the radio greats, John Myers has died. I'm really proud to have known and worked with him. He was a strong family man and that's how he was with his co-workers. Working with him was like being part of a family. RIP John

— Steve Collins (@stevecollinsrad) June 2, 2019
Join our WhatsApp messaging service

To receive WhatsApp messages from RadioToday with occasional news headlines and breaking news alerts, send a WhatsApp message starting with 'Yes' to 01612621004.

Then add the number to your phone contacts as 'RadioToday' for this service to work. This is a private list and your number won't be shared with other users or organisations.
An inspiration to many .I worked with your dad in the late 80's and early 90's Firstly st Red Ros Radio then in 1990 on Red Rose Gold (a huge success in AM ) with a great team @Derek Webster @daveshearer @ScottieMcClue .He encouraged personality Radio . I am sad to hear this news

— John Gillmore (@Gillylancs) June 2, 2019
I'm stunned. Such a great man and friend to me. One of my references to get my VISA to come to Australia. Loved him. Love to his family. Thanks John x https://t.co/TUfjCvMEjA

— Christian O'Connell (@OC) June 2, 2019
This is dreadful news. John was, in so many ways, a great man. Much love to all the family.

— Ken Bruce (@RealKenBruce) June 2, 2019
I am stunned to wake up to this devastating news. A giant among men. The world is a poorer place today. May he forever rest in peace x https://t.co/vYnKlB7mVB

— Kay Burley (@KayBurley) June 2, 2019
I am just stunned. So sad. An amazing man – who inspired everybody who met him. Consider myself so lucky to have worked for him.

— markgoodier (@markgoodier) June 2, 2019
This is the saddest of news. A wonderful human with an unrivalled passion for radio. A doe'r, an innovator and above all a first class person. So sad for his family and friends. The radio industry has lost one of its finest sons. RIP John x

— Russ Williams 📻⚽️🎙 (@Russw777) June 2, 2019
The world of radio has got a lot quieter. You shall be greatly missed. RIP John Myers. NF.

— Nick Ferrari (@NickFerrariLBC) June 2, 2019
So sad to have just learnt of the death of radio giant John Myers, who died last night at the age of 60. Only last week we were DMing each other to arrange a lunch. He's always been a massive source of encouragement to me in moments when I suffer from imposter syndrome. pic.twitter.com/F4nPdZy2x3

— Iain Dale (@IainDale) June 2, 2019
John was simply full of love and openness and totally defined by his family. I admired him so much… But mostly I loved him. He was a hard man not to love. He was my friend – and I will miss him.

— Lesley Douglas (@DouglasLesley) June 2, 2019
Stunned to hear that one of the godfathers of uk radio John Myers has died. Cant believe it. He was so supportive to me personally in my job at @bbc5live always giving constructive advice. So much still to give. Rip big John. British radio has lost one of the special ones.

— Jonathan Wall (@wallj10) June 2, 2019
The dictionary definition of 'radio giant' will simply read John Myers. Loving, supportive, caring, honest – full of hugs, advice and gossip. I'll genuinely miss our catch-ups and today the radio industry has lost a real leader and its most passionate advocate. #RIPTeam

— Paul Sylvester (@paulsylvester75) June 2, 2019
Very sad to hear that John Myers has passed. A hugely passionate advocate for radio, unafraid to challenge all sides in the industry and that made us all the better for it. Thoughts are with his family #RIPteam https://t.co/O0dvMSvnSO

— graham bryce (@grahamdbryce) June 2, 2019
Incredibly sad to read this news today. A colossus in our industry both as a leader and when he was behind the Mic. RIP John. https://t.co/Fh41FX012H

— Gary Stein (@garystein) June 2, 2019
We are in shock at this sad news this morning. Thank you John for your love and laughter. You will be very much missed in Cumbria & South West Scotland. https://t.co/cegAyATm9r pic.twitter.com/WLSr4ZGSjW

— CFM (@cfmradio) June 2, 2019
The former BBC Radio Cumbria and Border Television presenter John Myers has died at the age of 60 https://t.co/sH0yfXXqxl

— BBC Cumbria (@BBC_Cumbria) June 2, 2019
Like so many people in our industry, we're devastated to wake up to the news that John Myers has died. The Audio Content Fund was so much the richer for having him on our funding panel. We're all going to miss him so much. pic.twitter.com/Gxp233lF6t

— Audio Content Fund (@AudioFund) June 2, 2019
Shattered at the passing of John Myres. Hired me at Century 105 – mentored me through my purple patch at Real Radio Scotland. Colossus of a man – on both sides of the mic. My radio hero and absolute mentor. Team – we'll miss you. x

— Robin Galloway (@djrobingalloway) June 2, 2019
Devastated to hear of the loss re this wonderful man @johnmyersteam. I was truly blessed when John entered my life. Just a few words to describe him – inspiring, real & caring. – his qualities are endless. He spent hours coaching me & never once doubted. I will always love him x pic.twitter.com/URW5PdRRq7

— Paul Goffy Gough (@GoffyMedia) June 2, 2019
A very sad day…my mentor and friend..R.I.P. https://t.co/wzVG15Yyws

— julian carter (@juliancarter11) June 2, 2019
Such very sad news and a great loss to the radio industry. John will be much missed. https://t.co/Fllau29Bs8

— Siobhan Kenny (@knockalaughta) June 2, 2019
Stunned to hear of the loss of John Myers. The radio industry had no greater advocate, no greater leader. He wore his status lightly, and was warm, funny and supportive to everyone he knew. Radio genuinely won't be the same without him. #RIPTeam

— Brett Spencer (@brettsr) June 2, 2019
"He understood the power of local stations to bring people together and connect communities.

"My thoughts are with John's family at this very sad time. He will be missed by his many friends in BBC Local Radio." https://t.co/WW5g1fkoZI

— RadioToday UK (@RadioToday) June 2, 2019
'Legend' and 'larger than life character' are much overused phrases, but in John Myers case it was true in every sense. A brilliant broadcaster, a great businessman, a superb leader, a great client, a decent golfer, and a good friend. RIP Team pic.twitter.com/jdadwVYsCD

— Don Thomson (@marlowdon) June 2, 2019
Lovely words, David. Never will I forget John speaking to BBC LR editors in Salford. He came into the lions den, told us that most of us should lose our jobs …and we ended up applauding him. A radio giant.

— Charlie Partridge (@CharlieHP) June 2, 2019
My condolences to John's family. What a loss to radio: Master of the ripping yarn he could make us laugh out loud. The only interest my Auntie Beatrice in Blackpool had about my own career was "Did you ever meet John Morgan off Red Rose?" I am so glad to be able to say I did.

— Steve Orchard (@SteveOrchard) June 2, 2019
Very sad this morning to learn that John Myers has died. He was one of the greats of UK commercial radio. As a leader, he was always wise, honest, diligent, dedicated and lots of fun. https://t.co/7nbFGQogfP

— Darren Henley (@HENLEYDARREN) June 2, 2019
A big light has gone out in our world. Thoughts with Linda @ProducerScott and the family around whom his whole world revolved. Love you and miss you Team @johnmyersteam , your spirit will be with so may of us for the rest of our lives. x https://t.co/LtlOamfLXx

— simon cole (@uksimon) June 2, 2019
So very upset about this. It was a pleasure working with John these last few months. He was so supportive about getting the Audio Content Fund off the ground. The last message he sent me, on his way home from our funding panel meeting, simply said "I thought you shone today, Sam" https://t.co/2bT7RV0JNj

— – ̗̀Sam ̖́- (@samuelbailey) June 2, 2019
Shocked and very sad to hear that my friend and colleague John Myers has died suddenly. My deepest thoughts, feelings and love to Linda and her devastated family. https://t.co/mGSUVlUtXF

— Derek Webster (@DerekWebster) June 2, 2019
Woke up to some sad news the man who was responsible for me working at RockFm & Century 105 John Myers has passed away. I learnt a hell of a lot from you Team. R.I.P. Thoughts with his family.

— Rob Charles (@radiorobcharles) June 2, 2019
When John's name came up on your phone with a call or a message you knew he'd have something to say that you wanted to hear about – he was just as engaging on a private phone chat as he was to hundreds of thousands of listeners to his shows on the radio.

— Stuart Clarkson (@stuartclarkson) June 2, 2019
Devastated by this sad news. One of the greatest characters in radio. Full of enthusiasm, ideas, encouragement & respect for his 'team'. Not many CEOs would dress as a gorilla to perform at a Christmas do! Feel fortunate to have worked for John. Much love to John's family. https://t.co/EmztKVmdXb

— Carlos (@carlosradioguy) June 2, 2019
Shocked and extremely saddened by this news.
I thought John was doing well, he certainly looked happy and healthy.
Sending much love to you and your family Scott. X https://t.co/eSe3vs5uTZ

— Steve Penk (@StevePenk) June 2, 2019
@johnmyersteam was a giant personality in local commercial radio as both a broadcaster and station boss and his record at winning licenses was exemplary. He is a big loss to the UK radio world. My condolences to his family. RIP big John https://t.co/qLtkO5eAiu

— Paul N Robinson (@PaulRobinsonPR) June 2, 2019
I can't begin to describe the overwhelming shock and sadness I feel to hear the devastating news that John Myers has died. A giant of the radio industry whose life inspired, touched and influenced hundreds of radio people. A loyal friend to many, he'll be sorely missed. 😔 pic.twitter.com/8RbeJGH97C

— Paul Chantler (@PaulChantler) June 2, 2019
One more thing – let it be known that John Myers, under the name John Morgan presented market leading, revenue generating HUGE radio shows, for years, AS WELL AS leading the business side of things.

— Colin Kelly (@colinkelly) June 2, 2019
I am so sad to hear the news about John Myers this morning. I had immense respect for him as an incredible broadcaster and as a truly warm man who had the ability to inspire and encourage. I learned so much from him. Thoughts are with his wife Linda and all his family today.

— Pete Moss (@mossymansions) June 2, 2019
So sad to hear this morning that John Myers has died. After I won a Sony in 2011 he sent me this email that touched me so much that I cut it out and have kept it in my wallet ever since. – John was pure class. pic.twitter.com/MkcZHMVs8D

— Graham Mack (@GrahamMack) June 2, 2019
Really shocked and sad to hear of the death of John Myers. Genuinely one of the (rare!) radio industry upfront, honest, good guys. Hugely supportive of me in my career and had the honour of writing his speeches on occasion. Radio has dropped a notch in volume today. #RIPteam

— Jon Holmes (@jonholmes1) June 2, 2019
Awoken to the extremely sad news that John Myers has died. 60 is no age. He was a true radio legend. He loved radio more than anyone I know. I shared a stage with him (and was insulted by him) many times and, indeed, we'd agreed to do so again at next years HBA Awards. #RIPTeam pic.twitter.com/1fx8uqQKVK

— Sean Dunderdale (@seandunderdale) June 2, 2019
So sad to hear the news about John Myers. He was such a great man in so many ways – towering above the rest. Thank you for everything John. Sending all the love in the world to Linda, Scott and the family x

— Kyle Evans (@kylealexevans) June 2, 2019
I remember producing John for a week on Smooth breakfast and even at 0530, he would walk through door, everyone half asleep… 'Morning Team' and instantly everyone felt wide awake. A great man and leader. RIP John.

— Dave Brierley-Jones (@dbj_) June 2, 2019
Shocked and saddened to learn that John Myers has died. A funny, brilliant, talented person. I was lucky to work with him at Red Rose Radio in the late 80's & 90's but also to call him a friend over the next 30 years #Team #RIPJohn pic.twitter.com/dfAz2vdl29

— Richard Frediani (@FredianiITV) June 2, 2019
In the 70s, all tv used to finish at midnight after the late film. Never forget John coming into vision to do the farewell continuity announcement: "Hope you all enjoyed the horror film. Goodnight from ITV Border. And if you're sat at home on your own…BOO!" RIP #JohnMyers ❤️🙏 pic.twitter.com/ea6irAKG9K

— India Willoughby (@IndiaWilloughby) June 2, 2019
John Myers deserves a huge glowing tribute obit in every one of the UK's broadsheet columns on arts and culture, such was his influence on local radio in this country.

And if you write or edit for such a publication, time to now prove that you're not London/BBC National-focused.

— Lee Thompson (@leethommo) June 2, 2019
The first time I heard John Myers on air was on the newly formed Real Radio in Wales and he said "my son wanted a cowboy outfit …so I bought him BBC Radio Wales" . Great broadcaster great boss and a truly lovely man. https://t.co/lx70RIfPCS

— Simon Parkin (@SimonParkinTV) June 2, 2019
Radio executive John Myers has died aged 60 @radiotoday https://t.co/OMh5YhoX61
I'm so sorry to hear that my friend of 35 years has passed away.
I send love and blessings to Linda, Kerry and Scott and all His Family #Radio

— Scottie McClue (@ScottieMcClue) June 2, 2019
Radiocentre statement on the sad passing of John Myers. #RIPTeam pic.twitter.com/xZpNzsVbRT

— Radiocentre (@Radiocentre) June 2, 2019