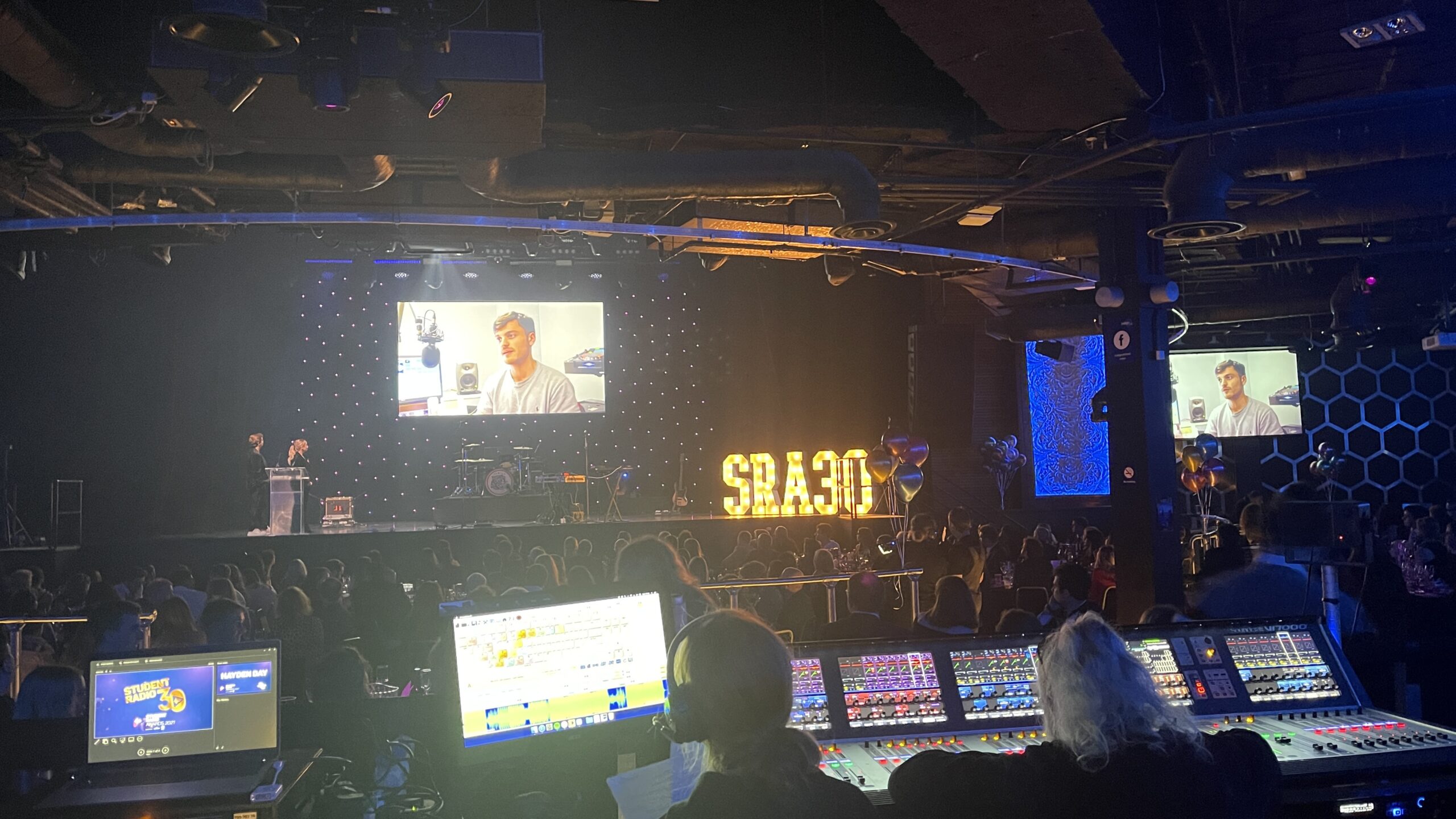 The Student Radio Awards returned to Indigo at the O2 this week with hundreds of students radio industry guests joining in.
The night was hosted by Aimee Vivian from Capital and Dean McCullough from BBC Radio 1 on Wednesday evening.
Will Manning, Sam Macgregor and Danni Diston were also roaming reports in the audience adding the to entertainment, whilst Charlie Hedges, Charlie Powell and Jess Bays played DJ sets.
Before the event, Student Radio Association Chair Danny Humby gave out new Honorary Life Memberships to five people who give their support to the association. They are Callum Clark, Shahlaa Tahira, Anthony Gay, Alan Smith and Aaron Labbate.
Now, here are all the awards in full:
BEST CHART SHOW PROGRAMMING
Gold URY's Student Radio Chart Show URY
Silver The Surf Radio Chart Show Surf Radio
Bronze Xpress Radio Xpress
BEST ENTERTAINMENT PROGRAMMING
Gold Ghost Hunt Xpress
Silver Love is Blind Xpression
Bronze Good Morning Loughborough with Rosa Serret LCR
BEST EVENT PROGRAMMING
Gold Retro RAW RAW
Silver Transmission 2021 LSR
Bronze The Closed Mic Night Surf
BEST INTERVIEW
Gold 'Katie', a Student Quarantining in Queen's Accommodation Queen's
Silver Dr Michael McBride, Chief Medical Officer for Northern Ireland Queen's
Bronze Ella Wydrzynska interviews Ben Poole from The Starring Lincoln Theatre Company URN
BEST JOURNALISTIC PROGRAMMING
Gold The Scoop On Sunday Queen's
Silver Remember, Remember, the Month of Movember Purple
Bronze Durham through Covid Purple
BEST MULTIPLATFORM INITIATIVE
Gold Trent Consent Fly
Silver Love is Blind Xpression
Bronze Candidate Interview Night URY
BEST NEWCOMER
Gold Chrissy Cameron Spark
Silver The Nila Extract URN
Bronze Josh Davies Purple
BEST PODCAST PROGRAMMING
Gold Letters from a Stranger Purple
Silver How To Adult LCR
Bronze BOWIE & BEYOND EPISODE 2 HERE COME THE BOWIE-ITES OMG
BEST PRESENTER
Gold Nila Varman URN
Silver Harry Briggs Fly
Bronze Ella Wydrzynska URN
BEST PRODUCER
Gold Chris Steers OMG
Silver Thomas Copeland Queen's
Bronze Joanna Wright Purple
BEST SPECIALIST MUSIC PROGRAMMING
Gold Saudade FreshAir
Silver 'we move radio' with Antigoni URB
Bronze The Alt Show – Celeste Adams URN
BEST SPEECH PROGRAMMING
Gold Subculture Snapshot OMG
Silver Easpa Codladh SARC Radio
Bronze International Women's Day Xpress
BEST SPORT PROGRAMMING
Gold Roses Unlocked URY
Silver Krav Maga 101 Purple
Bronze The Thursday Sports Show URN
BEST STATION BRANDING
Gold Purple Radio Purple
Silver XpressionFM 2020-2021 Xpression
Bronze URY Marketing Team URY
BEST STATION SOUND
Gold CSR – The sound of the city CSR
Silver Fly Live Fly
Bronze Youths Choice Youth's Choice
BEST STUDENT RADIO STATION
Gold URN URN
Silver Queen's Radio Queen's
Bronze URY URY
BEST TECHNICAL ACHIEVEMENT
Gold LiveDisplay LCR
Silver Josh Davies – Purple Radio Purple
Bronze Candidate Interview Night URY
THE DIVERSITY, EQUALITY AND INCLUSION AWARD
Gold Purple Radio Purple
Silver Youths Choice diversity Youth's Choice
Bronze RAW 1251AM RAW
THE Kevin Greening Award for Creativity
Gold Letters from a Stranger Purple
Silver The Fantastic Voyage Xpress
Bronze BOWIE & BEYOND EPISODE 2 HERE COME THE BOWIE-ITES OMG
---
Posted on Thursday, November 11th, 2021 at 9:04 pm by Roy Martin
---