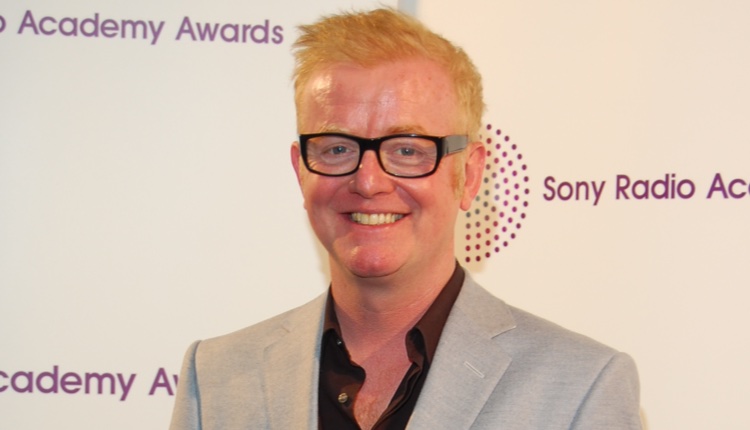 Evans earning £1.6m for Radio 2 breakfast show

Chris Evans remains the BBC's highest paid radio presenter in the latest figures published by the corporation today.
The 2017-2018 annual report shows the Radio 2 breakfast show host being paid between £1.6m and £1.669m – compared to 2016-2017 when he was paid between £2.2m and £2.249m for his work on both Radio 2 and Top Gear.

He is replaced at the top of the BBC pay list this year by Gary Lineker, who was paid £1.75m.
Radio 2 presenters Graham Norton (£600-610k), Steve Wright (£550-560k) and Jeremy Vine (£440-450k) are all high up on the list again, along with 5 live's Nicky Campbell (£410-420k), Radio 4's John Humphrys (£400-410k), Radio 1's Nick Grimshaw (£400-410k) and BBC Radio Ulster/5 live presenter Stephen Nolan (£400-£410k).
Steve Wright, Ken Bruce and Nick Grimshaw were paid more by the BBC in 2017-18 than in the previous year.
Radio presenters appearing on the list for the first time are Amol Rajan (BBC Media Editor and Radio 4/Radio 2 presenter) who was paid £200-210k, 5 live football pundit Ian Wright, who appears on phone-in show 606 alongside TV work (£170-180k), Radio 4's Sarah Montague (£160-170k), Radio 1 and BBC news presenter Tina Daheley (£150-160k), 5 live breakfast's Rachel Burden (£150-160k) and Radio 4 Woman's Hour presenter Jane Garvey (£150-160k).
A new feature of the annual report this year is a breakdown showing the number of programmes presented and the range of work undertaken by the various presenters. Here's a snapshot of the network radio section of the report's pay disclosures: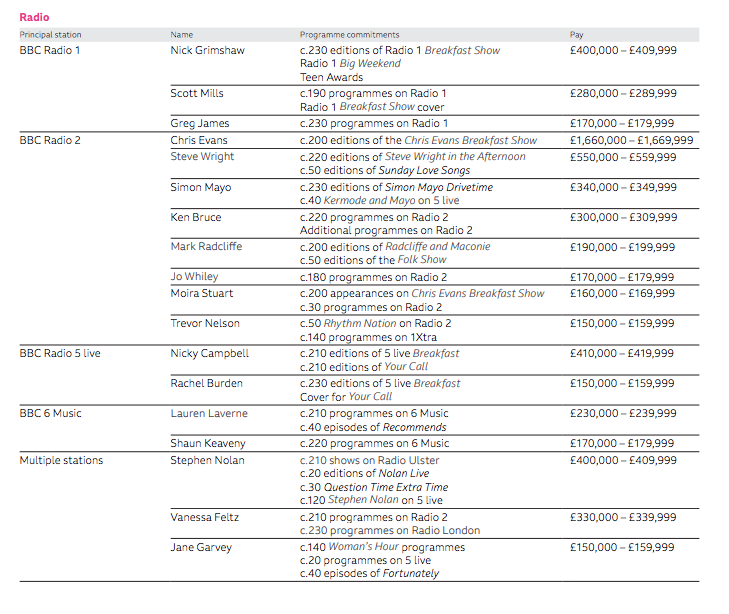 There are also breakdowns for Radio 4's news programme presenters:


…and also a table showing people such as Jeremy Vine and Graham Norton who work across different TV and radio shows: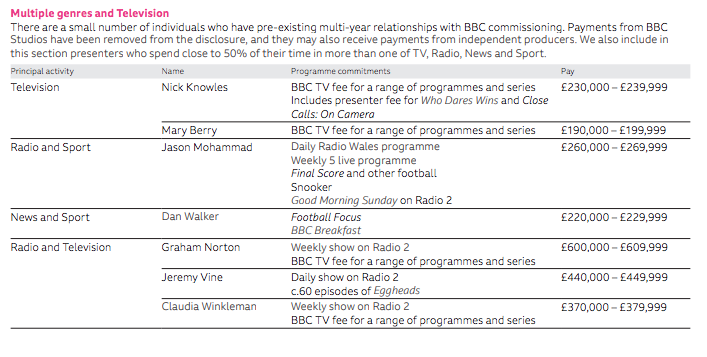 On the publication of its 2017-18 Annual Report, the BBC says: "We have committed to closing the gender pay gap by the end of 2020 and recently published figures showing the median gap has fallen from 9.3% to 7.6% following concerted action. Today's publication of money paid to those who earned more than £150,000 from the licence fee shows further progress towards gender equality, with latest figures showing a 60:40 male to female split in our highest earning presenters in 2018/19 – a significant improvement from 75:25 and we are committed to further rapid progress. Around 20% of those on the list in 2018/19 are also projected to be from BAME backgrounds.
"The talent we are disclosing today represents 0.2% of all the on-air individuals we worked with in 2017/18 and 1.4% of our spend on content. But they present or appear on programmes that make up around 40% of all viewing and listening with the BBC. As agreed with Government in the BBC's Charter, BBC Studios employees no longer feature in the data for those earning over £150,000. Had they been included gender balance of the figures would have been further improved due to the number of high earning women on the list."
A number of high-profile male presenters have recently agreed to take pay cuts – so the figures published today for 2017-18 do not necessarily reflect their current pay. The BBC says next year's report will show that John Humphrys' pay has fallen below £300,000 (down from £400-410k in 2017-18 and £600-650k in 2016-17). The corporation also says 5 live's Nicky Campbell is now earning less than £350,000 from his BBC work (down from £410-420k in 2017-18 and £400-450k bracket in 2016-17).
The document also shows that BBC Director General was paid £450,000 in 2017-18, while the Director of Radio and Education James Purnell earned a salary of £295,000. Bob Shennan, Director of Radio and Music was paid £270-280k. Radio 1's Ben Cooper was paid £190-200k, Radio 3 Controller Alan Davey's salary was £170-180k and the Radio 4 Controller Gwyneth Wiliams earned a salary in the £190-200k bracket. The Controller of English Regions David Holdsworth was paid £160-170k. Head of Radio 2 Lewis Carnie and 5 live Controller Jonathan Wall don't appear on the list of executives paid over £150,000 a year.
Last year the top 7 earners on the talent list were male, this year it's the top 12 – though for 2017-18 figures for BBC Studios productions, such as Strictly Come Dancing, are not included. In a statement, the #BBCWomen group said: "This list shows how far the BBC still has to go in valuing women and men equally for their work. A year on from the formation of our group, many women at all levels of the organisation are still involved in protracted and gruelling processes to address their pay claims. We urge management to resolve these as swiftly as possible and in full accordance with the law. From now on, we expect all management decisions on pay, promotion and recruitment to be made with equal pay as a given."
Article created on Wednesday, July 11th, 2018 at 12:07 pm by RadioToday UK