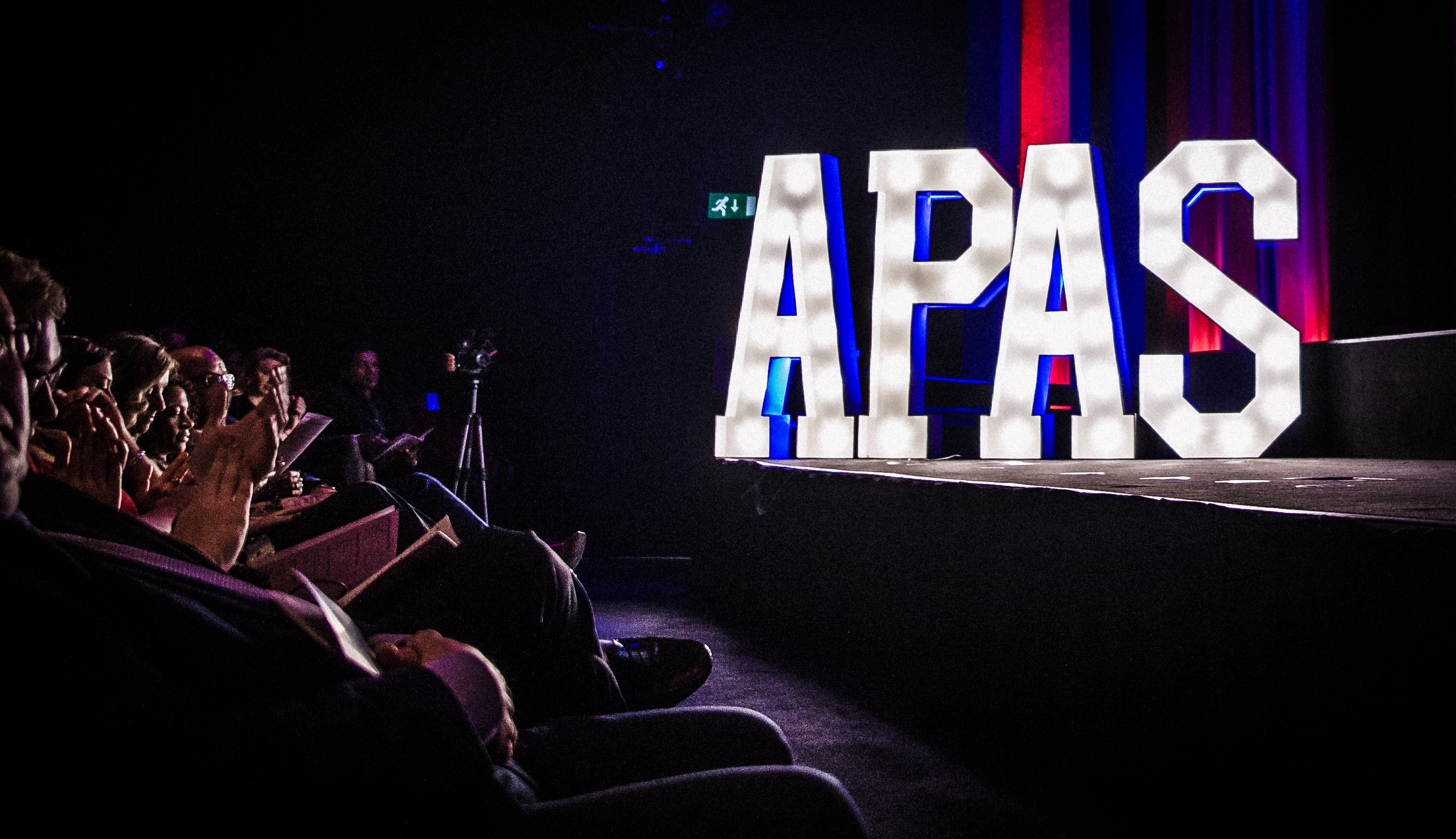 The list of nominations has been released for the 2019 Audio Production Awards.

The winners will be announced on Thursday 28 November, in an evening event hosted by TV and radio presenter Tommy Sandhu at the BFI Southbank.
Nominees include Dame Kelly Holmes, shortlisted for the 'New Voice Award', and DJ Snoochie Shy ('Best Presenter'), while producers Cathy FitzGerald and Hana Walker-Brown each receive three nominations.
David Walliams is nominated for Audio Performer of the Year.
The Grassroots Production Award, celebrating working with new and diverse talent, includes nominations for the Prison Radio Association and Radio Wanno at HMP Wandsworth, alongside Carousel, a Brighton-based charity helping learning-disabled artists develop their creative lives through radio and podcast projects, and Amaliah, which works with Muslim women.
Kellie While, Chair of AudioUK, which organises the APAs, said: "We've once again seen a record number of entries to the awards. The wide range of nominees shows how everyone, whether a well-known producer or a breaking new talent, has the chance to be celebrated. We're continuing with our bursary scheme to provide ten free places for freelancer nominees, and really looking forward to seeing everyone at the awards night, and want to thank Audible for their continued support"
Tommy Sandhu said: "How exciting – being at last year's APAs led to my working with platforms I wouldn't have met otherwise. I'm looking forward to celebrating the brilliant world of audio, I know its power to entertain, I know the talent that works within it and can't wait to celebrate those great people!"
Tickets and more details available here.
Best Arts Producer
Anishka Sharma – Whistledown
Cathy FitzGerald – White Stiletto Productions
Jack Howson – Reduced Listening
Josephine Wheeler – Freelance/Just Radio
Sera Baker – TBI Media
Victoria Ferran – Just Radio
Best Music Producer
Chris Elcombe – Reduced Listening
Fuzz Chaudhrey – Wisebuddah
Jax Coombes – BBC Radio 6 Music
Natalie Steed – Folk on Foot
Nathan Goodman – We are Grape
Tom Fuller – Somethin' Else
Best Factual Producer
Cathy FitzGerald – White Stiletto Productions
Chelsea Dickenson – Audio Always
Gabriela Jones – Wisebuddah
Hana Walker-Brown – Audible
Philippa Geering – Overtone Productions
Richard Hollingham – Boffin Media
Best News and Current Affairs Producer
Anishka Sharma – Whistledown
Gabriela Jones – Wisebuddah
James Shield – the RSA
Kate Lamble – BBC
Robert Nicholson – Whistledown
Sam Bonham – The Next Episode
Best Sports Producer
Abi Paterson – Muddy Knees Media
Ben Mundy – BBC Newsbeat
Justin Dealey – the Luton Town Fans Podcast – BBC Three Counties
Simon Crosse – Shooting Shark
Tayo Popoola – Freelance – Football Stories
That Matter, Told by The People That Were There
Tim Durrans, Johnny Cantor, Adrian Harms – BBC Sussex and BBC Surrey Sport
Best Entertainment Producer
Dave Masterman – Audio Always
Hana Walker-Brown – Audible
Lily Ames – Chalk and Blade
Lorna Skingley – 7digital
Louise Molony – BBC Radio 2
Will Wilkin – BBC Radio 1
Gethin Thomas Award for Best Comedy Producer
Dave Masterman – Audio Always
David Tyler – Pozzitive
Ed Morrish – Somethin' Else
Elroy Powell – FAADA Ltd
Gus Beattie – Gusman Productions
Jon Holmes – Unusual
Best Live Event/Outside Broadcast Producer
Andrew Wilkie – Prison Radio Association
Chris Gilvear – Jazz FM
James Walker – Celador Radio
Magic at the Musicals team – TBI Media
Mark Carter – BBC Sussex
Best Podcast Producer
Ant McGinley – On the Left Side
Becca Bryers – BBC
Clare Freeman – ASFB Productions
Hana Walker-Brown – Audible
Sam Bonham – Freelance / BBC
Sefa Nkyi – BoomShakalaka Productions
Best Drama Producer
Allegra McIlroy – BBC Northern Ireland Radio Drama
Boz Temple-Morris – Holy Mountain
Charlotte Melen – Almost Tangible
Fiona McAlpine – Allegra Productions
Melanie Harris – Sparklab
Nicolas Jackson – Afonica
Best Audiobook/Readings Producer
Chris Thompson – Heavy Entertainment
Jeremy Osborne – Sweet Talk Productions
Joanna Green – Greenlit Productions
Neil Gardner – Ladbroke Audio
Richard Hughes – Penguin Random House
Simon Richardson – BBC
Best New Producer
Axel Kacoutié – Falling Tree Productions
Jessie Lawson – Freelance
Leonie Thomas – Whistledown
Lucy Hunt – Wisebuddah
Ned Carter Miles – Just Radio
Richard Power – 7digital
Best Station Sound Producer
Ben Stones – BBC Radio Pop Hub Station Sound
Gordon Lundy – Absolute Radio
Liam Hadley – BBC Radio 1
Muna Ahmed – Prison Radio Association
Oliver Claxton – BBC Popular Music Hub
Rob Green – Audio Always
Best Sound Designer
Adam Fowler – Overtone Productions
Alisdair McGregor – Holy Mountain
Arthur Hagues – Prison Radio Association
Axel Kacoutié – The Guardian
David Chiltern – Almost Tangible
Mark Pittam – TBI Media
Grassroots Production Award
Amaliah Ltd
Carousel
Prison Radio Association
Podium.me
Radio Wanno – HMP Wandsworth
Sue Clark Productions
Audio Performer of the Year
Bernard Mensah – HarperCollins Publishers
Carl Prekopp – HarperCollins Publishers
David Walliams – HarperCollins Publishers
James Robinson – Almost Tangible
Roy McMillan – Penguin Random House
Weruche Opia – W F Howes
Best Presenter – Speech
Anushka Asthana – The Guardian
Cathy FitzGerald – White Stiletto Productions
Elis James and John Robins – Audio Always
Justin Dealey – BBC Three Counties
Roisin Hastie and Ben Mundy – BBC Newsbeat
Rose Kudabayeva – BlokMedia
Best Presenter – Music
Huw Stephens – Folded Wing
Jamie Cullum – Folded Wing
Mark Radcliffe – 7digital
Matthew Bannister – Folk on Foot
Snoochie Shy – TBI Media
Trevor Nelson – Somethin' Else
New Voice Award
Audrey Gillan – Falling Tree Productions
Becca Bryers – BBC
Dame Kelly Holmes – 7digital
Jacob Rosales – BlokMedia
Mo Ayoub – Reprezent Radio
Shahlaa Tahira – Freelance/Pulse 88
Production Company of the Year
Audio Always
Chalk and Blade
Fresh Air
Prison Radio Association
TBI Media
Whistledown
---
Posted on Wednesday, October 30th, 2019 at 12:12 pm by Roy Martin
---