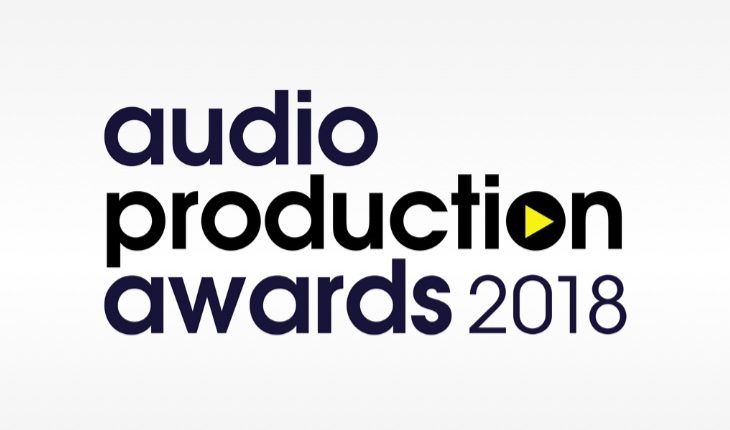 Entries open for Audio Production Awards 2018

Audio producers are invited to submit their work to be in with a chance of being recognised in the Audio Production Awards 2018.
Entries are now open, with a closing date of Monday 24th September at noon with nominations announced in late October. An evening event will then take place on Thursday 22nd November at the BFI Southbank, London, all organised by AudioUK.
The qualifying period for the awards is from 1st July 2017 to 30th June 2018. The maximum length of audio clips is 15 minutes, unless otherwise stated and written nominations/supporting statements are not to exceed 600 words.
Last year's awards were hosted by Trevor Nelson and winners included: the Gold Award to Tony Blackburn, Lifetime Achievement Award to Phil Critchlow and Indie of the Year to Prison Radio Association (PRA).
The Awards, which are now in their ninth year, are open to all audio producers, from BBC and commercial radio to community stations and podcasters, as well as production companies working across all forms of audio, including audiobooks, podcasts and radio.
There are also categories recognising the skills of those working with audio producers – such as narrators and presenters – and those working closely with new and developing talent.
The Audio Production Awards 2018 will continue to be "blind judged"; meaning that judges will not see fields containing the name of the entrant, or their company, which risks introducing elements of conscious or unconscious bias.
AudioUK Managing Director, Will Jackson, told RadioToday: "This will be the first Audio Production Awards held under our new name of AudioUK, and we're expecting a record-breaking number of entries this year, reflecting audio production in all its forms: audiobooks, podcasts, radio and much more, from producers based right across the UK.
"As a key part of this, we're delighted once again to have great support from Audible as our Lead Sponsor. We know this partnership will mean we have an incredible evening celebrating the talent in our sector at the BFI Southbank on 22nd November."
Tracey Markham, Country Manager for Audible, UK, said: "The APAs reflect our dynamic and changing audio landscape and we are delighted to be sponsoring the awards again this year. Online audio distribution continues to grow, offering new and exciting opportunities for the incredibly talented people working across the industry. We are thrilled to help recognise the talented producers and presenters as well as shining a light on the technicians and voices that help to bring these shows to life."
THE CATEGORIES
BEST ARTS PRODUCER
This category celebrates the best of arts and culture-based audio, reported and produced to the highest of standards, giving a sense of special insight into the subject. Potential subject matter might include: traditional/modern art, design, literature, poetry & film.
Music programming should be entered in Category 2: Best Music Producer, not here.
BEST MUSIC PRODUCER
This award is for an exceptional producer working in music audio. Entries can range from single programmes and documentaries to sequence programmes, as well as specialist music programming, live music and discussion. Judges will be looking for an understanding and appreciation of the music and the genre.
BEST FACTUAL PRODUCER
This category is for non-news based factual programming. The judges will be looking for a strong storytelling capability and a crystal clear, gripping narrative, plus compelling and creative production values that resonate with the audience. Entries can range from single programmes and documentaries to sequence programmes, as well as specialist programming and discussion.
News-related programming should be entered in Category 4: Best News Producer, not here.
BEST NEWS AND CURRENT AFFAIRS PRODUCER
Celebrating the best in news and current affairs production. Entries here should be from programmes which are clearly led by the current affairs agenda. Entries can include extended news bulletins, along with documentaries and/or features, and can cover a range of topical subjects. The judges will be looking for a strong journalistic instinct and a riveting narrative.
BEST SPORTS PRODUCER
Entries can feature outstanding, engaging sports programming from many formats; from live daytime programmes to round-table podcasts, but they must relate to sports in a clear and defined way. For example, submissions might include commentary, event coverage, discussion and/or storytelling. Judges are looking for evidence of compelling and distinctive production, covering sport in its widest context.
BEST ENTERTAINMENT PRODUCER
Recognising producers who successfully create fresh and fun entertainment content. For example, entries might be drawn from live programmes and/or light-hearted podcasts. Judges are looking for sparkling entertainment served up with creativity and distinctiveness.
Pure comedy should be entered into Category 7: the Gethin Thomas Comedy Award, not here.
GETHIN THOMAS COMEDY AWARD
All comedy-based audio can be entered here, including sitcoms, scripted comedy, sketch shows, or comedy-led panel shows. Any format with the primary aim of making people laugh fits the bill. The judges will be looking for creativity matched by innovative production, though sublimely-executed traditional comedy is also warmly welcomed. The category is named in honour of the pioneering Welsh comedy producer and performer, Gethin Wyn Thomas, who died suddenly and prematurely earlier last year.

Entertainment programmes (i.e. content that's not primarily focused on getting laughs) should be entered in Category 6: Best Entertainment Producer, not here.
BEST LIVE EVENT/OUTSIDE BROADCAST PRODUCER
Entries here may span a wide range of formats and subject matter. The key is that they must have been created in a live broadcast setting. Judges will be looking for exceptional production values which bring the listener into the beating heart of the action. Including but not limited to sport, music, news, comedy, drama, special interest etc.
BEST PODCAST PRODUCER
Celebrating an outstanding Podcast Producer who truly understands the special possibilities of the medium. Judges will be looking for compelling content and creativity that takes full advantage of the podcast format. Please note this category should not be used to enter broadcast radio content, which is then made available in podcast form.
BEST DRAMA PRODUCER
Recognising exceptional producers who know how to bring the story, characters and narrative to life in listeners' minds. Producers can enter an unedited section from a single drama or extracts from several dramas. Judges are looking for the perfect combination of brilliant performances combined with expertly edited scripts.
BEST AUDIOBOOK/READINGS PRODUCER
Judges will be looking at the range and choice of material, performance, direction and production values here. Producers can enter an unedited section from a single book/reading or extracts from several books/readings. Judges are looking for expertly directed narratives that draw the listener into the story.
BEST NEW PRODUCER
Celebrating a newcomer to audio production who shows potential to reach the very highest level. The judges will be looking for evidence of a sustained contribution to a production or production company, or for an exceptional debut as a producer in any form of audio. Please note: the entrant must have made their producer debut within the qualifying period. It is not essential to be associated with a single (or any) production company to be successful in this category, and producers who work entirely for themselves are equally welcome.
BEST STATION SOUND PRODUCER
For exceptional contributions to audio imaging and/or station sound production. Judges will be looking for ultimate creativity in audio branding and/or station promotion, such as station/podcast IDs, jingles, music beds, voiceovers, programme trails and promotions. This category embraces imaging work for radio stations and/or podcast and downloadable content.
BEST SOUND DESIGNER
Celebrating the talents of sound designers, mixers, studio managers and others who create startling soundscapes that elevate audio from great to extraordinary. Judging criteria will include technical skill, sound quality, innovation and creative contribution.
GRASSROOTS PRODUCTION AWARD
For an individual, production company, radio/audio station or community-based organisation that has shown extraordinary achievement in identifying, nurturing or mentoring new and diverse talent to the audio industry.
This category is not aimed at the new talent themselves. They would be eligible for Category 19: New Voice Award.
AUDIO PERFORMER OF THE YEAR
Recognising and rewarding a performer who has demonstrated exceptional talent at interpreting the written word over the year, as exemplified by a single outstanding piece of work or a body of work. This could include narrators of audiobooks or actors in an audio drama. Judges are looking for evidence of outstanding vocal capabilities and the ability to translate the written word into compelling audio content.
This category is not aimed at on-air presenters. They would be eligible for Category 17 or Category 18.
BEST PRESENTER – SPEECH
For exceptional on-mic talent presenting speech programmes. Judges will be looking for compelling conversation, high production values, brilliant interviews, a sustained contribution to the genre, outstanding creativity and deep-rooted connection to the audience. Both individual presenter and co-hosts can enter. (As in all award categories we welcome entries from the whole audio sector)
BEST PRESENTER – MUSIC
For exceptional on-air talent presenting music programmes. Judges will be looking for an unrivalled understanding of their chosen music genre(s), the ability to share that passion, plus constant creativity, strong production values and powerful audience connection. Both individual presenter and co-hosts can enter. (As in all award categories we welcome entries from the whole audio sector)
NEW VOICE AWARD
For outstanding presenters who have recently entered the audio world or recently gained significant mainstream recognition for the first time. The presenting debut must be during the qualifying period. The judges will be looking for presenters who demonstrate tenacity, skill and an understanding of the programme they are presenting, the genre and the audience. (As in all award categories we welcome entries from the whole audio sector)
GOLD AWARD
Recognising and celebrating an individual who has made an outstanding contribution, usually over a number of years, to the audio sector in the UK. This category is primarily aimed at individuals, but the Gold Award Committee will also consider strong cases made for teams. We accept nominations from AudioUK members who need to provide a supporting statement as their entry.
PRODUCTION COMPANY OF THE YEAR
This award recognises and celebrates a company's success across the year. Entries are warmly welcomed from the smallest to the largest companies. In this category, entry length is up to 30 minutes and judges will consider the level of creative excellence as well as the business challenges and growth of the company during the qualifying period, taking into account the size and resources of the company in each case.