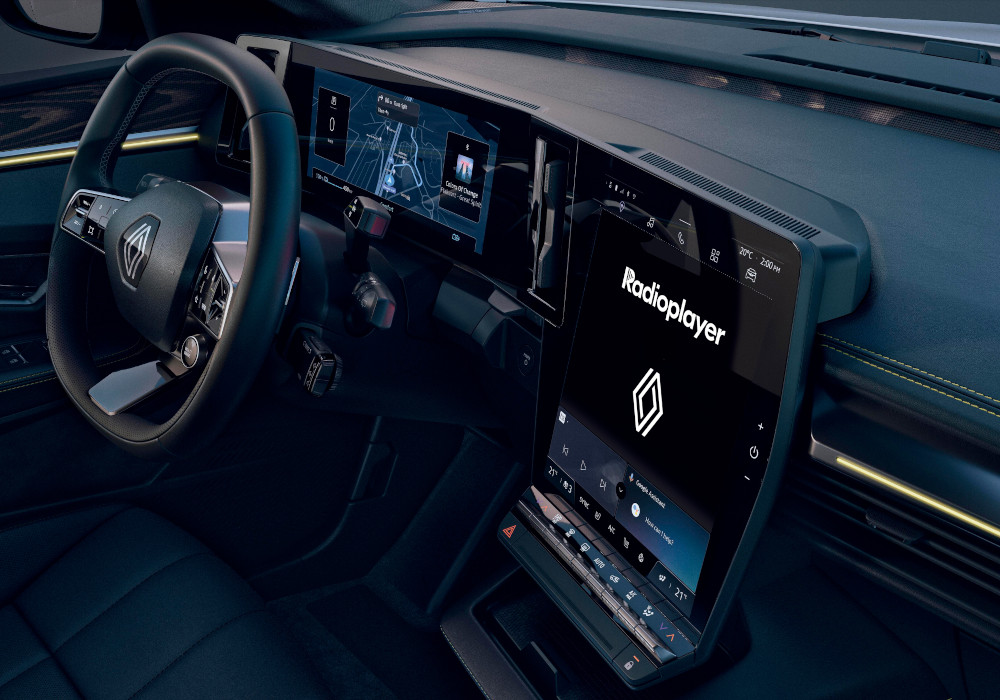 Radioplayer has signed a long-term partnership with Renault to power a state-of-the-art hybrid radio experience.
The agreement, which was announced at Radiodays Europe earlier today, builds on the initial collaboration between the two companies in 2022, to develop the Radioplayer for Renault streaming app.
This new deal will see cars from Renault displaying official station information such as logos, descriptions and now-playing data from the Worldwide Radioplayer API (WRAPI). The partnership also includes developing advanced hybrid radio features, to improve and personalise the listening experience for Renault customers.
The Radioplayer for Renault app is one of a handful of selected apps which is recommended to drivers of the Renault vehicles equipped with the OpenR Link multimedia system, like Megane E-Tech 100% electric, the All-new Austral and the All-new Espace models. The application gives access to a wide range of radio, web-radio, and podcasts from around the world.
Renault's vehicles are embedding OpenR Link interface to power their infotainment experience, and Radioplayer has established a market-leading position in this area, with its hybrid 'Reference Radio' app. This is able to switch automatically between DAB+, FM, and Streaming, and also offer station recommendations and podcasts.
Michael Hill, Radioplayer Managing Director said: "We are extremely proud of this partnership, which establishes a powerful 3-way collaboration between Radioplayer, radio broadcasters, and the car manufacturer Renault.
"Radioplayer now has hybrid radio partnerships with car companies representing nearly half of all cars sold in Europe. This is an incredible achievement, and our broadcaster supporters are increasing their investment to make sure that radio listening stays strong in-car."
Jean-Francois Labal, Digital Partnership Head – Renault added: "Following on from the application already offered to Renault brand customers on the new OpenR Link interface, Renault is enthusiastic about the idea of deepening the partnership with Radioplayer to include broadcast hybrid radio.
"This new step is in line with offering an experience based on the discovery and personalisation of content, an experience integrated into the My Renault ecosystem."
Packed room at @RadiodaysEurope to hear about future of radio in cars – including big news from @Lharrison61 @rpworldwide that it will now be powering radios for @renaultgroup pic.twitter.com/v48G4Dc9cx

— Matt Payton (@matt_payton) March 27, 2023
---
Posted on Monday, March 27th, 2023 at 3:39 pm by Steve Collins
---