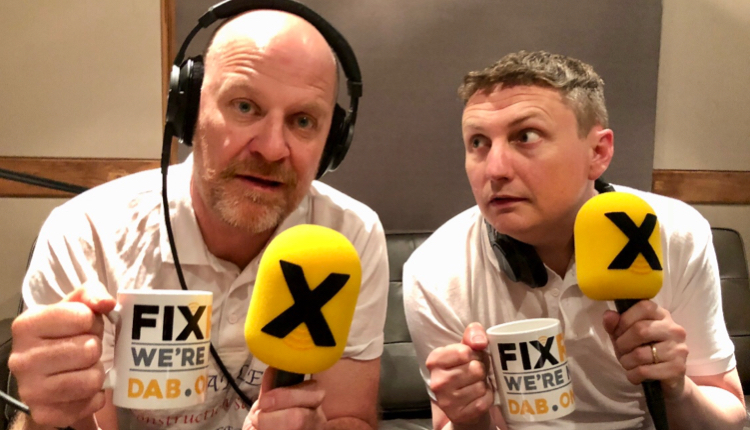 TV comedy stars Lee and Dean are joining Fix Radio, as the station for builders and tradespeople celebrates its first birthday today.
The builders, who star in Channel 4's new comedy show, will become Fix Radio presenters for special shows on both Bank Holiday Mondays in May.
Lee and Dean is the story of a bromance between two builders in Stevenage, which garnered critical acclaim and 1.5 million viewers.
The characters are the creation of writers and actors Miles Chapman and Mark O'Sullivan. As Lee and Dean on Fix Radio, they will play their favourite songs, indulge in their own kind of banter and give building "advice" to listeners' questions. The shows will also be released as podcasts.
Programme Director Paul Chantler says: "We at Fix Radio just love Lee and Dean. They're very funny and irreverent and suit us perfectly. We can't wait to get them on the air. Advertising and sponsorship revenues for Fix Radio are strong and the business continues to be an attractive route to market for trade-focused brands across the UK."
CEO Louis Timpany says: "Fix Radio has grown enormously in its first year and we now offer an important platform to the construction industry's biggest brands. We have big plans for the future both to grow listening and advertising opportunities."
In other news, Paul Burrell will shortly be taking over the station's drivetime show, and the station has recently moved from its original studio in Battersea to a new building in Angel, Islington.
The Fix Radio Bacon Butty Tour is still on the road every day promoting the station to new listeners on building sites throughout London. The vans also visit clients to give out butties. So far nearly 20,000 hot butties have been distributed to promote the station.
It's easy to put travel news on your radio station, from £25 a month for online stations. See
RadioTravelNews.com
for details and same day set up.