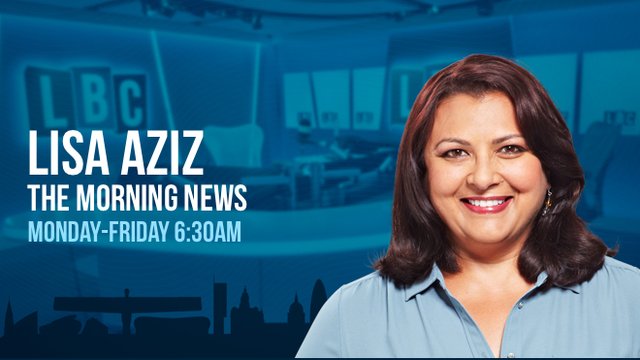 LBC's Lisa Aziz has been presented with the IRN Gold Award for an outstanding contribution to commercial radio news in this year's IRN Awards.
She has reported on some of the biggest news stories from the past 38 years having started her career at Radio City in Liverpool before making the switch to television news with TV-AM, Sky News and ITV.
She's spent the last decade at LBC and currently presents breakfast on LBC News.
The Gold Award and all the categories were announced at an event hosted by Sky News presenter Jayne Secker who was joined by several Sky correspondents.
A powerful investigation into prison deaths in Salford, a tenacious campaign to improve road safety in Ayr, and a compassionate interview with the mother of Harry Dunn have also been recognised.
Global's Newsroom North West won the 'Best News Special or Feature' award for 'Behind The Walls of Forest Bank,' an investigation into the high number of deaths at the prison in Salford. Judges said it was 'an incredibly powerful piece of journalism and storytelling which truly gave the voiceless a voice.'
The ability of commercial radio to make a difference was highlighted as West FM's 'Joan's Legacy' won the 'Campaigning Journalism Award' for its efforts in getting average speed cameras installed on a road in Ayr where a woman was killed by speeding drivers.
The judges said the team 'kept banging the drum for several years to make it happen' and can be 'rightly proud of creating positive change in the area they serve.'
The winner of the 'Best Interview' category was Global's Newsroom Midlands with 'Harry Dunn – A Family's Fight by Lindsey Alder.' The judging panel said it 'displayed compassion and professionalism to get Harry Dunn's parents to talk openly and movingly about their grief one year on and their ongoing fight for justice.'
Hits Radio Manchester was awarded 'News Team of the Year' in the over 1.5 million TSA category having impressed the judges with its 'breadth of stories and a real feel for arresting audio.' They said the team was 'not frightened to take on big and varied material with flair and energy.'
The 'News Team of the Year' in the 'under 1.5m TSA' version was Hallam FM. A team 'at the top of its game' according to the judges who said listeners are being provided with a 'range of compelling stories, neatly scripted and superbly produced.'
One of Hallam's journalists, Ben Bason – who broadcasts across Bauer Yorkshire's brands – was named 'Newsreader of the Year' in the 'under 1.5m TSA' category.
The judges said 'his bulletins are expertly constructed with relevance and localness throughout, taking the listener directly to the heart of the story.' Adam Barber from Global's Newsroom London won the Newsreader award in the 'over 1.5m TSA' version. 'The judges remarked 'he always sounds full of energy, confidence and passion' and 'when it comes to lighter content, you can always hear his smile.'
talkSPORT's 'GameDay Exclusive' was the winner of the 'Best Sports Coverage' prize. It stood out for 'its commitment to strong journalism, tackling heavy hitting subjects like racism and homophobia' as well as 'exclusive interviews' and 'top quality commentary, punditry and production.'
The 'Reporter of the Year' in the 'over 1.5m TSA' category was Charlotte Elmore from Global's Newsroom Yorkshire and North East. She was recognised for her 'superb, authentic storytelling, demonstrating a great mix of journalistic ability.'
In the 'under 1.5m TSA version, Radio Tay's Callum Clark was the winner. The judges were impressed with the 'broad range of stories he has covered and the interviews he secured to bring them to life.'
Rock FM's Hannah Makepeace was named 'Newcomer of the Year.' Judges described her as 'a skilful reporter, committed to telling original stories for radio with flair and imagination.'
The Student Journalist of the Year award, which is supported by the Broadcast Journalism Training Council, went to David Applin from Canterbury Christ Church University for his documentary 'Inside the Dark Web.' It was described as an 'outstanding piece of journalism that takes the listener on a compelling and sinister journey from the outset.'
Accepting the award, Lisa Aziz said: "It's a huge honour and I'm genuinely shocked at receiving it. It's a strange time to be getting an award in a pandemic because personally, I consider it a privilege to be able to bring our growing audience a live breakfast show four hours a day alongside my core production team. It's been wonderful to have had 38 years in the business, and counting, from those first early days at Radio City through to the 25 year TV adventure and now back to the powerhouse that is LBC. Thanks to everybody who works for me, my core production team and my bosses.
Commenting on the awards, IRN and Sky News Radio Editor Dave Terris said: "Commercial radio audiences have an appetite for trusted journalism which they can relate to and this impressive group of winners are delivering it in abundance.
Although the coronavirus pandemic has dominated the news agenda over the past 18 months, it has not deterred news teams from exploring a range of stories and delivering them skilfully and creatively. Congratulations to all the winners and nominees who continue to produce fantastic and important content for millions of listeners.
IRN Managing Director, Tim Molloy said: "The standard of entries was as usual very high and our judges had a real challenge picking just five nominees in each category, but the winners all stood out and had that little extra something that gets your attention and whether a team or an individual each one should be extremely proud of their achievement after a very difficult year."
The winners list in full:
IRN Gold Award
Lisa Aziz
News Team of the Year (Over 1.5m TSA)
Hits Radio News Team Manchester
News Team of the Year (Under 1.5m TSA)
Hallam FM News
Best News Special or Feature
Behind The Walls of Forest Bank – Global's Newsroom North West
Reporter of the Year (Over 1.5m TSA)
Charlotte Elmore – Global's Newsroom Yorkshire and North East
Reporter of the Year (Under 1.5m TSA)
Callum Clark – Radio Tay
Best Sports Coverage
GameDay Exclusive – talkSPORT
Campaigning Journalism Award
Joan's Legacy – West FM
Best Interview
Harry Dunn: A Family's Fight by Lindsey Alder – Global's Newsroom Midlands
Newsreader of the Year (Over 1.5m TSA)
Adam Barber – Global's Newsroom London
Newsreader of the Year (Under 1.5m TSA)
Ben Bason (Bauer Yorkshire)
Newcomer of the Year
Hannah Makepeace – Rock FM
Student Journalist of the Year – Supported by the BJTC
David Applin – Canterbury Christ Church University
---
Posted on Thursday, July 15th, 2021 at 8:15 pm by RadioToday UK
---