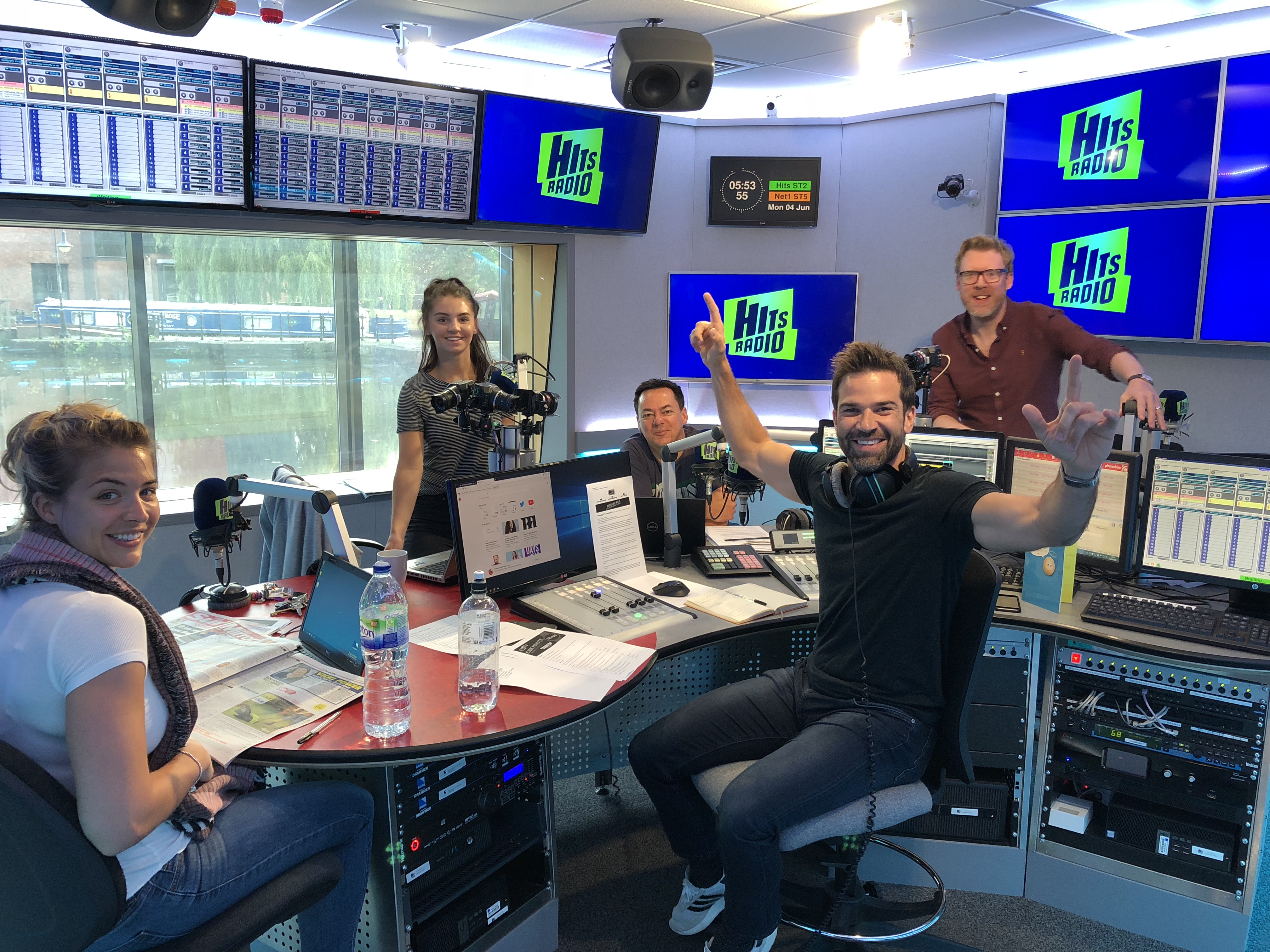 RAJAR Q3 2018: Regional and local radio round-up

Manchester is once again our focus on the local radio round-up, where the station previously known as Key 103 has lost more listeners.
Hits Radio (Manchester) is reporting 325,000 weekly reach, compared with 374,000 last quarter. This is half the amount of listeners it had four years ago. Newly rebranded Key Radio (previously Key 2) has 53,000 listeners compared with 81,000 three months ago. Hits Radio's Market Share has dropped from 5.2% to 3.9% and hours are down by 561,000 in three months.
Other headlines and observations from around the UK include:
Capital Brighton's second RAJAR is up compared with its first, from 33,000 to 36,000 weekly reach but the average hours are down from 5.2 to 4.2
Pulse 1 has increased listening hours by 23.3% in the last three months and 61.2% year-on-year. The breakfast show with Mylo & Rosie, winner of best music show at breakfast in last weeks ARIA awards, now beats both Heart and Capital in its TSA
Cheshire's Silk 106.9 has recorded its lowest ever reach with 9,000 weekly listeners compared with 16,000 a year ago
Guernsey's Island FM gains 2,000 listeners year-on-year to deliver 60% weekly reach – and now delivers highest weekly reach percentage in British Isles. Sister station Channel 103 in Jersey grows market share and scores second highest reach percentage in British Isles
Yorkshire Coast Radio is reporting its biggest audience ever, with increases in reach, hours and share. Every week 59,400 adults tune in to the station, giving it a Weekly Reach of 53%
Tower FM continues to grow: reach has increased by 36% quarter-on-quarter and 17.2% year-on-year. Hours have also grown 10.5% quarter-on-quarter and 4% year-on-year
Some of Bauer's local stations showing an increase this quarter include Clyde 1 with 553,000 listeners – growing 2% YoY, Rock FM growing 10% year on year with 230,000 listeners, and Radio City 2 growing 25% in 12 months, now with 218,000 listeners
BBC Local Radio reached 7.84 million listeners per week, from 7.87 m last quarter and 8.25m last year
Wireless Group's Scottish Sun radio stations double to 27,000 weekly listeners between them – Scottish Sun Hits, Scottish Sun 80s, and Scottish Sun Greatest Hits
Peak FM has seen reach increase by 15.7% quarter-on-quarter and 32.8% year-on-year. Total hours have also increased 15.5% quarter-on-quarter and a staggering 72.6% year-on-year.
Minster FM now has 80,000 people tuning in each week across North Yorkshire, the highest figure for the UKRD station since 2011
Star Radio (Cambridge & Ely) is up 50% from 6% reach to 9% reach in its 2nd survey – now with 26,000 listeners
At Buckinghamshire's Mix96, the station has 9,000 more listeners than last quarter, taking them to 51,000 weekly reach
kmfm is up 26% this quarter, giving the station 189,000 listeners across Kent – one of its best
Smooth Radio West Country (formerly Gold) is posting its highest ever reach, with 129,000 compared with 103,000 a year ago
Free Radio Birmingham, originally BRMB, has recorded its lowest ever reach with 254,000, down from 286,000 last year
Capital Yorkshire, previously consistently reporting over a million listeners, is down again at 934,000
Capital North Wales is also at an all-time low weekly reach, with 116,000 down from 176,000 year on year
Lakeland Radio's switch to Smooth isn't off to a good start; down 25% reach year on year to 12,000 listeners
And a similar scene at The Bay as it surveys as Heart – its lowest ever weekly reach of 74,000 and 26% share has been recorded
Chris County has recorded a big jump to its highest ever London weekly reach at 42,000 (from 30,000 last quarter)
Dragon Radio Wales is up (31,000 to 35,000) whilst Nation Radio London is down (15,000 to 9,000)
For the sixth time in its relatively short history, M-Soul Radio (launched in 2015 by the founders of Kiss FM) has posted a double-figure percentage increase in Total Weekly Hours, which grew from 847,000 (Q2 2018) to 1,160,000 (Q3 2018) an increase of 37%
Quotes:
Richard Bogie, Managing Director of News Scotland, said: "We are delighted with these figures, which show that we have built on the early success we enjoyed in the first half of the year, and this gives us momentum as we press ahead with exciting plans for its future. We are focused on delivering entertaining content for listeners and ensuring that we entice more and more people to tune in and enjoy all that our stations have to offer.
"The Scottish Sun radio stations are a strong addition to our print and digital offering for readers, listeners and advertisers and are a growing part of our strategy. The increasing reach of our brands across platforms is creating excellent new opportunities for commercial partners."
Terry Underhill, Group Programme Director for Wireless, added: "What a great day for radio in Scotland. "We always knew that the there was a gap in the market for some new and exciting radio stations, and the results we've received today confirm how popular our Scottish Sun stations are. To see these stations doubling in audience in just 12 weeks gives us great confidence to grow still further. Whether it's the fantastic breadth of music on Scottish Sun Greatest Hits, the newest music on Scottish Sun Hits or the hugely popular Scottish Sun 80s, all stations are performing spectacularly well."
Chris Sigsworth, Managing Director of Yorkshire Coast Radio, and one of the original launch team says "We couldn't have wished for a better way to celebrate 25 years. To achieve our highest audience ever, at a time when the choice of listening is greater than ever before, is proof that the appetite for proper local radio is as great now as it has ever been."
Content Manager, Matthew Pells, adds "There is a strong sense of community on the Yorkshire Coast, we aim to reflect that in our output by providing strong news content, by talking about what is happening in the local area and by being accessible to local people, it's great to see that in this increasingly digital world there is still a massive appetite for local radio."
Channel 103 and Island FM Station Director James Keen says: "These numbers are a testament to the hard work shown by our teams who daily combine great radio with a real focus on what makes the islands' communities tick."
Minster FM's David Green says: "We're delighted with today's audience figures. Since taking over the Thirsk and Northallerton frequencies we've committed ourselves to run separate locally relevant content in those towns wherever possible. Now we're seeing the returns as listeners in our new extended area turn to Minster FM for the same great mix of locally relevant news, travel, entertainment and music as neighbouring areas have been doing for over a quarter of a century."
Max Hailey, the Mix96 MD said: "Everyone here at Mix96 is absolutely delighted by these incredible results. We've got more people listening now than at any point in Mix96's history – 51,000 people tune in every week.
"We work hard to deliver proper local radio, bringing you the local news, travel information and weather alongside Bucks best mix of music and fantastic presenters like Ben & Nia at breakfast, Nathan Cooper and Wes Venn. Thank you to everyone who's listening and all of our great advertisers. Mix96 turns 25 next year so this set of audience figures is a fantastic early birthday present!"