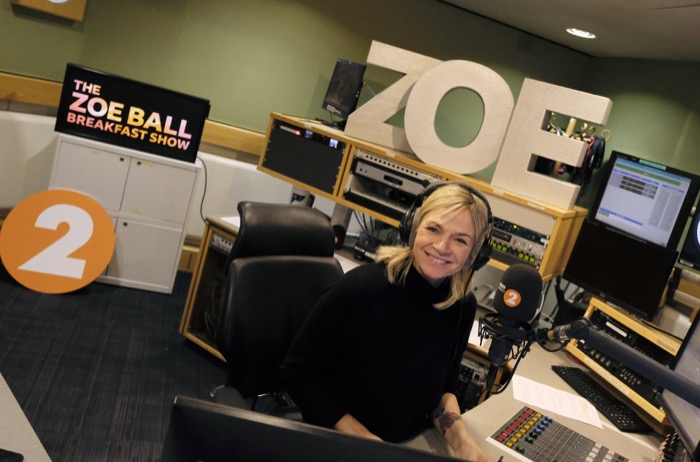 BBC Radio 2 has lost almost a million listeners in the last year, according to the Q1/2020 audience research from RAJAR.
The reach of the UK's biggest radio station fell from 15.356m at the start of 2019 to 14.362m over the first three months of this year.

The two biggest commercial radio networks – Heart and Capital – both lost significant reach over the 12 months too. The Heart network lost 787,000 listeners to leave a reach of 7.737m, while Capital dropped 815,000 to 6.386m. When you add in the other Heart and Capital branded stations – 70s, 80s, 90s, Dance, Xtra and Xtra Reloaded – the Heart brand reaches 9.365m and the Capital brand 7.502m.
Listening to national BBC radio stations has fallen 3.2% compared with Q1/19 – from 31.8m reach to 30.8m; while at the same time the reach of national commercial radio has gone up 3.6% – from 22m to 22.8m listeners.
That means commercial radio overall now has its largest audience ever, with 36.3 million listeners tuning in every week. All commercial radio listening now has a share of 47.8%, up from 45.7% a year ago.
Stand-out year on year successes include:
– BBC 6 Music which hits a record 2.556m listeners
– LBC which has seen a reach increase of 23.6% – a rise of more than half a million – to a record 2.78m
– talkRADIO which is up 25% year on year to 424,000
– talkSPORT2 with a record reach of 489,000
– Virgin Radio, up 15% year on year to 1.496 – along with Virgin Anthems doubling its audience in a year and Virgin Chilled adding more than a third more listeners.
– Radio X up 7.3% from 1.538m to 1.651m
– Classic FM up 3.7% year on year to a reach of 5.484m
– Gold up 7% to 1.314m
– Magic Soul up from 288k to 393k
– Absolute Radio 70s up nearly 20% to 230k
– Greatest Hits Radio's 892k reach helping the Hits Radio Brand to a 9% year on year increase in reach to 6.6m
After impressive debuts in Q4/2019, Global's new digital-only stations had mixed results: Capital Xtra Reloaded is down from 330k to 305k; Heart 70s rose from 248k to 294k; Heart 90s fell from 627k to 456k; Heart Dance remained static at 380k; Smooth Radio Chill went from 301k to 312k; and Smooth Radio Country jumped 40% quarter-on-quarter from 204k to 286k.
In its first set of results, rolling news station LBC News launches with 657,000 weekly listeners across the UK.
At Bauer, Absolute 80s and 90s both lost audience year on year; Country Hits added 10,000 to its initial reach of 247k; KISSTORY was up 12% year on year while KISS Fresh lost 12% of its audience over the year; Magic held fairly steady with a rise for Magic Soul and a drop for Magic Chilled; and Scala Radio added 24.5% extra listeners this quarter, going from 249k in Q4/19 to 310k in Q1/20 – its highest reach so far.
In London, LBC remains the number 1 commercial station on market share (8.4%), followed by Magic (4.5%), Heart (4.4%), Capital (3.5%) and Absolute (2.8%). KISS is sixth, followed by Smooth then Radio X.
On reach in London, Capital is the biggest commercial station with 1.617m, followed by Heart (1.385m), Magic (1.351m), LBC (1.292m) and KISS (1.265m). When you include the BBC stations, Radio 4 is the biggest with 2.718m listeners in London, followed by Radio 2 with 2.074m. Capital, Heart and Magic are all now bigger than Radio 1 in London, which has 1.333m listeners who are aged 15 and over in the capital. In the London market, Radio 2 has lost 9% of its audience over the last 12 months, Radio 1 has lost 8.7% and 5 Live falls 8.2% in the capital.
At breakfast nationally, Zoe Ball still has the biggest audience with 8.114m listeners a week (down from 9.047m a year ago). Radio 1, Radio 4 and 5 Live all lost audience at breakfast over the year – as did KISS, Capital and Heart.
Increasing breakfast audience year on year were Tim Lihoreau on Classic FM (up from 1.769m to 1.859m), Nick Ferrari on LBC (up to 1.4m) Ronan and Harriet on Magic (up from 1.304m to 1.360m), talkSPORT breakfast (up from 1.394m to 1.454m – the highest ever in a first-quarter as Alan Brazil ended his 5-day-a-week run), Chris Evans on Virgin (up from 1.048m in his first book to 1.123m in Q1/20) and Chris Moyles on Radio X (up from 928k to 960k).
A year on from the final quarter of regional and local breakfast shows, Capital Breakfast with Roman Kemp has 416,000 fewer listeners – down from 3.732m in Q1/19 to 3.316m now.
Heart Breakfast with Jamie and Amanda fell quarter on quarter by 169,000 listeners to 4.118m – but it remains the UK's biggest commercial radio show, and the fourth biggest breakfast show behind Radio 2, Radio 4 and Radio 1.
Nick Ferrari has London's biggest commercial breakfast show with 805,000 listeners, followed by Heart on 793k, Capital on 781k, Magic on 610k and KISS on 544k.
Other things to note in Q1/2020
Bauer is now including recently acquired Lincs, UKRD, Celador and former Wireless stations in its total reach – which has hit 20m now. Global has 25m weekly listeners. Wireless has 4.8m.
Along with a record reach for 6 Music, Lauren Laverne's breakfast show has its best-ever figures – 1.3m weekly listeners. The only other national BBC station to increase its audience year on year was BBC Asian Network – up 7,000 listeners to 543k.
While BBC Radio 1's overall station and breakfast figures are down year on year in the published RAJAR tables, the BBC highlights that Greg James gained 343,000 listeners aged 10+ compared with the previous quarter. The published 15+ figure is a rise of 61,000 quarter-on-quarter, so the data in the BBC's press release suggests a large rise in listeners aged 10-15. Radio 1 says it is the number 1 station for 10-29 year olds in the UK and its breakfast show is the number 1 for 10-29 year olds. It also says the most common age of a Radio 1 listener is 24.
Bauer says its radio listening via digital platforms is now 74%, compared to the industry average of 59%.
The 'Hits Radio Brand' – which includes Hits Radio, Greatest Hits, Country Hits and stations still using heritage names including Clyde, Hallam and Radio City – is up 9.1% year on year to 6.6m
KISSTORY remains the biggest digital commercial station with 2.066m listeners, while Virgin's Chris Evans Breakfast Show remains the UK's most listened-to digital national breakfast show on hours.
Listening hours at talkRADIO are up 97% year-on-year to 2.7m.
Quotes
James Purnell, Director of BBC Radio and Education, says: "It's wonderful that listeners have granted BBC Radio 6 Music the top spot as the UK's biggest digital only station by tuning in in record numbers. It's no surprise that the station's brilliant presenters and talented teams are proving a winning formula with their love and passion for music. We've been holding on to our younger audiences with more than 13 million 15-44 year olds listening to our stations every week whilst competition for their time has continued to intensify. And with more than a quarter of the population now listening to live radio online every week, it shows what an important role BBC Sounds plays for our stations and for our audiences, with record numbers of both live and on-demand plays in the first three months of the year."
Ashley Tabor-King OBE, Founder & Executive President of Global, said: "Clearly these RAJAR numbers represent January, February and March, before the current corona crisis changed the world – things are somewhat different since. Nevertheless, today's RAJAR numbers are a magnificent testament to every Globaller that's worked so hard to continue our lead in the commercial radio market with 25million listeners and the top four commercial radio brands – Heart, Capital, Smooth and Classic FM. The record figures for LBC demonstrate that the brand continues to lead Britain's conversation, with 2.8 million weekly listeners, something which has only grown since these numbers in the recent crisis. We're particularly pleased to see Classic FM add nearly 200,000 listeners in the past year and celebrate a new, thirteen year high in hours and share. This overall performance from the Global portfolio highlights our focus on reaching listeners right across the country, serving them with the best music, entertainment and highest quality news and analysis in the business. This really is testament to the hard work produced by the whole Global team."
James Rea, Director of Broadcasting at Global, said: "It's incredible to see Global brands leading the way in the fiercely tough London-market and winning commercially overall in reach, hours and share. I'm hugely proud to see both LBC and Heart remain firmly placed as London's favourite breakfast stations proving that our entertainment output and cutting-edge news coverage have achieved a winning formula. Radio X and Capital XTRA have also amassed good numbers with 1.7m and 1.9m weekly listeners, respectively and LBC News, Britain's first national rolling-news radio station, launches with over 650,000 listeners. It's also enormously rewarding to see Smooth retain its position as the third largest commercial radio brand with 5.7m weekly listeners – almost 1.6million more than its nearest competitor. These figures are a great testament and credit to the continued commitment and effort of the expert team at Global."
Dee Ford CBE, Group Managing Director Radio, Bauer Media, said "This is a great day! This is the biggest audience we've ever been able to offer our advertising partners. Thanks to the talented Bauer team and our market leading digital performance and portfolio of enormously complementary brands we are going from strength to strength."
Wireless CEO Scott Taunton said: "This is a strong set of results for the talkSPORT network. While a lack of live sport in the last couple of months has been far less than ideal, I'm happy to say that the team has stepped up its creativity and called on its amazing contacts to continue delivering must-listen content for sports fans across the UK. The network is well placed to take full advantage of the return of live sport. talkRADIO continues to be the natural destination for listeners wanting a punchy perspective on politics and current affairs. And our investment in the Virgin Radio Network – including our latest new launch station, Virgin Radio Groove – is paying off. Virgin Radio is thriving across the schedule and Chris Evans continues to deliver event radio. In the last fortnight alone he has raised over £1.1m for NHS charities through his celebrity auctions and earlier in the week he hosted 100 listeners – via zoom – for a very special Brassic competition with Sky."
Aled Haydn Jones, Head of Programmes at BBC Radio 1, said: "Radio is such an important part of British life, and Greg putting on 350,000 new young listeners shows how valuable that connection is. With around 10 million listeners, over 14 million weekly viewers, and 9.5 million social users, we are able to be creative in the ways we innovate for our audience, wherever they may be."
Siobhan Kenny, CEO of Radiocentre, the industry trade body for commercial radio, said: "Covering the beginning of the year, mostly pre-lockdown, these latest RAJAR results for January to March show commercial radio hitting record numbers. Audiences' high level of trust and increased availability during lockdown can only build on that."
It's easy to put travel news on your radio station, from £25 a month for online stations. See
RadioTravelNews.com
for details and same day set up.